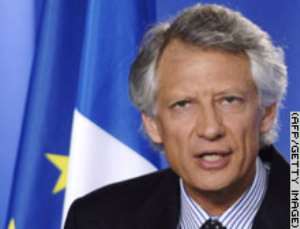 French Prime Minister Dominique de Villepin has said that military action is not the solution to the international standoff over Iran's nuclear program.
"My conviction is that military action is certainly not the solution," Villepin said at a monthly news conference. "We have already lived through this type of scenario and we know that not only does it settle nothing, but it can raise risks. We have seen this in the most clear way with Iraq."
Villepin -- who made a famed speech at the United Nations against the war in Iraq in 2003 when he was French foreign minister -- urged "unity" and "firmness" within the international community in dealing with Iran.
Saying Iranian statements about its growing nuclear capabilities were "worrying," Villepin said Russian and Chinese support for any U.N. resolution was necessary "for the credibility of our action, the pressure on Iran."
France and other western nations circulated a U.N. Security Council resolution Wednesday that would demand Iran abandon uranium enrichment or face the threat of unspecified further measures -- a possible reference to sanctions. China and Russia oppose the measure.
The resolution is the latest effort to pressure Iran to stop what the United States, France and others say is a clandestine nuclear weapons program. Iran says it is developing nuclear technology purely for energy.