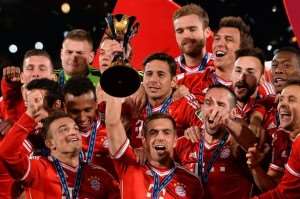 Morocco have been exposed for their hypocrisy after confirming they will go ahead to host the Club World Cup next month despite withdrawing from hosting the Africa Cup of Nations in January.
Citing the fears of Ebola spreading, football chiefs in the north African country confirmed their withdrawal in hosting Africa's biggest football tournament on Saturday but are ready to host some countries with cases of the disease just next month.
FIFA bosses have confirmed that the Club World Cup in Morocco is set to go ahead "as planned" despite the Ebola epidemic.
With no cases of Ebola reported from the host nation, the game's governing body see no reason to change their plans to head their for the annual competition.
But Morocco claim Ebola will spread if the African tournament is held in their country even though the Ebola-hit countries in Africa are unlikely to qualify.
Over 10,000 people in Africa have been infected by Ebola and nearly 5,000 have died, but with no cases in Morocco, FIFA will not change their plans.
FIFA have said that they have been in contact with Moroccan officials and will be taking advice from the World Health Organisation.
In a statement, FIFA bosses said: "The health of players, officials and football fans remains the highest priority, just as it would for any FIFA competition?.
"According to the World Health Organisation, there are currently no cases of Ebola reported from Morocco and therefore all preparations continue as planned."
Europe's representatives in the Club World Cup have won six of the last seven competitions, with Chelsea being the ones to come up short in 2012, losing to Corinthians.