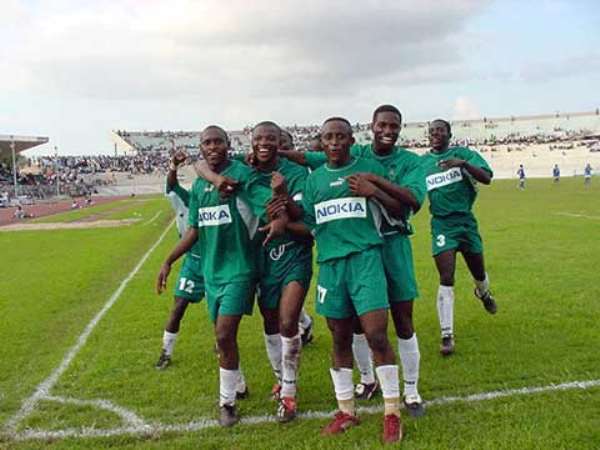 Accra, May 2, GNA - Kumasi King Faisal on Sunday shocked Accra Hearts of Oak when they defeated them 3-2 in a friendly match at the Accra Sports Stadium.
The victory served as pay back for Faisal who were pipped by Hearts in a similar encounter at the Kumasi Sports Stadium two weeks ago. Faisal on two occasions came down from a goal deficit before clinching the match winner to carry the day.
The 90 minutes of exciting football exhibited by both sides saw them parading almost their regular players with Hearts opening the scores in the 24th minute through Emmanuel Osei-Kuffour who flicked Eric Nyarko's cross with a header into the net.
The Phobians after the goal maintained a constant pressure on Faisal but failed to utilize the chances to end the first half of the game. Both sides made some changes to their starting line ups in the second half but it was Faisal who benefited more as the presence of Joe Agyeman and Ranti Abdulai joined forces with Ben Wilson and Eric Gawu upfront to terrorize the Hearts defence.
It therefore came as no surprise when Osei Kofi capitalized on the sustained pressure to fire in across from Agyeman to fetch the equalizer in the 46th minute.
The Faisal boys from that moment took total dominance of the game and on many occasions they could have taken the lead but lost focus and allowed substitute Don Bortey to take them by surprise after he split their defence in the 64th minute from a counter move before putting ball behind keeper Collins Darko for Hearts second goal.
Hearts could have sealed their victory two minutes later but Joe Ansah's tap at goal was denied by the woodwork.
Faisal who seemed not undaunted by the goal, fought hard by returning the heat on Hearts and succeeded in levelling up through hard working Eric Gawu who tapped in another cross from Agyeman. Kwabena Poku sealed the doom of the Phobians in the 86th minute from a spectacular long drive after Agyeman's defence-splitting move for the third goal and eventually the match winner.
Hearts sensing defeat stirred themselves into the game by doubling their efforts with Bortey having the last chance to save his side but has his shot saved by the keeper to end the day.
The fanatical supporters of Hearts expressed their dissatisfaction with the performance of their idol team after the match and nearly charged on substitute keeper, James Nanor who replaced Sammy Adjei in the second half. 2 May 2004