Tennis : BNP Paribas is celebrating its 40th year with Indian Wells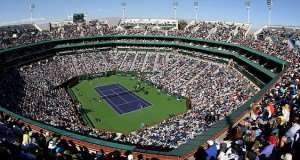 The leading sponsor of tennis globally, BNP Paribas is celebrating its 40th year of being involved with tennis.
Steve Simon who is the BNP Paribas Open Tournament Director announced on Tuesday that BNP Paribas has extended its title sponsorship of the event through 2018.
The BNP Paribas, who is the leading sponsor of tennis globally, began its five-year title sponsorship of the tournament in 2009, adding it to a host of prestigious tennis tournaments that the company already sponsors.
Held annually at the Indian Wells Tennis Garden, the BNP Paribas Open is the most-attended tennis tournament in the world outside of the four Grand Slams. This year's staging will take place March 4 to 17. This year is also the 40th anniversary of BNP Paribas' association with the sport.
"The title sponsorship of the BNP Paribas Open has been a fantastic fit for our company, and BNP Paribas is excited to continue in that role through 2018," said Michele Sicard, Managing Director, and Head Corporate Communications for BNP Paribas Americas . "Throughout the past four years the event has seen exponential growth, and with our 40-year history of supporting tennis at all levels, we embrace partnering with Mr. Ellison and the tournament for another five years to make this event unquestionably one of the premier tournaments in the world."
"We are thrilled to extend our partnership with BNP Paribas through 2018," Simon said. "As the longest supporter of tennis worldwide, at both the professional and amateur levels, we feel very fortunate to have not only their brand on our tournament, but their belief and support of our goals to further continue our tradition of being the place to be in March."
BNP Paribas is also the official sponsor of Roland Garros, title sponsor of Davis Cup and Fed Cup and sponsor of four ATP Masters 1000 tournaments and the season-ending WTA Championships, as well as numerous other ATP World Tour and WTA tournaments, exhibitions, amateur events and wheelchair tennis initiatives.
BNP Paribas is one of the best-rated banks in the world, has a presence in more than 80 countries and employs more than 200,000 people.