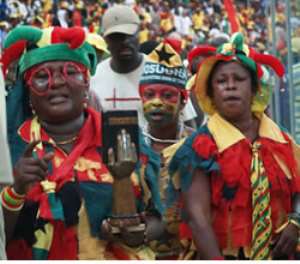 Ghana raised the benchmark when it hosted the 2008 tournament

Ghana may bid for the hosting rights of the 2016 African Cup of Nations two years after staging the continent's most historic event ever.
Gabon and Equatorial Guinea are billed to jointly host the next biannual showpiece in 2012 before Libya takes the stage two-years on.
Ghana could go for another bit of the cherry in 2016, according to President John Evens Atta Mills.
President Mills has told the Confederation of African Football (CAF) President, Issa Hayatou that Ghana would seriously consider an appeal to bid for the hosting rights of the Africa Cup of Nations.
The President who would be a recipient of a CAF Platinum award at the Glo-CAf Awards slated for Accra on Thursday, March 11 at the plush Banquet Hall of the State House in Accra told Alhaji Hayatou and his delegation at the Castle on Wednesday that Ghana would also be interested in other tournaments on the continental body's calendar.
President Mills said the country is counting on CAF to help develop football in Ghana.
Alhaji Hayatou told President Mills that Ghana's rich democratic credentials and testimony of good impressions from Sports writers across the continent would influence the decision to invite the country to bid for the hosting rights for future tournaments.
Ghana is believed to have raised the benchmark when 15 teams joined the Black Stars for the 2008 tournament that was won by Egypt in Accra.