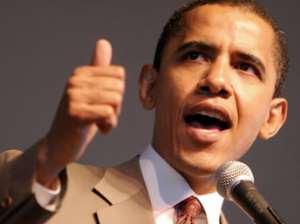 Rod Blagojevich has been ousted as Illinois governor after being convicted of abusing his powers.
Mr Blagojevich said he was "saddened and disappointed" by the verdict but "not at all surprised" and would fight to clear his name.
He was charged with trying to sell the seat vacated by Barack Obama when he was elected president.
In a second vote, Mr Blagojevich was banned from holding public office in Illinois for life.
He had been arrested in December and faces a criminal trial over bribes allegedly taken during his two terms.
No other Illinois governor has been impeached, let alone convicted in a Senate trial.
Mr Blagojevich has now been replaced as governor by Patrick Quinn, a fellow Democrat and the state's lieutenant governor.
Senators voted 59-0 against him after an impeachment hearing, despite his claim that he had "done nothing wrong" and there was no evidence of a crime.
After being sworn in, Mr Quinn told the senate "the ordeal is over".
He said the elected representatives had "reflected the will of the people".
"Now it's our job to call upon the people of Illinois to make the sacrifices necessary to address the serious challenges we have before us," Mr Quinn said.
'No evidence'
Speaking outside his home after the senate hearing, Mr Blagojevich said he "obviously saddened and disappointed, but not at all surprised by what what the state senate did today".
He told reporters he was grateful for having had the opportunity to "get up every day to fight for average, ordinary people".
"I love the people of Illinois today more than I ever have before," he said, to which a person in the crowd shouted back: "We love you too!"
Mr Blagojevich had addressed his trial on Thursday in a last-minute bid to save his position, having earlier said he would not take any part.
He told senators: "There is no evidence that shows there was any wrongdoing by me as governor."
He expressed annoyance that he was not able to bring his own witnesses.
He said President Barack Obama's chief-of-staff Rahm Emanuel was one witness he would have liked to question, but rules prevented him from doing so.
He appealed to senators, at the end of the four-day trial, to consider his position, saying: "Think if you were innocent and rushed out of office.
"A crime has not been proven. How can you throw a governor out of office with incomplete evidence?"
But his speech appeared to have little effect on the senators.
"I sort of looked at him as a magician and we've all been wowed. But all the magic is gone," one senator told the Chicago Tribune.
"I am immune to his speech giving, because we've seen those tricks before. He can look sincere, he gives a good speech and he's a good performer. Perhaps he can get a job in the arts," she said.
FBI evidence
Since Mr Blagojevich was arrested last month, he has persistently denied the charges against him and has refused to resign.
There is no trial date set in the criminal case.
"If I thought I had done something wrong I would have resigned in December," he told senators.
"I didn't resign then and I'm not resigning now because I have done nothing wrong."
He says he is the victim of a political vendetta.
Impeachment prosecutor David Ellis, in his rebuttal, emphasised that Mr Blagojevich had refused to appear under oath to answer questions, opting instead to make a closing speech.
In his closing remarks, Mr Ellis said: "The evidence showed that throughout his tenure as governor, the governor has abused the power of his office and put his own interest above the interest of the people."
The impeachment followed an investigation by a 21-member committee of Illinois legislators, which looked at testimony from FBI agents who wiretapped phone calls to and from the governor's office about who should fill President Obama's seat.
It is alleged the conversations show that Mr Blagojevich was trying to use the seat to get himself or his wife a job.
Mr Blagojevich is the first US governor to be impeached in more than 20 years, after Arizona's Governor Evan Mecham was removed from office in 1988.
Four of Illinois' past eight governors have faced criminal charges and Mr Blagojevich's predecessor, George Ryan, is currently serving a jail sentence for corruption.