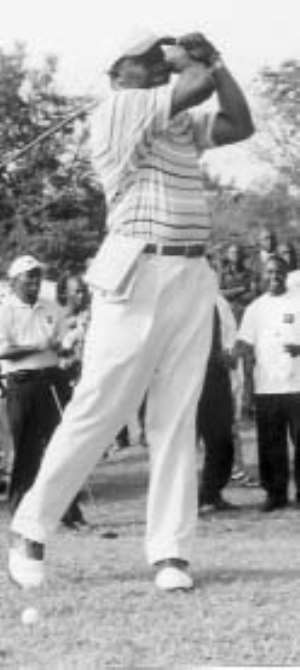 The Asantehene, Otumfuo Osei Tutu II, gave the Ghana Open Golf Championship a royal touch when he treated golfers and specatators to some fine strokes at the Kumasi Golf course last Monday.
The King was making one of his rare appearances at the tournament which marked the club's Diamond Jubilee and Ghana's 50th Independence Anniversary.
And after three days of action, Godwin Sai and Victoria Manteaw snatched the ultimate prizes .
Sai, Achimota's upcoming great, grabbed Ghana's top golf prize with a 224 gross score, while 23-year-old Valentina, one of three prospects founded by the "Lady Scientific" Florence Etwi-Barimah, capped her ambition with 274 gross score for the top prize.
The 75th edition of the Ghana Golf Association (GGA)-organised championship sponsored by CFAO motors, in association with SG-SSB Bank, may not have had the full compliments of all potential golfers across the country, but it had all the magic and thrills from His Majesty Otumfuo Osei Tutu, Asantehene, and the Chief Life Patron of the Royal Golf Club.
Emos Koblah, in one of the best moments raised his triumphs in the professional ranking with perhaps his eighth conquest, returning a 9-under par 279 gross (68, 72 68, 71) over four days, beating his age-long rival, Victor Brave-Mensah, with 295 gross and host club Kwasi Bannie 299 gross on his way to victory.
Master Nocolo Catto picked the juniors scratch with an 84 gross score, while Samer Hage took the handicap honours returning 73 net in the same division.
The Life Patron of the club, Otumfuo Osei Tutu, called for consistent encouragement of the sports in schools to enable the youth to take to the sports as is seen in soccer.