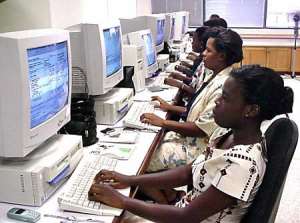 G. Pascal Zachary for FORTUNE
Dankwa Quist looks worried. He peers over the shoulder of a woman keying data into a computer from a medical form that has been beamed by satellite to an office in Accra, the capital of Ghana. A supervisor in Utah has sent Quist an e-mail saying a name is misspelled. The name is carefully retyped.
Quist, a Ghanaian, is in charge of quality control for his 60-person shift. His boss, however, is American--Affiliated Computer Services, a Dallas company that processes health-insurance, credit card, and other claim forms by outsourcing the work to Spain, Jamaica, the Dominican Republic, Mexico, and Guatemala. Two years ago, Affiliated opened shop in Ghana, where wages for clerical workers are half those in Mexico, and English is widely spoken.
So far, so good. Sales rose by 50%, to $3 billion last fiscal year, and profits rose by nearly as much. Though it is impossible to say how much of that performance is attributable to Ghana, Affiliated is pleased with how things are going. "People didn't believe we could carry this off," says Tom Blodgett, the executive who launched the Ghana operation. "We made a bold move, and it worked."
Even as companies scour the world to reduce costs, sub-Saharan Africa has largely been skipped. There is no mystery as to why: bad policies, low productivity, frequent wars, crime, corruption, poor infrastructure, and so on. But some African governments, such as Ghana's, are catching on to the possibilities of high-speed communications and powerful computer networks. When Affiliated sought a satellite license two years ago, John Mahama, Ghana's communications minister at the time, overruled a balky bureaucracy and, for the first time, gave a foreign company authority to send and receive data via satellite. "I was ready to try anything new," says Mahama, now a member of parliament, "because of the potential for employment."
Mahama was right. Affiliated hired 1,000 workers within its first 18 months, making it one of Ghana's largest private employers. Today about 1,150 people work around the clock for Affiliated in Accra, processing more than 100,000 claims a day, mainly for Aetna and UnitedHealthcare. Of course, there are frustrations. Electricity outages stress equipment, and keypunchers, who earn roughly $100 a month--the minimum wage is $1 a day--don't like being paid piece rates. (Affiliated has repelled a union drive.)
For Ghana, the big issue is whether it can maintain its competitive advantage. Affiliated recently opened a facility in Bangalore, India, where wages are about the same but communication links are superior. "We're committed to Ghana," says Rick Kitchen, who oversees the company's international operations from Utah, "but we can't save it singlehandedly."
Based on Affliliated's example, several other American companies are considering outsourcing work to Ghana, including Global Response, a call-center operation based in Fort Lauderdale. Perhaps soon, when a magazine subscriber in Kansas City calls an 800 number to report an address change, he will hear a friendly voice on the phone--speaking with a Ghanaian accent.