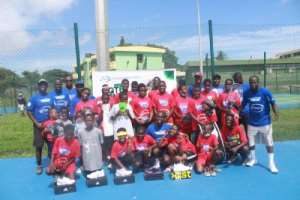 The High Quality Tennis Foundation in collaboration with the National Sports College, Winneba, last Saturday put together the second edition of the High Quality Tennis Foundation Tennis Clinic for junior tennis players at the Winneba Sports College.
The event was meant to boost the performance of young and upcoming players within the Winneba area, and attracted 50 young players aged between 5 to 14 years.
The one-day program saw the participants taken through a variety of drills to improve specific aspects of their game, including serving, return of serve, baseline rallying, approaching the net, aggressive base liners, and counter puncher play.
After the clinic, the junior tennis were presented with tennis items such as bags, Shoes, Rackets strings and apparel.
In his closing remarks, founder of High-Quality Tennis Foundation who doubles as former Winneba tennis star Eric Okyere said, his outfit intended to make the event an annual affair hoping to introduce children to the modern ways of the game.
"When I cast my mind back to the struggles, I went through playing tennis, I don't want the same for these children. Our target is to take the game of tennis into all villages, as well as the town.
"I am not looking at just tennis but their academical performance as well. At this moment, we want to give the junior tennis players in Winneba the academic exposure just like Francisca Nyarko, Marcel Agbene and Gabriel Atteh who were all from Winneba sports college," he added.
Eric stressed, "I thank the coaches and volunteers present for the day's event, including ITF level 3 coach Albert Arthur, Richmond Hayford, Charles Abugubila, Elizabeth Kapari, Albert Tetteh, Louis Hammond, Irene Boatemaa and Evans Azumah. Grateful to US based Kent Lammers, Miyanna Vernon, Kyle Markham, Tim McManus as well as Martin Rocca from Spain and Benedicta Yaro for their support in making the second edition a successful one."