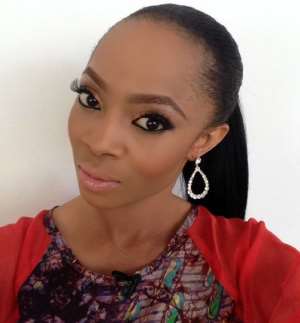 Top video blogger and on air personality (OAP), Toke Makinwa, over the weekend narrated how she gets paid for attending some events in Lagos.
Toke described herself as the life of a party, "attending events is part of work as well. I do get paid to attend some events. When you grow a brand and it becomes a solid brand, people will what to associate with that and if they have some products or services that they have that would align with your brand, they invite you to be part of it.
Just like people feel like you been at certain events might also add some glamour to it. I see it as work as well. I really don't go out like that, in terms of having fun or chilling at home.
I think I enjoy the fact that it's a job and I am getting paid for it. I live the life of a party and that hasn't changed. I love talking, I love to go out to listen to music and have a good time. That's who I am and I am truly happy to be with someone who appreciates that part of me. He loves it so no problem."
On why they chose a surprise wedding, Toke said;
"To be honest with you, I can't understand it myself. I think it happened the way it was meant to happen. If we didn't do it this way, I don't think it would have happened till now. There was so much surrounding Toke and Maje's union"
The fair complexioned media personality also reveals more reasons people are always interested in her personal life.
"I honestly don't know. People seemed interested in it I guess. There was just so much of both of us out there. The bible says all things work together for all those that trust God. So at that point, for me, I could have broken up and living my life and I was ready to be single again and I woke up one morning again here I am, I am married. It happened the way it was supposed to happen. That is the only way we could have done it" she said.
Toke said she doesn't attend functions with her husband much because she has learnt to strategize her life
"I think its all about putting things into compartments and properly compartmentalizing things because at the end of the day, he is an individual. He has his own life. He is loving what he does and I am loving what I do and it just works for both of us" she said.
© 2014 Nollywoodgists.com
Click the link below to go to...
Top 5 Ghanaian Celebrities Accused Of Bleaching Their Skin
Yvonne Okoro Confirms That Yvonne Nelson Bleaches
Alleged Robbery: Nollywood Actress, Yetunde Akilapa Discharged And Acquitted
How My Friends Set Me Up -Recently Released Actress, Yetunde Akilapa Reveals
Nollywood Actress,Yetunde Akilapa, Sent To Kirikiri prison in Apapa, Lagos
More On YETUNDE AKILAPA