It isn't my fault if my looks make men sexually aroused- Adaora Ukoh, actress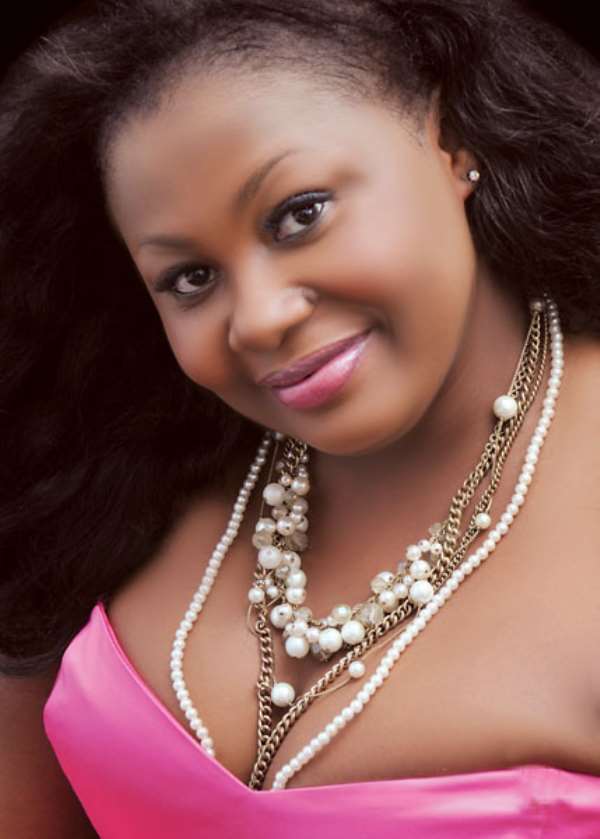 Adaora Ukoh, a Nollywood actress, believes big is sexy. In this interview with Ada Onyema, the actress, who also presents a TV show, talks about her career, love life and controversies surrounding her talk show
Apart from acting, what else do you do?
Recently, I have been trying my hands on so many things, but then, they all have to do with entertainment. Sometimes, I do interior decoration for friends because I noticed that I have the flair for it. I have a clothing line that caters for the plus size people and I have a TV show called Divas Dynasty.
What inspired your clothing line?
It is because I always get to answer questions on where I get what I wear. I really don't know how it came, but I know that I'm always conscious of what I wear right from my growing up days, but entertainment actually helped to enhance it. I decided to clothe the plus-size because they always think 'full fleshed' women can't look sexy. So, instead of answering so many questions, I decided to put the business part into it through my clothing line.
How has it been?
It is really not very easy, but we're doing it and sometimes later I would like to do retail clothing. But for now, we just clothe people for events and red carpets.
Who does the cutting and sewing for you?
A friend of mine. She is on the plus-size too and understands the body type. She does the fashion part of it and I bring the creativity.
Did you consider the misunderstanding that comes along, especially when friends run business together?
That is why it is always nice when you are doing business, especially with friends, you try to spell it out. I have had my own share of doing business with friends and mixing business with pleasure or separating friendship and business. We got in a lawyer and everybody understands her own part of the deal. About 20 per cent of my own share goes to charity because I love doing charity work, not because I really have all the money to do that, but trying to use what I have, which is the face.
What is the talk show all about?
Divas Dynasty is a programme that celebrates women and their positive achievements. It also tells their stories, challenges, trials and triumphs, thus placing them side by side their male counterparts. We go into the mind of selfless, influential and successful women whose stories can serve as a source of empowerment for women and youths at large.
The story is that you are taking advantage of being a popular face in Nollywood to cream off your partners. How true?
I wish I have seen the money. There is nothing I have not heard, just like they say, I'm just an ordinary presenter. The sponsors can actually say who they give money or not. The Divas Dynasty is like a group thing. We have a sponsor, director, producer and me. I just hope everybody understands their job and I'm doing mine very well. I really don't have anything to do with the fund. Whoever that is bringing the rumour and thinks he has a problem with it, I challenge the person to come out and do the talking. It is a company run by four people and I have done it with all my heart because I see a future in the project. I have done it free of charge. If I did it without earning money and did not complain, I wonder why somebody who is earning money should complain. What I'm looking at is the bigger part of the show when sponsors will take it up; this is where the real money is and not the kobo kobo from the side and that is what someone is complaining about.
You have been in the industry for the past 15 years; what is the difference between then and now?
I guess the difference between now and then is that as beginners then, there were so much love among us, there was this zeal for us to get to the next level. We could eat together from the same bowl though it was challenging because we had to hustle for one audition or the other and the fact that we were all doing it together kept all of us together. The industry was not competitive and Nollywood was not open to the world. Now there are lots of challenges and more people are coming in; some don't even understand what they are here for. I would just say that some of us who have decided to stay is because of the passion for the profession.
Do you realise that some of the old faces in Nollywood are no longer relevant in the industry?
One thing I understand about entertainment is that it has timing; sometimes a story line also makes it different. There was a time 'blood money' was reigning and at that time the industry just picked some people who particularly fit into the roles that were being shot. The real players in it should understand how it goes and try not to become stereotypes because you get to do same thing every time and people will get tired of seeing same thing.
How did you start acting?
I used to be in the same neighbourhood with a popular actress, Jennifer Olisa, and she was just regarded as the queen of the area. I walked up to her and told her I wanted to be an actress like her and she obliged me. I stole out time from Catechism classes to go for one audition or the other and I got a job. I never told my father because he was a disciplinarian to the core. Then, one of his friends saw me on a set and told my dad and it earned me the beating of my life. After the beating, I still went for auditions but I kept begging the directors to close at same time I close from Catechism class so that my dad would think I came back from Catechism. I went on like that for a long time. My mum was indifferent: she believed in allowing children to follow their passion. But I had to quit after I lost him.
You studied law, why are you not practising?
It is just the passion: I just found myself coming back to acting and with the help of a few producers and friends. It was not really difficult finding my feet back.
You discovered your love for acting before you went to the University of Lagos to study law. So, why didn't you read creative arts?
I wasn't in control of my world then. My parents wanted me to study law, which made me to fail JAMB twice and after I lost my dad, ironically, I gained admission to study law. I still love my law degree and I intend to go back and finish law school and sometime launch into entertainment law.
Basically you want everything entertainment; is it because of the fame?
They say it is the short cut to fame, but fame differs. It is not easy to get famous for the right thing. It might be a struggling process, but there is the need for you to know what you want to do. It could be a short cut for some people but the maintenance of the fame matters. I know that it is not easy because fame comes with its side effects. The entertainment industry is not an easy place.
Have you been sexually harassed before?
Not at this point of my career anymore.
So, you were?
Yes, one or two times but at this point in my career, it is no longer sexual harassment. When you look at the industry, people are trying so hard to improve themselves and if someone is depending on sex, that is her business.
What is your worth?
I don't think anybody is earning their worth in Nollywood and the reason is because there is bad sales. We have a lot of issues with distribution, but most of us make money through our different roles. Also, with endorsements, people are beginning to earn their worth.
Which fashion faux pas have you observed among the plus-sized?
The basic problem is the shape. A lot of us don't understand our shape, but rather wear what is in vogue. This is wrong; it is about understanding your body and knowing what fits you.
Who is your ideal man?
A focused man that likes to enjoy himself once in a while. He is a man that wears good cologne.
Is the lucky guy around?
Yes, I'm in a relationship but I don't want to talk about it.
Has he proposed?
Maybe he is taking his time to be sure I'm really what he wants to. I hope you know that guys don't like commitments. I'm single but not searching. So, let's leave it there.
Aren't you proud of him?
Not that, but I want to keep it that way.
Is he not the man we hear 'bettered' your life?
I really don't know why sometimes, when you get support from a relationship, it becomes an issue. If you get support from your spouse or whoever you are dating, it is all for the better. So, right now, I'm in a relationship and I get moral, financial and educational support from every angle.
You were quoted to have said that you like to exude sexiness; do you know what it does to men?
I really don't have an apology for being sexy or looking good. I think men should have control over themselves the more. It is not my fault if my looking good makes a man gets horny.
Do you feel bad about some of your past affairs?
No! I've never felt bad and won't feel bad. I'm not the first; neither will I be the last to fall out of a relationship. Again, over the years, I have learnt to identify and differentiate real people from fake ones. For me, no hard feelings for my broken affairs, I've always advised my pals to let go any relationship that does not favour them. Sisters should always move on with their lives, no matter what happens.
What do you hate being an actress?
Oh yes, as an actress, I'm forced to live my life under the scrutiny of the public. You have to live your life for people and by doing that, some of us tend to live a false life.