Opinion: Agric Minister's Regional Tour Must Be Problem Solving One And Not Lip Service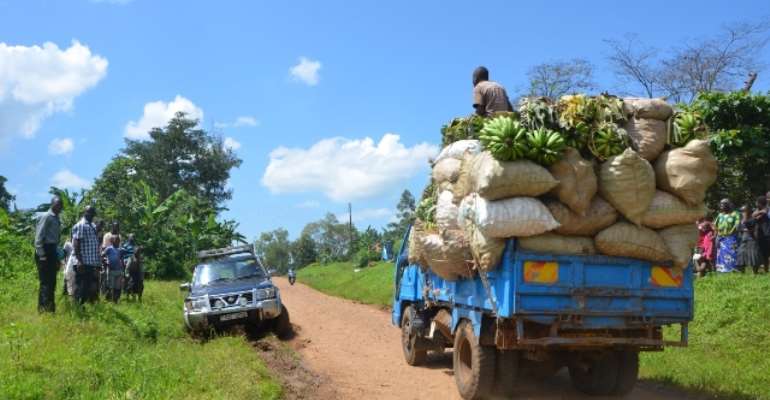 I am aware that the Minister for Food and Agriculture, Dr. Owusu Afriyie Akoto, is scheduled to undertake a 6-day tour of the Ashanti, Eastern, Bono, and Bono East regions, beginning today, April 27. The visit of the Minister is expected to enable him to interact with farmers, visit selected fields while also holding discussions with staff and other stakeholders in the agricultural value chain.
A statement issued by the Press Secretariat of the Ministry said the Minister "would also inspect ongoing and completed projects including warehouses and feeder roads being constructed under the Ghana Agricultural Support Investment Programme (GASIP)."
As an Agriculturist, I think its time the country and the Ministry of Food and Agriculture see farming as a serious business and not just hand to mouth business or job.
Farming is a global business these days what happens on the far side of the world often impacts what farmers in Ghana must focus on.
Farming is also a local business and how the public perceives agriculture goes a long way toward influencing state and government elected officials, who make the laws that govern agriculture. For the most part, our elected officials don't really understand what farming is all about and we don't have a unified voice to explain it to them.
Agriculture has a central role to play in promoting growth and poverty reduction in the Ghanaian economy at this stage of our development and Ghana needs an agricultural revolution based on productivity growth; this will raise almost a million more Ghanaians out of poverty, improve rural livelihoods significantly, and make a dent in the poverty of the rural savannah, especially in the Northern regions.
Agriculture plays a strong role in reducing poverty. The most compelling evidence for this comes from comparing China and Africa. China's poverty rate fell from more than 50 percent in 1981 to about 20 percent in 1991 and 5 percent in 2005. In 1981, China's poor outnumbered Africa's by almost 4:1. Yet by 1996, SSA had more poor people than China: 500 million Chinese moved above the poverty line, between 1981 and 2004, whilst 130 million more Africans moved below the poverty line in the same period. What caused this great achievement in China?
A combination of crisis, political leadership, reforms, supportive conditions and managing the stakes between potential gainers and losers, all played their role. As is often the case, these reforms grew out of a crisis of food insecurity, through which the leadership managed to carefully make a case for reform. Important preconditions assisted the process: prior investments in rural infrastructure and the high level of literacy among China's peasants helped.
Resistance from local cadres, whose power and privileges were under threat, was managed by giving them a stake in the new system: they became the new entrepreneurs for rural non-farm enterprises. Making the reforms stick was aided by the fact that the center avoided imposing a single model, but rather gave farmers and cadres a choice among broad options. China's experience is fully consistent with the view that promoting agricultural and rural development is crucial to pro-poor growth, particularly at the early stages, given the potential for smallholder farming to rapidly absorb unskilled labor.
Experts have argued that an African development strategy that is firmly grounded in agricultural and rural development can result in a more sustained impact on poverty. Just as in China, there will be a time when the emphasis in Africa will shift to secondary and tertiary sectors. But with land abundance in Africa, an agriculture based strategy must for now be at the core of any effective route out of poverty, just as it was in China in the 1980s.
This regional tour should not be the usual once we have been seeing every day, in these trying moments we want to see solutions to the challenge's farmers have gone through since I was born.
Firstly, Poor Transportation and Storage Facilities, most of the farm produce just go to waste in our remote areas because farmers find it difficult transporting their farm produce to the market to sell.
Secondly, Poor Markets, one of the major impediments is smallholder farmers' lack of access to markets to sell their farm produce.
Thirdly, Lack of Information, most farmers in remote areas have no access to information at all (some don't even have radio sets).
Fourthly, Land, China's economic reform began with making possible private land use, and just recently, new land reforms have institutionalized longer term leases to allow for larger land holdings and migration.
Lastly, Extension Services, a pro-agriculture stance will need to rest on a strong extension service capability, as part of the capable state Sanitary and phytosanitary standards for the export of high-value agricultural products require the provision of extension support to small farmers either through the private or public sectors.
Conclusion
Ghana can make a break with the past if each of us plays our part. Part of that break will make possible a frontal assault on the challenge of agriculture in Ghana. It will help unleash a stronger and more sustainable growth path; move almost a million more people above the poverty line; improve the lot of rural Ghanaians by a quantum leap; and finally make a real dent in the incidence of poverty in the Northern regions.
If we are not careful Hunger may kill more individuals in Ghana than the COVID19 pandemic facing us now. Our elders say You must attend to your business with the vendor in the market, and not to the noise of the market. — Beninese proverb
About the Author: Quainoo Reuben is an Agriculturist, Project Management Professional and a Journalist with cross-platform experience working with Radio, Newspaper and Online platforms and received 2019 Outstanding Journalist in Agriculture Reporting by Ghana Chamber of Agribusiness.