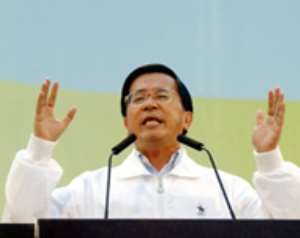 China has rejected a renewed bid by Taiwan for meaningful participation in the World Health Organisation, saying that membership should be limited to sovereign states.
Chen Shui-bian, the president of Taiwan, in a videoconference with European health officials on Friday, pressed the case for observer status in the World Health Assembly and participation in other specific mechanisms of the World Health Organisation (WHO), saying it was a missing link in the global health and medical system.
But Liu Jianchao, a Chinese foreign ministry spokesman, said in a statement: "The WHO is a special institution of the United Nations that can be joined only by sovereign states."
The statement was posted overnight on the ministry's website.
Liu said that, given an existing framework for allowing Taiwanese health experts to participate in some WHO technical activities, no missing links arose from Taiwan's current level of participation.
He said that, in putting forward Taiwan-related proposals at the World Health Assembly, the Taiwanese authorities had used the excuse of health issues to support secessionist activities.
"Such a political attempt will not succeed," he said.
Chen had said on Friday, ahead of the May 22 opening of the World Health Assembly in Geneva, that his island's efforts at greater participation were not politically motivated.
"This is based on practical needs in health and disease prevention and is entirely independent of political considerations," he said.
China considers self-ruled Taiwan part of its territory, and opposes its participation in most international organisations.
Taiwan, officially called the Republic of China, was ejected from the United Nations in 1971 and its seat given to the communist People's Republic.