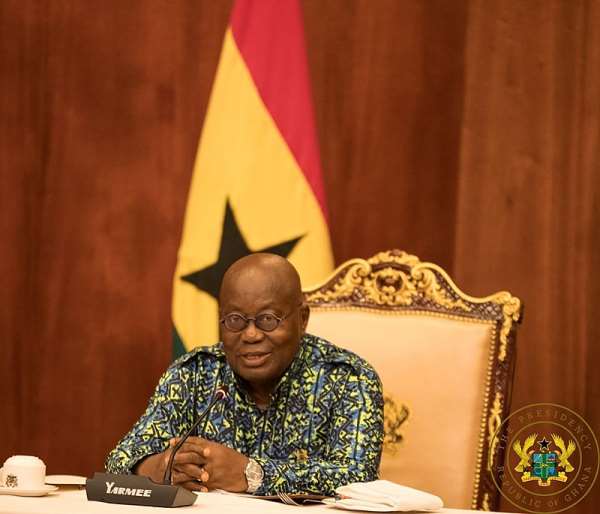 Last night Ghanaians waited with bated breath to listen to the 5th COVID-19 broadcast by his Excellency the President of the republic.
Having endured a partial but bitter lockdown for a week Ghanaians were expecting the Number 1 Gentleman of the land to give a refreshing message that will calm nerves and give hope for the future.
Unfortunately, our President continued his usual naked populism and empty rhetorics.
Among the flatter to deceive messages our President gave are
Government to absorb water bills for three months
3.600 million Euros loan to small scale industries.
Hhhmm anokwa Mr. President how many households in Ghana have taps?
How much do Ghanaians pay a month as water bill?
What about the ordinary Ghanaian who queue to buy water every day?
Personally I use borehole and buy sachet water to drink. What benefit will I get from this offer?
Come again Mr. President
Our President is promising our front line health workers a 50% of basic salary as allowance.
Already front line workers at Korlebu are threatening to strike because of inadequate PPE's.I hope he fulfil it though. The one million per every constituency on my mind
How many PPE's have the government acquired?
What is the importance of money to a dead person?
The comic relief is the 600m promise to small scale industries. Jehovah!
"tena baabi a wote wati".
What happened to the tricycles and excavators?
Weren't they shared to party functionaries?
This money will end up in the pockets of party footsoldiers to the detriment of the suffering lot.
Mr. President your refusal to close our borders on time or mandatory quarantining the immigrants since January has brought us to where we are. If u had quarantine the immigrants, we wouldn't have had positive COVID-19 patients let alone spreading in the country as we witness.
Your negligence and carelessness have caused us this only for you to persuade us with the water bill. This is very cheap indeed. If we were at normalcy, we would have been working by now to accrue huge sums to meet our transaction and precautionary demand for money and would have paid easily our water bill. A friend averagely pays 10 CEDI's a month for the water bills. So what has the government done with just 30cedis relief while we are suffering
Wake up from your slumber Ghanaians are choking under the exorbitant communication tax, the cost of electricity is making commerce virtually impossible, we can't afford to buy fuel. What is happening?
I don't want to believe we have two viruses in the Ghana Coronavirus and NPP Virus.
Shadrach Appiah