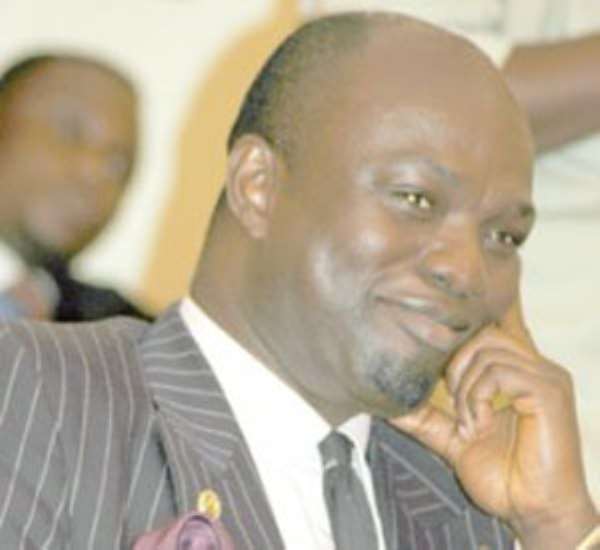 Joseph Boakye Danquah - Late Member of Parliament
The ineffectiveness of the Ghana judicial system coupled with the unprofessional conduct by our law enforcement and criminal investigations agencies has made it possible for the difficulty to successfully trying Mr Daniel Asiedu alias Sexy Dondon, the self-confessed killer of the late Member of Parliament, J. B. Danquah (Hon), let alone, finding those who contracted him to carry out that heinous crime.
Daniel Asiedu has since year 2015 been held on remand at the Nsawam Maximum Prisons without any successful prosecution leading to his conviction and sentencing to a jail term to bring the case to a closure.
Much as a criminal trial requires a 100% doubt-free documental evidence or credible exhibitory proofs, do the J. B. Danquah's personal mobile phone device (cell phone) found on Daniel Asiedu after his murder, his self-confession to committing the crime backed by the statements he made to the police without being under duress and his recent video-recorded message as found below, not enough credible, acceptable and permissible evidence to successfully try him?
Why is the Attorney General or whichever person or institution responsible for arraigning Asiedu for a proper trial to bring finality to J. B. Danquah's murder still dithering? Are those people serious at all? Who are they kidding by their unprofessional dilly-dallying? Do they not understand that it is said, "Justice delayed is justice denied?"
Those in charge to ensure the apprehension of all those involved in J. B. Danquah's murder are doing disservice to the family of the deceased, to the nation and to all those whose names have been mentioned as the masterminds or orchestrators of J. B. Danquah's assassination.
As a pocket lawyer in my own capacity as the voice of the voiceless and the defender of the defenceless, I, Rockson Adofo, have some questions and suggestions for the whole nation on J. B. Danquah's death and how to bring the case to a successful closure.
1. Does criminal trial accept self-confession not made under duress as a tangible proof?
2. Was it proven that Daniel Asiedu indeed had in his possession the personal mobile phone device (Cell phone) belonging to J. B. Danquah and if yes, how did he come by it and when?
3. Had the investigating agencies established the movements of Daniel Asiedu two days or a day prior to, during, and after his alleged assassination of J. B. Danquah?
4. What were the names mentioned by Asiedu as his accomplices in the murder of his victim (J. B. Danquah) as soon as he was arrested and taken to the National Security or Bureau of National Investigations (BNI) office for interrogations?
5. Was he actually arrested by two guys as alleged by Kennedy Agyapong (Hon) and handed over to the police or the police themselves went their own way to arrest him upon a tip off or on their own ability as law enforcement and/or criminal investigation agents?
6. Was it true that Stan Dogbe's name was initially mentioned as one of the contract paymasters in the murder, and if yes, why did the police not pick him up? Were they afraid because he was by then a powerful figure in the ruling NDC government?
7. Did Police officer Dan Pare refuse to confirm to Kennedy Agyapong that a then sitting MP's name (Amadu Sologo) had been mentioned by Asiedu as one of his paymasters engineering the assassination of J. B. Danquah?
8. Why did it take the National Security or BNI so long to come out with any statements made by Asiedu before he was put before the court?
9. Why were some NDC top brass trooping to the BNI office in Accra where Asiedu was taken when apprehended for the murder of J. B. Danquah? What were they frequenting there for? To ensure Asiedu changed the story to favour them or did not reveal the true names of his paymasters?
10. Has a retired police officer indeed confirmed the name of one Sologo to Kennedy Agyapong as mentioned by Asiedu in connection with J. B. Danquah's murder?
11. Was there any political or police administration interference in the year 2015 when Asiedu committed the crime until the police officer's retirement that was why he could not mention the name Sologo to Kennedy as one of the names mentioned by Asiedu himself upon interrogation?
12. Who authorised the self-confessing recorded video in prison by Daniel Asiedu? Who provided him with the electronic gadgets used and what was the motive of whoever engineered the video recording?
13. When did the video come out and are the National Security, BNI and the Ghana judicial system aware of the existence of such a video and if yes, have they acted upon it, and if no, why not?
SUGGESTIONS:
The police must pick up all those mentioned in the video as are the alleged persons (Kennedy Agyapong, Nana Akufo-Addo and Allotey) contracting Asiedu to kill J. B. Danquah and those that he is pleadingly exonerating from blame, thus John Dramani Mahama and Co. I know in Ghana, the police cannot approach the president on this revelation unlike in the Western world. However, they can convey the revelation to his attention to elicit a statement of some sort from him.
I know from the bottom of my heart and experience in investigations that Asiedu is up to some tricks intended for implicating some people to set himself and his paymasters free. How would the killing of J. B. Danquah enhance the NPP's chances of winning election 2016? How was J. B. Danquah established to be a stumbling block to NPP winning the election hence had to be murdered?
Why again was his murder intended for enhancing the winning of his parliamentary constituency seat by a member of the NDC? This is a contradiction by Asiedu which must be interrogated in correlation with the mentioned name Emmanuel/William Smith? Could this Smith not be one Ato Smith who was once former President J. J. Rawlings' spokesperson, former Ghana British High Commissioner to the United Kingdom and often a parliamentary contestant in a constituency in the Akyem area on the ticket of NDC?
The family of J. B. Danquah could use the video as their evidence to start unravelling the truth about J. B. Danquah's death. By that, Kennedy who is also bent on getting justice done to J. B. Danquah and to exonerate himself from blame will cooperate with the family to get to the bottom of the J. B. Danquah saga.
The police and all the law enforcement agencies as well as the judicial system involved in dealing with this case must please use the video as a clue to quickly solve the enigma about J. B. Danquah's death to bring the case to a successful closure. Don't let this opportunity offered on a silver platter slip through your usual porous hands made so by your infatuation with corruption and unprofessionalism.
CONCLUSION:
The Attorney General, Mrs Gloria Akufo, must be seen to act on the video to trigger the successful prosecution of Daniel Asiedu and his accomplices. All those who facilitated the video recording from inside the Nsawam Maximum Prisons must be interrogated as to who provided the gadgets, decided to do the recording and for what reasons. The Attorney General must be seen to be working intelligently on this issue without running to kneel before any traditional overlord for blessings, guidance and protection before setting about the successful prosecution of Daniel Asiedu, alias Sexy Dondon.
Rockson Adofo
Friday, 27 March 2020