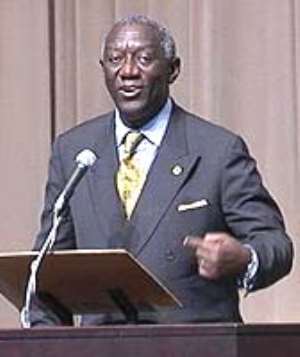 * In showing sympathy to Mr. & Mrs. Rawlings, says Press Secretary
* Discloses that President has acknowledged concerns of workers agitating for better wages and salaries
The Presidential Press Secretary Mr. Kwabena Agyepong, speaking yesterday at the bi-weekly Castle media briefing, responding to a question suggesting that Mr. and Mrs. Rawlings had rejected a "get well soon" message from the government following their involvement in a minor motor accident in South Africa, said President Kufuor's conduct is not and cannot be determined by Mr. and Mrs. Rawlings.
He explained that the President has done what he thinks is right and will continue to do what is right.
The Presidential Press Secretary in his main briefing said the President has acknowledged concerns being raised by various sections of the working population about poor wages and salaries and assured them that the government is actively involved in national dialogue with stakeholders.
He said the President is committed to the process of working out a realistic pay structure for the Ghanaian working population and called on all parties involved to let the national interest and good sense prevail, as government continues to dialogue with stakeholders on improving the lives of people.
Mr. Agyepong assured Ghanaians that the impact of implementing a new wage policy structure is far-reaching and intensive deliberations are currently underway. He said President Kufuor shares in the sensibilities and the feelings of the working population and the entire citizenry at large and urges them to exercise patience and restraint as government moves speedily to address their concerns.
"Transforming the economy is not an easy task; patience is the key", he noted. The Presidential Press Secretary recalled that government, in a bid to improve the lives of the people, has adopted a pro-poor posture that has manifested itself into interventions such as increase in the minimum wage, the capitation grant and free ride for school children on metro-buses.
He said President Kufuor is of the view that there is the need to continue to expand opportunities for all and believes that there is wisdom in having more consultations before a new salary model is out-doored.
The Presidential Press Secretary dismissed criticisms from the Minority suggesting that the selection of locations likely to benefit from the MCA funds was not based on any stringent criteria.
Mr. Agyepong said exhaustive and wide-ranging consultations were held as part of the process to select areas for MCA assistance. He said the selected three areas, the Northern Agricultural Area, the Afram Basin and the Southern Horticultural Belt were carefully selected based on their potentials for increased production of high-value cash and staple crops.