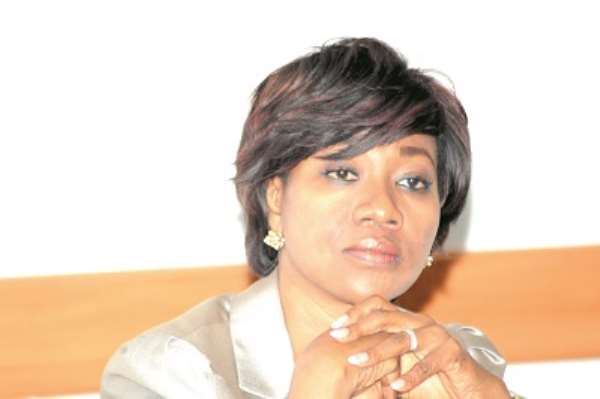 The life of the Chair of Electoral Commission, Ms. Jean(ne) Mensah, is in real danger of extinction. There are rumours of death threats against Ms. Jean Mensah bandying in the country. The threats are hilariously supportively being perpetrated by the ensemble of the NDC faithful. The possibility of the manifestation of the rumoured death threats against her has been confirmed by a prophetic revelation by one of the numerous political-prophesying prophets in Ghana - Eagle Prophet or whoever he is. He said, it has been revealed to him that some political party is planning to kill the woman.
It is all because of her decision to compile a new and credible electoral register for the country to be used at election 2020 and onwards. The NDC are adamant that the current register proven by many a discerning Ghanaian to be bloated hence not fit for a purpose must still be used. However, the Electoral Commission have received parliamentary approval and funding to compile a new electoral roll for not only the impending 7 December 2020 general election but subsequent future ones.
The NDC for unknown, but completely absurd reasons, and scared of their own shadow and the skeletons in their cupboard, are kicking against this innovative idea by the Chair of the Electoral Commission. They have vowed to move heaven and earth to stop her from coming out with a new voter register. Some of them come out openly to threaten that they will ensure Ghana burn if she dared introduce any new credible electoral roll for election 2020.
The General Secretary of the NDC, Mr Johnson Asiedu Nketiah, alias General Mosquito, was on air on Tuesday, 14 January 2020, granting an interview to a radio presenter. To a question by the radio programme presenter, Asiedu Nketiah, although a handiwork of God, with such a nauseating ugliness that cuts across the bones, offered a metaphorical answer. The presenter asked, "You the NDC are against Jean Mensah compiling a new voter register. However, she is determined to come out with one. What will you do if she does come out with one?" Asiedu Nketiah responded by saying, "Se adeE kye na owia amm3 a wo beye den". In English, he meant to say, "What will you do if come daybreak, and the Sun does not rise or fails to shine?" He implies that if she becomes so intransigent to compiling a new register it at all cost, but happens not to live to see the job done, can the new register come into being?
The presenter, surely a conniver, did not take this ugly Asiedu Nketiah on by seriously querying what his real intention is for making that serious statement bordering on assassination of, or death to, the proponent of the new register, thus Ms Jean Mensah.
Reading deeper into Asiedu Nketiah's irresponsible answer, the NDC are determined to kill the woman who wants to honestly serve her country by putting in place a credible electoral roll that weeds out illegal foreign or ghost names from Ghana's voter register.
I shall not suggest to the authorities to have Asiedu Nketiah arrested immediately because such a suggestion will be like throwing a ball to the wall. It will go nowhere but bounce back. This is because the NPP as a government and a political party have exhibited weakness and the fear of NDC thuggery so much so that they can never act. The nation's security agencies are equally scared of these NDC hooligans hence are always damn impotent before them. What a nation of jokers!
Nonetheless, they have to bear in mind that tongues were wagging when the paramount chief of Seikwa, Asiedu Nketiah's hometown, was gunned down by never-to-be-found assassins. Some were alleging that Mr "Beautiful" Asiedu Nketiah, was at such a non-reconcilable loggerheads with him over some piece of land at Seikwa hence could be a possible suspect in his death. I don't buy into this allegation. However, do not underestimate what this "Mr Handsome" Asiedu Nketiah is capable of doing, and able to do.
Subsequently, I shall suggest that the government beef up Jean Mensah's security with heavily armed police or military personnel who will not hesitate a second taking anyone attempting to kill her down. She must be driven in a bulletproof car with security cameras linked to the police installed in her residential home and her office building.
We should not take it lightly but very serious the statement made by Asiedu Nketiah. He has the guts to say that without fear why because criminal Samuel Ofosu Ampofo, the National Chairman of NDC, has got away with his manifesting deadly plots against Ghanaians without even a slap on his wrist. Therefore, that ugly creature who wears women's winter jacket when he travels abroad in winter season, thinks he can behave same with impunity.
Let me draw analogies to prove how serious certain statements are, and had not been countenanced in the past. It is all about reading deeper into them to understand what they imply.
In Dr Kwame Nkrumah's time, he banned the song, "3ponk3 ab3 dam a ne wura no deE 3mm3 dam bi", thus, "If the the horse is mad, its owner is not mad". Some people interpreted it to the President, Dr Kwame Nkrumah, that the musician means to tell him that if he is mad, Ghanaians are not mad. The musician was subsequently summoned to the seat of government to explain exactly what he meant by his song. He said, "If Ghanaians are mad, the President is not" Dr Nkrumah was not satisfied with his explanation so the song was banned from the airwaves.
Again, Colonel I. K. Acheampong banned the song, "To wo bo ase oo, 3yefo ee, nneE 3bebo wo maaye a wo se obiara ntumi wo". He used it for his Supreme Military Council coup d'état t of 1972 that overthrew the Progress Party government led by Prime Minister Kofi Abrefa Busia. Nevertheless, he banned it when some plotters of a failed coup makers had pencilled in the same song for celebration if they had succeeded removing Colonel I. K. Acheampong and his SMC government from power.
The song implied that there is always someone more powerful than you to teach you a bitter lesson. Nonetheless, until such a time that you get your comeuppance, you think to be the greatest and the most powerful among your peers, or within the society as it is the belief of some so-called traditional overlords.
Again, the late music legend Alex Konadu made the song, "Mo akum odehyeE a ma donko adi adeE" during President Hilla Limann's PNC government. He was pulled in by the government to explain why that song and what he meant by it. It was made after the execution of former Head of State Brigadier General Akwasi Amankwaah Afrifa by coup maker J. J. Rawlings and his AFRC military junta.
The PNC government believed he was casting some insinuation at them. I am not going to explain it any further. However, he went and gave his motive behind the making of the song. Whether the explanation he gave was acceptable to the authorities or not, he only knew best regarding the purpose of the song or the message he intended to carry across to the Ghanaian public.
Always, read deeper into statements and songs to understand what the person employing the words really mean.
It is pointless accusing the NPP of all the nonsenses being boldly and continually orchestrated by the NDC but to find solutions to them. If the NPP had acted as they promised during campaign 2016, arrested and prosecuted the corrupt members of the past and present government, the NDC will not be so daring today to plan and be executing further atrocious crimes against Ghanaians and mother Ghana.
The NPP and decent Ghanaians are learning it the hardest way now.
The President must encourage the Special Prosecutor to prosecute the known double-salary recipient-Members-of -Parliament all of whom were NDC. This can take away the venom from their mouths to render them less potent to curtail their desire to faffing around declaring war on Ghana and death to people.
I wonder why the NDC think they can use force to achieve their objectives all of the time. I had decided to do away with politics, stop spending my precious time writing to advocate for political correctness in Ghana but for the abundance of NDC stupidity and lies, I shall come out stronger to whack them left, right, forward, backward and centre. They must watch out for the son of Kumawu/Asiampa, the fearless no-nonsense man doubling as the defender of the defenceless and the voice for the voiceless!
Rockson Adofo
Thursday, 16 January 2020