An Open Letter To Jean Mensa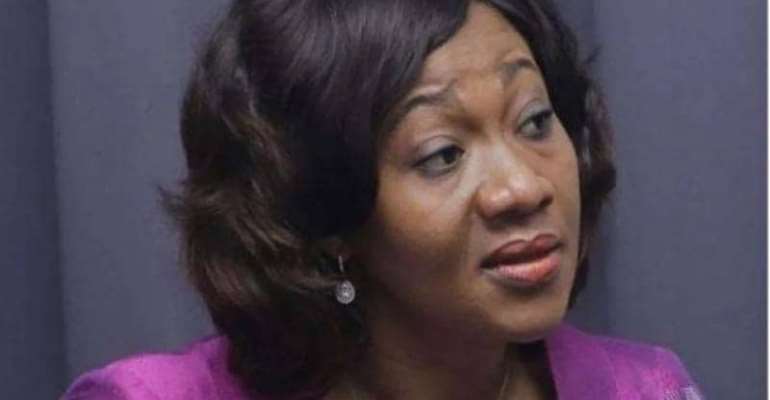 Madam Jean Mensa, I bring you unadulterated greetings from my village. I pray this new year brings you glad tidings and I supplicate to God to extricate you from your contumacy, entrenchment and intransigence which have the propensity of fanning the embers of political fire.
Madam, out of unique purpose, our sages have postulated that when the wood insect gathers sticks, on its own head it carries them. Our Kotokoli sages also aver that the bird that cries for rains, suffers the torrential rains when the rains fall.
Let me go straight to the substance of the letter. Madam, I want to say it locus classicus without a modicum of equivocation that, nothing warrants a new voters' register at this juncture in our political arena, and I will expound!
To justify your position, you cleverly (but not clever enough) cited some years back in which we had new voters' register. What you naively forgot to appreciate was that, it has been a conventional practice for Population and Housing Census to be conducted before every new voters' register. In your case, there has not been any such statistical practice. Therefore, the condition set forth by your predecessors is lost in your case. Next time when you are citing, kindly cite in details.
Your feeble claim that the voters' register is "overstretched" has betrayed your own position. When did you know the voters' register is "overstretched"? Why didn't you initiate the call for a new voters' register before the referendum used for the gerrymandering and the District Assembly elections? The common sense here is that, it would give us the opportunity to correct every anomaly before the 2020 general elections to alleviate doubts. We are faced with a crucial election 2020 and you want to use a new register whose credibility, transparency, validity and authenticity has not been tested, or if want, ascertained? The report from the just ended District Assembly election was perfect. There was no faulty machine, there was no report of over voting and double registration issues. In fact, the exhibition exercise gave the opportunity to delete significant percentage of deceased persons from the register as that was part of the exhibition exercise.
I saw some statistics that you put on your website and I must confess it betrays your position, too. From your statistics, you made it clear that a total of 5,431,902 people voted in the just ended District Assembly elections. Out this lot, only 34,843 voters were verified manually. A simple mathematics tells you that, this number constitutes approximately 0.6 percent. How could you have come to the conclusion that this infinitesimal percentage warrants a new voters' register? I think this is a problem of proactiveness and competent management. If you are able to identify the number of people who were manually verified, why won't you deal with them alone, but rather waste time, money and resources to draw an entirely new register?
But you see, in all of these, your arrogant posture makes your integrity, credibility and neutrality questionable. The Electoral Commission has a number of stakeholders, but you only align yourself with people who are sympathetic to your position. For instance, IMANI, CDD and other neutral establishments have stood against the compilation of a new voters' register, but you didn't find any expression to publish their views on the EC's website. Unfortunately, you found expression in publishing a view shared by Dr Prince Armah, a known NPP activist. Are you by this singular act of arrogance and impunity, insinuating that his view is sacrosanct as juxtaposed with that of think tanks such as IMANI and CDD? Why are you so entrenched to have a new voters' register when about 90 percent of your stakeholders are in disagreement? Which other political party supports your position apart from the NPP whose bidding it appears you are championing?
You should know that the Electoral Commission under your predecessors had a standard. If you cannot raise the bar, kindly don't lower it. You should also know that, the EC is a major factor in peace keeping of every democratically oriented country. Shaddy practices at the EC have the propensity of disturbing the peace of every country. No one would accept any electoral results through means of hanky-panky, jiggery-pokery and subterfuge, and such situations are injurious to our peace, tranquility and stability, and I don't see you considering these.
At this point, all I see you doing is subtly fanning the embers of political fire. It is not too late to go back to the negotiation table with the key stakeholders and find a common ground that reflects the wishes of the masses.
Thank you.
Yours sincerely,
#Concerned citizen
Osumanu Abubakar (2020)
WBMZSHS.
0242782515