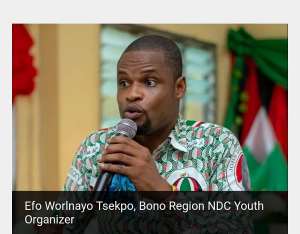 Before the guy call Abronye became a Chairman I thought it was only Chairman Wuntumi who talks before thinking but Abronye has proven me wrong.
I was wrong, because I realized Npp has insulted themselves in the Bono Region by reducing themselves to allow someone like Abronye to be their Chairman. Someone who has a brain tumor and need money for surgery. Someone who talks before thinking, someone who is in court for stealing people's land, someone who has insulted prominent people including former head of states, someone who called our eminent Chiefs "GOATS*.
In NDC Abronye will not even be qualified to be a volunteer not to talk of a Regional Chairman.
My dad always say in a village of the blind the one eye man is made a king. This is what Ewes will call AMEVOR KESE DUFIA.
Am not shocked with the insults the guy ruined on President Mahama and my General secretary because he wasn't brought up properly and need counseling.
1.Because Abronye uses only the left side of his brain he forgot to ask his Regional Director of YEA in the Bono Region much about Efo Worlanyo Tsekpo and have the facts about me in the Region before spewing those rubbish.
2.Abronye should note that am aware of his several visit to the CEO of YEA for me to be sacked because of reasons best known to him. I hereby want to dare Abronye that am in Berekum waiting for my DISMISAL letter.
Now to the subtative issue.
I still don't understand why I raised very sensitive issues and the demafamed Abronye decided to overlook them to insult John Mahama and our General Secretary.
Abronye has become a useless political figure in Npp that those at the top only know his existence if they want him to attack people with Reputations including all Chiefs in Ghana.
1. I still repeat my words and stand by my statement that Abronye insulted and called all Chiefs Goats. An evidence that is all over the media landscape. An antelope like Abronye out of alcoholism could open his mouth to call Chiefs in Ghana Goats because of politics. Who is the so called Abronye that Npp has allowed to be fooling around?
2. I want to tell Abronye to go and clear himself of all CRIMINAL charges against him in the courts in Sunyani.
3. I put it to Abronye that he has defrauded all kind of people including a fetish priest in Wenchi an allegation the PRO for the Bono Regional Minister Maxwell made in 2018 who Abronye has refused to comment on.
3. Abronye should tell the world why he was sacked from Odumaseman Senior High and should tell us how he managed to get admission to read LLB which he has so far failed three times, Abronye should know that I have his Education records on why he was sacked and couldn't complete his SHS education as well as how he managed to gain admission to the university.
4. I want to warn Abronye not to dare threatened me again in his life. He should note that his threats will never stop me from exposing who he really is. As corrupt as he is he is supposed to be rotting in jail and not jumping from radio to Radio making unmeaningful noise in the ears of the good people of Ghana.
Abronye should know that I have explosives on him that will shocked him to his spine. His deals, infact corrupt deals and other shocking issues about him will soon be unveiled for the people of Ghana to know the criminal called Abronye in our body politics.
The world will as well be made known why Abronye was handcuffed even on his sick bed in Sunyani and in Ghana its only hardcore criminals who are always subjected to such treatments.
Abronye in his statement portrayed that he is Bono. I just don't understand why he has decided not to associate himself with the people of Upper West where he hails from and has all of a sudden become Bono by tribe. I don't know the reasons why Abronye has disowned the lovely people of Upper West where nearly had a wife. Very lovely and beautiful people except Abronye.
I am an Ewe but found myself in a Bonoland and that does not make me Bono by tribe. Iam a proud Eweman thus why my name always prefix Efo for everyone to know where I come from just at the mention of my name.
I want to warn Abronye that the intimidation tactics he adopted in 2016 is DEAD beyond resurrection. And NDC in Bono will watch him closely a deal with his madness one after the other.
This is just the beginning and Abronye should wait for more because we are awake on our RESCUE MISSION!
Abronye the NPP Regional Chairman for Bono who called all Chiefs in Ghana GOATS should be humble and apologize to our eminent Chiefs and making noise allover.
*Efo Worlanyo Tsekpo.*
Bono Regional Youth Organizer, NDC.