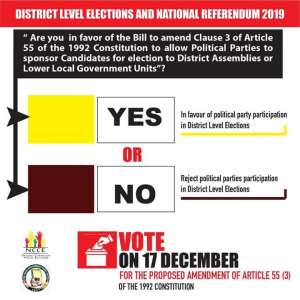 Distancing myself from cryptic aphorisms, there is an issue I would like to be enlightened on by those who are advocating the No vote as the referendum draws near.
In the unlikely event that No wins the day which would mean that MMDCEs would have to be elected not on partisan basis, what happens to the MMDCEs? Is there a window of opportunity for them to contest?
Putting it simply, I ask, those MMDCEs and others who are politically aligned to our political parties, will they be allowed to contest?
Or am I to believe that by virtue of their affiliations with political parties, they automatically get eliminated?
The NCCE and those charged with the responsibilities of educating the general public on the referendum must throw more light on this angle.
In my layman's point of view, anyone tainted with partisan politics should be disqualified, but wouldn't that also infringe on their fundamental human rights?
However one looks at this, it is fuzzy and a lot of education must be rolled out to clear our minds of this sticky issue.
There is a groundswell of anti-MMDCEs elections' sentiments sweeping across the rank and file of the party.
The idea of ceding the President's responsibility
The people don't fancy the idea of ceding the President's responsibility to the masses in this regard. Many hold the view that we are not there yet.
Their reasons may not sound cogent to some, but to others they have valid reasons.
The NDC say they are voting No, many NPP folks say they are voting No; some known voices in the media are canvassing for No, YES will likely be an orphan.
If YES fails to overcome this onslaught, it would have dire consequences for the party and government.
Would it not be ideal to take a step back, review this whole election of MMDCEs idea and put this on ice until enough education has gone on for the masses to really appreciate the import of this idea?
I may be for it but many more are against this for various reasons. Let's take a second look at this whole idea.
The NDC menace
I am deadly pale with consternation the hypocritical attitude about the latest stance of the NDC in relation to the upcoming referendum.
They are, largely, opposed to the partisan nature of the election of MMDCEs as being proposed.
However, a statement Mr. Asiedu Nketia, the General Secretary of the then governing NDC made in 2010 was loud and clear about the subtle partisanship in these assembly members' elections.
"Overall, NDC sympathizers scored over 60% countrywide in the district assembly elections" he said at the party's congress in Sunyani.
This statement and what it sought to portray breached Article 248 of the Constitution of the Republic of Ghana. Dr. Matthew Opoku Prempeh even threatened to go to court over the matter after the then Speaker of Parliament had shot it down when he raised it on the floor of the house.
Only dishonest people would still hold on to the belief that our assembly elections are nonpartisan.
The campaign for a NO does not sync with the realities on the ground.
I have no qualms with some of the issues the opposition NDC is raising as regards their position on the election of MMDCES.
My point of digression is why they are coming to town with these issues at this material moment.
Why wait till the eleventh hour to attempt to seduce the electorate away with these concerns?
The Minority in its usual comedic monologues
They have given the Government three days to distribute the ambulances parked at the premises of Parliament.
Interestingly, these same people took our money, gave it to some people to buy us ambulances and just a few came.
Even the ones which came were determined to be unfit to be used for trotro, let alone ambulances.
Trackers are being fitted into the cars while the remaining ones are almost here. January, according to the sector minister, will be the month the ambulances will be distributed to the various constituencies so Akandoh and his gang should wait.
Brevity is the soul of wit"
Shakespeare in Hamlet said something which finds space in what I want to talk about; "Brevity is the soul of wit". Let me try to make my submission on this topic as snappy as possible.
Let us not delude ourselves with this craving of voting No on December 17 in relation to the upcoming referendum.
Many have suddenly sprung up to kick against the position of the Akufo-Addo administration of making MMDCEs elective as we move forward.
Several theories have been propounded as to why Ghanaians should not endorse MMDCEs being elected on partisan basis.
Some hold the view that making it too partisan has the potential to intensify the tensions which are always associated with elections in the country.
Others believe that huge sums of monies would be expended in these exercises as we see in the elections of MPs.
They kick against the YES campaign with these and many other but similar reasons.
My point of digression is that though assembly members' elections are non-partisan, we know it is partisan. Parties fund most of these people, so why not give it a legitimacy?
The President of the land, at any given time, appoints MMDCEs on partisan basis, therefore, the extremely partisanship people talk about is defeated here.
The winner takes all syndrome will see a reduction if MMDCEs are elected.
MMDCEs will be accountable to the electorate, not the President who appoints them. Just like the MPs, your delivery would either get you retained or retrenched.
Most importantly, Parliament has ensured that we are voting on MMDCEs, so whether we vote No or Yes does not alter anything.
My stance
It stands to reason that it is a deliberate attempt to checkmate the upcoming referendum for reasons not borne out of honest intentions.
Some of the concerns may be genuine, what prevented them from voicing them out all this while?
Must we see everything with our political lenses in this country? They never mean well, these NDC folks!
Let me wager a guess, No trounces Yes at the referendum, paving the way for MMDCEs to be elected not on partisan basis.
It also sends the signal to prospective candidates to resource themselves through their own means.
If you ask me, this is idealistic if not surrealistic. Candidates are to rely on themselves in order to prosecute their campaign agenda. What an uphill task.
We are deluding ourselves, I reiterate this point. Voting Yes or No doesn't change the fact that political parties will finance these candidates.
The assembly member elections are supposed to be non-partisan. That exists on paper. The reality is that they are sponsored by political parties.
Ask me if I don't know the number of assembly members in Kumasi Metropolitan Assembly who are NPP and those who are NDC.
Political parties are not to sponsor them but we do so! Why don't we use this opportunity to legitimize what we know to be the reality on the ground?
You can vote No, political parties will still sponsor the candidates, so why don't you 'reluctantly' vote Yes? Let's go and endorse what we know to be the truth on the grounds. Vote Yes on December 17.
Those vehemently opposed to this idea of electing MMDCEs on partisan basis should have kicked against the idea of elections when it was first propounded.
It is too late in the day to flex your muscles. The horses have bolted already, closing the stable doesn't do anything to bring them back.
Let's vote YES on December 17 to give legitimacy to something which has been going on subtly.
Let's vote YES, folks!