Duchess Meghan speaks of an "unscrupulous campaign". She makes vehement accusations to British tabloids. The royal house remains silent, but dozens of female politicians have now defended her.
Duchess Meghan, the wife of Prince Harry, has received political support in her fight against British tabloid media. Despite the dispute and stress over the Brexit, 72 female members of parliament from all parties came together to express their solidarity with the 38-year-old Duchess of Sussex in an open letter.
Is the tabloid press targeting Meghan?
The letter published on Tuesday by Labour politician Holly Lynch states: "As female parliamentarians of all political persuasions, we wish to express our solidarity with you by opposing the often tasteless and misleading nature of the stories printed in some of our national newspapers about you, your character and your family.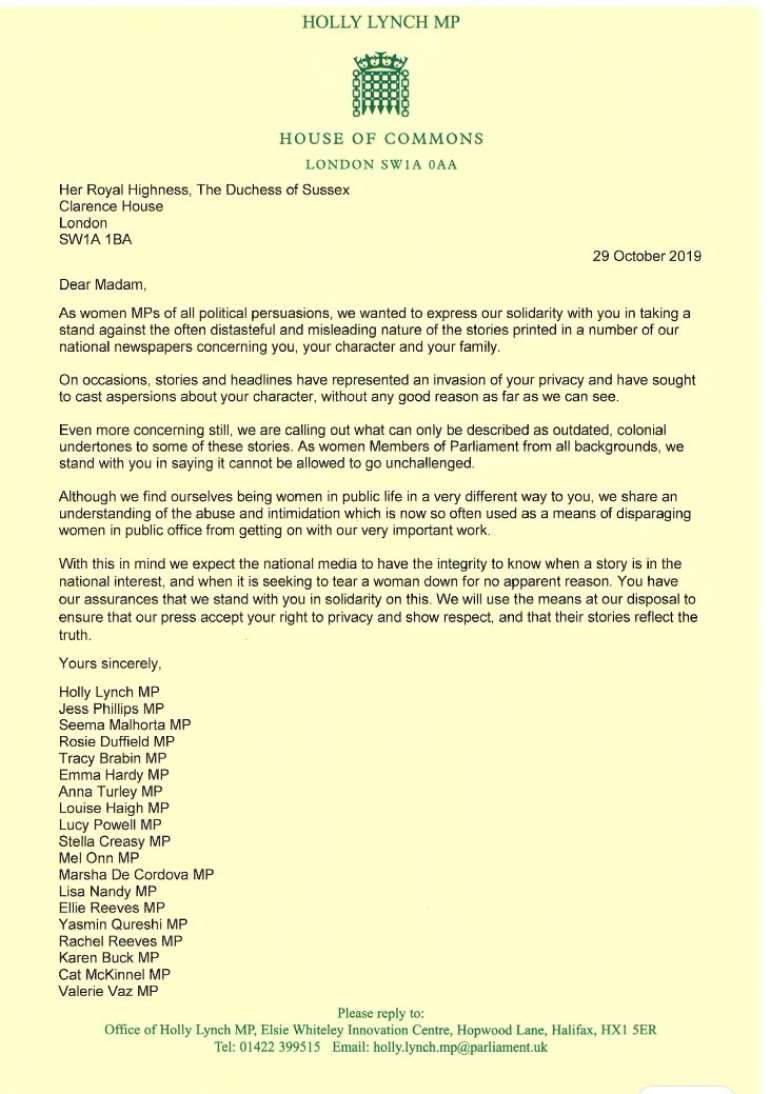 Open letter: The British politician shared it on Twitter on Tuesday.

Prince Harry filed a lawsuit in early October against two British newspaper publishers for illegally listening to mailbox messages. Previously, he had sent an emotional letter to the public complaining of a "ruthless campaign" against his wife Meghan.

The past two years have been "really a struggle"

Duchess Meghan herself had spoken in an interview about her problems in coping with the sometimes very critical coverage of British tabloid media and had affirmed the question whether the past two years were "really a struggle".

The parliamentarians went on to write that it was worrying that some stories contained outdated and colonial undertones. "This is not unacceptable." They wanted to use their means to ensure that "our press accepts your right to privacy and shows respect, and that the stories reflect the truth".

They too would be in the public eye, albeit in a different way than Meghan. But they would understand the reductions that are often used "to prevent women in public office from continuing with our very important work".

Francis Tawiah (Duisburg -Germany)