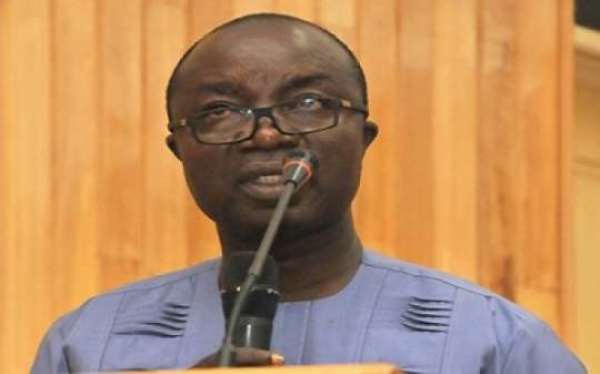 The Metropolitan Chief Executive (MCE) for Kumasi, Mr. Osei Assibey Antwi says stores allocated to deserving and validated traders cannot be transferred to anyone or a third party.
He also noted that no trader who has been allocated store or stall can sell it to another person or trade it off.
Addressing the media this Tuesday on projects, programs and initiatives the Assembly has undertaken in the area of education, sports, health, security, trade, and culture as well as others, the Metro Chief Executive said only the KMA has the right to sell or trade off any of the 8, 901 stalls that have been completed and validated in the first phase of the redeveloped Kejetia Market.
The MCE noted that a total of 5, 779 stores have been allocated to traders, adding that over 1065 keys have been issued.
''I want to stress that no one has the right to let out a store KMA has allocated and nobody has the right to sell his store or transfer the same to a third party because KMA owns the stores'', Mr. Assibey intimated.
REVENUE:
The Mayor hinted that as of 10th of October, 2019 a total number of 2, 785 traders had made some payments towards their stores.
An amount of Twenty Two million and One hundred and Fifteen Thousand Two Hundred and Thirty Ghana Cedis Twenty Pesewas (GH22, 115, 230.20) has been realized from the stores' allocation, the Mayor hinted.
SOCIAL PROTECTION AND SCHOLARSHIPS:
The KMA as part of efforts to improve the welfare of the vulnerable in the metropolis had from June 2018 and September 2019 provided medical, educational and business support ventures to Persons With Disabilities (PWDs), the Mayor revealed.
According to Mr. Assibey, the Assembly continues to facilitate the payment of the Livelihood Empowerment Against Poverty (LEAP) stipend to beneficiaries in the 711 households with a total of 3, 151 persons every two months.
The KMA, Mayor intimated had facilitated the award of scholarship to 101 students out of the 287 who were interviewed.
Each student, the KMA boss disclosed had an amount GHC 1000.00 bringing the total sum disbursed to GHC 101, 000.00.
INFRASTRUCTURE:
The KMA, the Mayor intimated had in line with the sustainable development goal 4 and in education sector refurbished a community library and ICT center Krofrom and constructed a 6-unit classroom block at Prempeh Basic School and the Duase M/A basic school.
The Assembly has also put up a 6-unit classroom block at Kagyasi African Faith Basic School and distributed 2,300 dual desks, 1200 sets of student's tables and chairs, 130 sets of teacher's tables and chairs, 100 cupboards to basic schools like Apraman, Danyame, Bomso, Breman, and Suame MA.