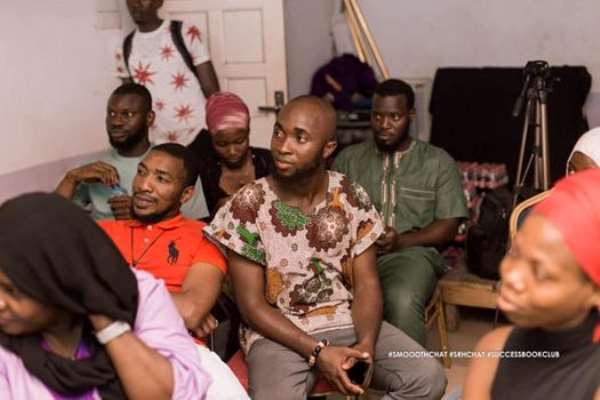 At last week's Success Book Club's meet up with Smoothchat, the group that is leading the charge of sensitizing the youth on Sexual Reproductive Health and its related issues, we discussed sex, the rape culture in our society and how skewed the law is in favor of women. Consent was a central topic of our discussion. In the wake of marital rape and what a woman really means when she says "stop it' during sexual intercourse, the conversation was not only insightful but timely.
We shared touching stories of how some bitter women framed innocent men for rape when actually the sex was consensual. About a woman who used the semen spilled on her panties some decades ago to frame her long lost boyfriend.
In 2014, Daily Mail reported a story of a man who had gone to a salon in Meshchovsk, Russia, with the intention of robbing it but ended up being a rape victim. The shop owner who happens to be a female was a black belt holder in karate. She overpowered the robber, tied him up, stripped him naked and for the next three days, used him as a sex slave to 'teach him a lesson' by force feeding him Viagra to keep the lesson going. Both were arrested by the police. The female shop owner admitted to having sex with her victim a couple of times.
Rape, as defined in Section 98 of Act 29 is having carnal knowledge of a female of not less than sixteen (16) years without her consent. This means that according to the laws of Ghana, a woman cannot rape a man because she cannot penetrate. When this was mentioned during the discussion, a lot of us including some of the women present were disappointed and obviously, we ranted about the unfairness in the system. We spoke our minds, we were emphatic that, men actually get raped and we were also victims of many circumstances. Are there safe spaces for men who get abused or would you just be labelled weaklings? Even if a man gets raped and there is evidence to this claim, can he report to the police? Would he be taken seriously especially in our society when the conclusion might be that after all didn't you 'enjoy'. These we thought deeply about.
There were young Lawyers and students of law in our midst who made a lot of things clear to us along the position of the laws of Ghana. That you cannot get emotional about what is written, that our forbearers when drafting the law must have considered a lot of things not to make rape a gender neutral crime. History and empirical data has shown the countless abuse women have gone through because of their natural vulnerabilities, culture and eras. Data gathered by the Domestic Violence and Victim Support Unit (DOVVSU) of the Ghana Police Service for 2011-2016 shows that more females continue to suffer from rape and assault with only a handful of the victims being males. Out of 1,862 reported cases of rape, there were only 6 males. It will be interesting to know how the reported rape cases of men ended.
But with all this informative discussion ongoing, my mind drifted. I remembered the incident of my friend way back in Junior High School, whose virginity got stolen by some 'big mama' in our neighborhood. She 'banged' him for months but he could not tell anybody because apart from his fear of getting beaten, she was very close to the family and truly respected. My friend grew visually lean and he will rush to eat most of the food at the canteen like some refugee who just got rescued after many months at the Mediterranean Sea. One day in his naivety, he said "Charley but the thing sweet oo, come and taste and see er". A prude like me, I just looked at him sternly and warned him not to ever bring that silly thought up.
He told me she had a handbook of various positions and styles they were exploiting. It was then for the first time I heard of Kama Sutra, an ancient Indian book on sexuality, eroticism and emotional fulfillment. They took each style one day at a time till he became a master. Like nicotine in tobacco and weed that makes the user addicted to the drug, my good friend became a 'monster' obsessed with the curvaceous body of the 'big mama'. His libido was always on the high and his conversations filled with eroticism. She removed his veil of innocence and consequently he wanted her more than she did him.
He would make excuses to skip school and junior club meetings just to go have a quickie with her. He tells me they do it in the shower, kitchen and even the bush. One time, they had to stop their moving vehicle just to go do it. He became obsessed with her till one sunny Sunday, something happened.
My close pal and colleague was physically well-built in our teenage years. He grew faster than most of us just after a long vacation. Maybe one of the reasons she spotted and took him as a prey.
I was at the game center enjoying my favorite Mortal Kombat when he rushed in. Panting and sweating hard, he pulled me out of my seat and before I could say jack, he hugged me tightly and started to cry, telling me he has killed someone. He told me he knew he could confide in me so I should please come and see for myself. Curious me, I followed him to the 'big mama's room. As I entered, she was there lying on the floor half naked. I tried to cover my eyes but my friend told me not to be silly, that she's dead. At that moment I became stunned and had goose bumps all over my skinny body. I asked him what happened.
With a sober, yet teary voice, he narrated to me that, they have been at it since morning. It was during their last round which she even refused, that he lifted her to try a new position. But unfortunately his legs failed him which accidentally made him slam her hard on the floor. We were in a dilemma; to bring in an elder or rush her to the hospital? What will the elder say of us? As young as we were, what were we doing with this woman with no adult among us?
We deliberated for some time. Two confused teenagers, as at JHS 2 what did we know on basic CPR or other first aid skills to assist someone who was unconscious? The next thing, we heard a knock on the door. It was her friend. She tried to force her way in but the door was locked. Then she said "I know you in there, I just saw you enter, open up silly before I break this door down!" We obliged and when she entered and saw her friend she screamed, smacked our heads and asked what happened. We all began to cry as we pointed at each other to do the narration. She rushed to the kitchen, fetched some water and poured it on her friend, shook her and called out her name.
Suddenly, 'big mama' regained consciousness, we couldn't heave a sigh of relief because another party has been let in. Her friend sacked us and warned us not to disclose the incident to a soul. We rushed home immediately. We didn't talk till Monday when we met at school. All he said was "the woman has left town".
Was my friend raped? What does a man do when he gets raped? Is it not high time our law-makers took a second look at the clauses? The very many questions that kept lingering in my mind as I walked home that night.
Abdallah Dan Issah.
NB: The Writer is an Educator, Youth Activist and a Member of Success Book Club