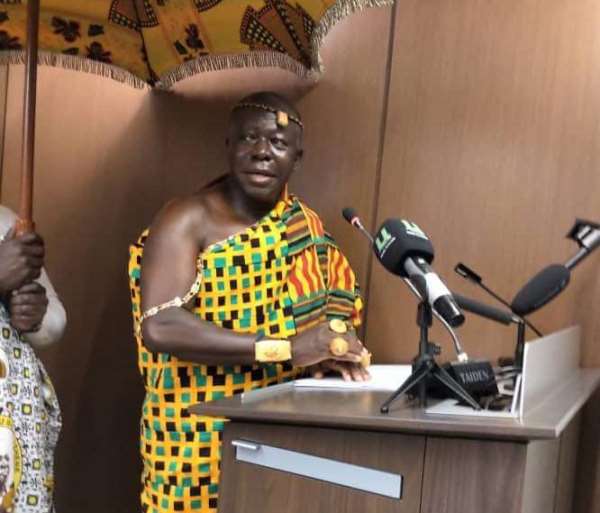 Asantehene
Asante Kotoko, Kum Apem A, Apem Beba!!! Our attention has been drawn to youTube video posted on Sept 8, 2019, about "Conformation and Installation of Asanteman Association New Chief and elders".
All great Ashantis must treat this video with utterly contempt for not adhering to the allegiance to the revered Great Oath of Otumfuo (Ntamkesie) taken by Nana Kofi Appiah before Otumfuo emissaries to North America headed by Tepa Omanhene Nana Adusei Ampem. The other dignified traditional chiefs included were Sasaamosohene Nana Amoako, Asiakwahene Nana Taa, Atiepemhene Oheneba Agyeman Badu and Nana Appianko of Denkyira Traditional Area.
Ex-Abusuapanyin Nana Kofi Appiah took Ntamkesie before Otumfuo's emissary to uphold the decision for Nana Tieku to relinquish the stool within six (6) months, ending December 2, 2019, to Nana Attakora Amaniampong, the substantive Asantefuohene-elect of Asanteman Association of New York.
Real Ashantis are embarrassed with the title "Conformation" which means the shape or structure of something, especially an animal and it is a term used in chemistry class for spatial arrangement, not for chieftaincy confirmations.
The suggestion that Nana Kwabena Amakye will destroy the stool from Manhyia Palace if they are forced to give up the stool must be treated with all the contempt the statement deserves.
Asantes must stand up. This insubordination must stop. We cherish, respect and honor the great Oath of Ntamkesie. We are the children of Otumfuo. We hail the King. His Royal Highness Otumfuo Nana Osei Tutu has brought peace and reconciliation to Asante Kingdom and Ghana, in general. His Majesty harnessing his power and nobility has been the pillar of quiet
diplomacy behind Ghana's peaceful transition from Rawlings to President Kufour as well as Mahama to President Akuffo Addo government.
Otumfuo's successful mediation in global conflicts are numerous to recount here for space. However, no one can mince words about several decade-old protracted succession disputes and conflicts of Dagbon, which successful came to an end as a result of persuasive powers and nobility of Otumfuo the Asantehene.
It is unfortunate for this recalcitrant group to unleash this absurd video at the time His Royal Majesty Otumfuo Nana Osei Tutu II, Asantehene, who is the King of the Ashanti people of Ghana to deliver the keynote address at United Nations High-Level Forum on the Culture of Peace.
All Ashantis and Ghanaians in general, must disregard the video and come out in their numbers with Nana Attakora Amaniampong, Asantefuohene-elect to hail The King, Otumfuo Osei Tutu II, who has been billed by the United Nations (UN) to address the General Assembly on September 13, 2019.