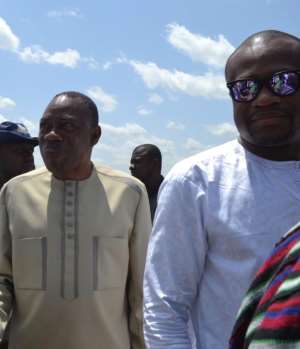 On the 20th of August,2019,the above titled article was published on the portals of Home Radio. Based on the license and objective of the station, it is supposed to be a community based radio station that seeks to inform, educate and drive development within Wa and its environs. On the back drop of the above, transparency and a balanced digest of issues devoid of lopsided, vile and mundane political machinations aimed at giving advantage to persons of interest with inclinations to the setup of the radio station ought to be the last consideration in the running of the station. The National Communication Authority (NCA) and the National Media Commission (NMC) as a licencing authority and a regulator respectively will surely frown on such abuse of ownership.
How, Suleman Ikyei, an obvious pseudonym, managed to turn the portals of Home radio into a platform of false representation, bad grammar, lies and incoherent conjecture that gives cause for worry as to whether the radio is run in consonance with community development or it is simply a setup to surreptitiously engineer the agenda of persons of interest who have stakes.
Suleman Ikyei begun his tirade with a warped understanding of leadership in the military. Though he said he had no deep knowledge in military structures, his little display aimed at using the military to establish a point on what it takes to lead in the military is at best puerile. Captains and generals don't lead battalions at the same time. A man who had scant knowledge about the works of the military is indeed limited in scope to appreciate the fact that the military operates under chains of command and not by arbitrary considerations. Suffice to say that captains and generals within the military assume their ranks based on assessments and service to the noble profession. How a supposed knowledgeable person in the mould of the writer could display such jaundiced appreciation of what it takes to lead in the military by downplaying the importance of intelligence and knowledge in the mix, gives a harrowing feeling about his intellect.
In beginning with his barrage of attacks at the person of Dr Sharif Khalid, Suleman Ikyei dabbled in personal delusion by seeking to call the young man a novice in order that, he could educate him on matters about the constituency. How convenient! By doing so, the writer rather exhibited a narrow understanding and ended up misrepresenting what Dr Sharif Khalid opined on Citi FM on the 14th of August.
Historically, the agitations for a change of Mr M.A. Seidu as parliamentary candidate for the constituency started in the second term of Mr Seidu's tenure. It is instructive to note that these agitations were led by splinter groups sponsored by Mr Rashid Pelpuo at the time. Largely the agitations revolved around the call for an injection of a youth drive that could give leadership a spark of youthfulness and fresh perspective in seeking to represent and develop the constituency in line with changing trends at the time.
Based on the incessant pressure, Mr Seidu was compelled to step down after his third term though the wheel for the step down was engineered in his second term. It is baffling that the writer failed to appreciate the context that was presented and went to town with a bloated ego and a self-styled rendition of himself as a repository of knowledge on constituency matters. How he could come up with 'geopolitics' of Wa Central Constituency tells a lot about his knowledge base indeed.
Mr Ikyei in his bid to write off solid assertions made by Dr Sharif Khalid on the continuous steep decline of votes of Dr Rashid Pelpuo vis-à-vis the votes of the presidential over the years threw all reasoning to the dogs by relying on analysis of religion, ethnic and some supposed litmus indicators(whatever that means) that affect performance of MPs and should be used as exclusives and guiding principles to defend bad performance of MPs. What the writer failed to appreciate is the fact that those factors notwithstanding, some MPs still make greater percentages in votes than the presidential count. So why should the said claim be a bench mark for the defence of continual abysmal performance in percentages and counts that ought to inform us to do an introspection on the persona and performance of incumbents?
By stating and agreeing with Dr Sharif Khalid that Dr Rashid Pelpuo best performance was in 2008, Mr Ikyei tacitly wants to tell the party and the world that the performance was due to the reason that nobody contested Dr Rashid Pelpuo. He went full throttle to suggest that more of such happenings should be encouraged in order to always guarantee success at the polls. We are at a loss as to how the face behind the veil of Mr Ikyei would want to deride, belittle and damn the efforts made to strengthen and consolidate internal democracy over the years.
How amusing to write and defend Dr Rashid Pelpuo, a beneficiary of the democratic mill yet seek to call for unopposed internal contest just to give an undue advantage to an incumbent and stifle liberalism and aspirations of community.
Here is but a perfect scenario on how persona and performance yield votes. Once upon a time Dr Rashid Pelpuo, a known NDC lost an SRC elections in the University of Cape Coast which is a known NPP enclave. Sometime later, with same factors Dr Khalid, a known NDC member through youthful energy and zeal turned the fortunes around and won same SRC elections which Dr Pelpuo failed at and accordingly, Dr Khalid left a lasting legacy of performance and has been widely commended as one of the best SRC Presidents of the institution. This classically illustrates how a blend of persona that drives performance and achievements.
By same measure, the dwindling fortunes of our dear party will be rescued through same persona of Dr Khalid once given the nod, Insha'ALLAH.
A man without a solid basis is a man who jumps and barks over issues that are beside the point. Jerry John Rawlings, founder of the party has an accent that adds to his charisma and endears him to the people. To want to insinuate that an accent carries a different identity or connotes different underpinnings is at best disingenuous.
It is crystal that the writer has a low appreciation of democracy. The tireless effort to consign calls by Dr Sharif Khalid for an MP's office to the precincts of Europeanism is intriguing. For the writer's education, democracy is not an African development but a European adoption. How can calls for an MP's office to improve access and rally consensus on shared aspirations be criticised as Western in an operational setting that is Western? Such a porous reasoning! If the writer is abreast of issues in the Wa Central Constituency as he wants his readers to believe, from top the very conduit, Home Radio via which this lame article was published lies the view of Dr Sharif Khalid's Campaign Office.
Seeking to embellish and give a shine to the brand of the spent force, the writer sort to play his role in getting GETFUND scholarships for a few people to engage in further studies in times past. In this regard, a statue of Mr Sam Garba should be erected at a vantage point in the region for using his role as an Administrator to grant countless scholarships to people from the region since all scholarships emanated from his office through his direct influence.
Rather than claim the glory and side step the importance of Mr Sam Garba in his contributions to the development of human capital in the region by way of using his office and authority to advance a course in honour of his roots, Mr Ikyei should be telling us about the tangibles we accrued as a region and a constituency due to Dr Rashid Pelpuo's role as Minister for Public Private Partnership. In the mind of any critical person, that Ministry was a 'blank cheque' which Honourable Pelpuo could have leveraged on just like how Mr Sam Garba did by initiating strategic partnerships for the establishment of factories to utilize our mangoes, maize, yam and other produce we have competitive advantage in. This eventually would have created employment, given our farmers better value for their produce and sparked a chain of positive transformation along value chains to the benefit of us all.
For lack of a viable track record in this strategic position, the writer could not articulate anything potent about how Dr Rashid Pelpuo has used his leverage to lead any transformation but to dabble in cheap dishonesty by trying to give credit where it is not due. How pathetic!
Mr Ikyei delved deeper with his spins by stating that Dr Sharif Khalid's inability to readily provide names of villages not connected to the national grid amounts to his lack of knowledge about the constituency he seeks to represent. In exploring this angle, the writer again failed to make same measurement of Dr Pelpuo who has represented the constituency for sixteen years and made spurious claims about only one community that was not connected to the grid, yet could not mention the name of that community. So based on same principle, can we comfortably say the writer had no moral right to use such logic to declare that Dr Sharif Khalid has little knowledge and should not represent the constituency ?
One basic tenet of leadership is to be truthful to the masses. Dr Khalid simply spoke the truth but the names of the communities could not readily come to mind. This is honesty and it is highly needed by any leader who seeks to lead.
For Pelpuo to have churned out stark lies on developments of electrification in the constituency ought to inform the people that he has lost credibility as a leader and can't be trusted. Bosoyiri, Kpankole, Mojon, Tampiani and Seyiri are yet to be connected and they are part of the constituency. Yet the person the writer sort to polish dabbled in pure lies just for political convenience. How could Hon Raship Pelpuo even take claim for an electrification project that is nationally driven? The haste to paint this initiatives as his achievement simply show how bereft and insincere Hon Rashid is. Is it not a wonder that in all of these claims, Mr Ikyei could not articulate any achievements of Dr Pelpuo as a Minister of Youth and Sports and particularly as a Minister for Public, Private Partnership? What a world!
Dr Sharif Khalid may be a novice in politics, in the same way then Mr Pelpuo was a novice when he championed for M.A Seidu to pave way for fresh perspective. The shifting stance on how a novice could be better qualified to the constituency yesterday and another being resisted today is the highest form of double standard fomented by dubious brains.
Suffice it to say that, young brains such as Samuel George, Okudjeto Ablakwa,Alhassan Suhyini and others were given the chance and they have since written their names in Gold as very creditable representatives of their people, much to the admiration of Ghanaians . How then can Wa Central be ill advised on such grounds to deny a veritable and potentially imbued young man like Dr Sharif Khalid from serving his people with all honesty?
In our mind's eye, Mr Suleman Ikyei is likely to be a young man doing the bidding of a politician and that is his entitlement. However it is unfortunate to have a young person who goes to extremes to denigrate and try to collapse a youthful drive which he ought to be part of, just because of misguided inclinations.
We want to urge Mr Ikyei to be part of tomorrow by taking guided steps and believing that given the opportunity, the youth can do better.
Dr Sharif Khalid is a progressive democrat in letter and in spirit and wishes to state that Dr Rashid Pelpuo has done his bit and it is time for a change of leadership towards fresh perspectives that have the potential to give the constituency the drive it needs for transformation.
Dr Sharif wishes to state that the NDC is supreme in the scheme of things. Individual aspirations notwithstanding, the binding factor should always be the fortunes of the party. To this end, the delegates are the best judges and the onus lies with them.
Long live the NDC.
Communication Bureau
Dr Sharif Mahmud Khalid's Campaign
Date: 22/08/2019
Contacts: 024077537/0549633819