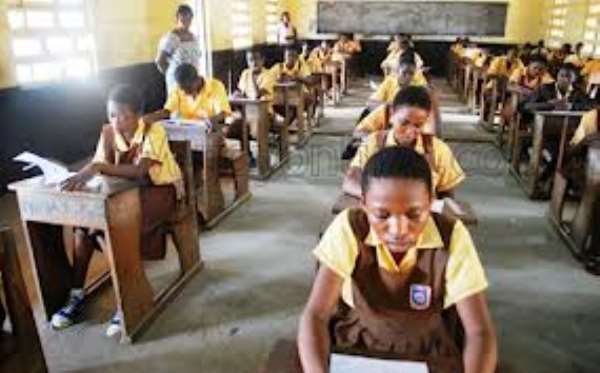 Like many other years past, this year's JHS finalists too will be subjected to the routine ritual of testing the extent of progress they have made, after all said and done by way of their nine-year academic work they have been put through. That very exercise shall also be a means to assessing the general outcome of education policies, practices, and methodologies employed by our system at that level -the basic level -and how various stakeholders have pulled their weight this year. 10th June, 2019, surely, comes with a lot of expectations from players in the education sector which is tied to the activities that accompany its arrival. The Basic Education Certificate Examination (BECE) for this year kick starts that day, and will run till that week winds down! It's a landmark week in the lives of the pupils at the heart of that week's activities. And it is especially the case because that will be the first time they will take an exam with such significance to the fortunes of their future. That's, no doubt, a massive page in their lives!
So what do they deserve to receive from you? Ah… well! Maybe, your congratulations or sympathies! Eish. No ooo. Errrrrm. Perhaps, our well wishes and prayers! Or? Whatever it is, I am highly convicted of the fact that a lot of these warriors are very well prepared for the battle, as has always been the case in every exam that the world has seen since Adam, with no stone left unturned. Yet I can also gleefully and confidently prophesy with the assurance of the day's arrival that behold there shall definitely be, on that very day, in the same exam halls, pupils that have prepared on absolutely nothing hence can write nothing, sitting nervously behind papers! That's what the term, worlds apart, actually means. And what a strange little voice told me is that: "Ask them why some pupils are poised to maim the exams while their counterparts are resigned to being massacred by same papers, the fact that some of them actually come from the same background, class, school, district, region, age, gender, environment, religion, etc notwithstanding"! It is a great wonder, but that is the reality. That is why elsewhere there would be no answers to seemingly straight forward questions that would otherwise be precisely answered without any hesitation, yet remain tough questions here in Ghana, for our leaders. That is why we remain rooted at the foot of progress, yet every single leader in-charge of this country is self exultant while, in the same vein, all that they do always remain an anathema to their opponents. In the heat of such heightened rivalry, there is no way our country's collective goal or interest can ever lead their dealings. These children are only a product of unjustifiably shambolic policies, decisions and above all, leadership. In fact, these children are either fired up for the exam or wish the exams never came true because of their sharp divergent circumstances. All those circumstances were affected and championed by our men at the helm of education, one way or the other.
In 2016, a nationwide assessment was conducted by the MoE, GES and National Education Assessment Unit in the primary schools involving 35,996 pupils from 550 schools in all the then 10 regions of the country. It tested knowledge and skills acquired by Primary 4 and Primary 6 pupils in English Language and Mathematics. My emphasis, though, has to settle on primary six (6), for obvious reasons. The sad thing is that, though such an important exercise, duly undertaken, and completed that very year, and had all accompanying costs duly settled long ago, the report was shelved, at least, from stakeholders at the grassroots (basic schools) until late May, 2019. That's only 3 weeks ago! OK… Those directly responsible for taking onboard the recommendations provided, and to try to change the standard and fortunes of the very children involved in that assessment were denied access to the findings until 3 weeks to the completion of basic school! In fact, by the time the report got to the schools, those pupils in form 3- the same pupils who were assessed in 2016, were done with academic work and buried in revision for BECE. So at that point in time, what recommendation in the findings in the report can teachers implement to benefit those (pupils) directly involved? Nothing! And that is a concrete example of money poured down the drain by wicked leaders!
"The fact is that, there will certainly
be teachers, lawyers, doctors, economists
and all sorts of professionals emerging from
this batch of BECE candidates too, like every other
year, but our rate of success will always flatter to deceive"
Sadly, next week, the pupils shall commence their first ever external examination which will also determine their fate into higher educational institutions. These poor pupils did not have the opportunity to receive direct and appropriate guidance aimed at redeeming the 30% of pupils who were below minimum competency levels. The other 34% of these pupils who were just sitting within the minimum competency level could easily slip down below the level though they had the ability to also improve if giving the needed assistance. But assuming this useful information was made available to the teachers, it would imbue some level of urgency in their dealings with a lot more purpose and direction. Yet our key stakeholders do not care about these things because, they know, no teachers will ever react upon discovering this. They know, nobody has any power to take them on for plundering state resources in such embarrassing manner. They will still gather some nerves to say teachers are lazy and will be fired for xyz reasons when there are absolutely no reasons why such leaders should be occupying such leadership positions after such goofs. They lack the moral impetus to make such pronouncement but since Africa will always be Africa, we hear such vile vilification every passing day. God indeed is great that is why He still remains in His seat up in the Heavens!
At the moment, there is no easy access to any detailed statistical data of last year's BECE results from GES to schools. Nothing like that is currently presented to schools. So when you carry out a task, and the outcome is shelved by your superior without revealing it to you, how are you expected to build on your initial output? Yes, the pupils' results may come over to the schools but that is not a clear enough picture to turn heads. There must be an in-depth breakdown of the performance of that batch of BECE candidates, and possibly, compared to past performances by other candidates before them. Such piece of information or data could be resourceful to schools especially when it comes to setting and achieving targets. So many things are left unattended to by our men at the helm, yet they want every reason for underachievement blamed on other stakeholders, especially teachers. How many schools received, in full, text books they made requests for? You may not find any in this country. Not in the public schools. There is no adequate logistics supply to schools. The government is never up to the task of meeting the needs of the education sector, yet the sector always has a huge chunk of the budget allocated to it. So what at all do they do with it that nothing ever gets properly done in this sector? Don't tell me it goes to teacher remunerations alone because teachers are the least remunerated professionals in the country. My worry is that, money is constantly being pumped into the sector but without proper strategy. Everything within the education sector is either poorly planned or hastily executed. Policies are not properly thought through. In fact, a lot of the education policies implemented in this country are populist policies directed at helping political leaders win elections. The focus is mostly not on the success of the generations involved.
Unfortunately, we have yet again another crop of candidates going into yet another BECE, this time, the 2019 edition. Another victim of circumstances?! A lot of them still cannot read even though we somehow managed to discover that problem three years ago. We still made sure we provided them with all the favourable conditions to enable that situation fester! We made no efforts to solve the problem. We sat on the report and made sure it doesn't influence anything that has to do with those pupils involved. We went to sleep yet there will be no black sheep in all of this. Ghana is cheap!
In this state, we are headed for nowhere! The fact is that, there will certainly be teachers, lawyers, doctors, economists and all sorts of professionals emerging from this batch of BECE candidates too, like every other year, but our rate of success will always flatter to deceive. Until we stopped polishing and massaging the facts and face the realities on the ground, we will continue to lag behind our peers when nations are rated. Definitely, a lot of pupils will come out with flying colours in this exam but a lot of pupils will also come out short of the standards required to be literates. Nothing is more dangerous than having a country full of semi literates. It is difficult to make progress with that crop of people than it is with outright illiterates. In all of this, we need to, as a serious nation, have a concrete goal for our education. What is our education goal at the moment? Is it on paper or it is in practice? Do you know that the literacy rate in this country (67%) is way below the global average of 86%? How are we working towards changing this?
My friend, the political jingoist, will definitely have a problem with my assertion because they think our leaders are always right and working for this country. You are rather the problem! You are either blinded by ignorance or partisanship, otherwise you will see all the reasons why you should be alarmed about the state of our education. You should be worried about the blatant refusal of political leaders to formulate a working education plan that is backed by law. That should send shivers down your spine. It is a calculated attempt by them, political leaders, to keep the citizens locked up in ignorance to make us continue to vote them, and their families who are offered better education conditions in the Western Countries, to continue to rule us. Everything is masterfully orchestrated by the politician, and in a manner that unsuspecting citizens will least expect. You still don't get it? Go to sleep, when you wake up, think again about it. Good day.
Written by:
David Angangmwin Baganiah
Educational Practioner|Advocate|Volunteer
[email protected]
0544900894