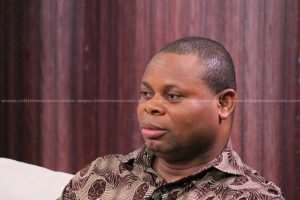 IMANI Africa is asking Chief Executive Officer of the Ghana National Petroleum Corporation (GNPC), Dr K. K. Sarpong, and Fueltrade Limited to let bygone be bygone.
In an apology letter, the think tank also retracted the "injurious statements" its Vice-President, Mr Kofi Bentil, made against Dr Sarpong and Fueltrade at its press conference on the petroleum sector last month.
At a press conference last month, Mr Bentil alleged that Dr Sarpong and his family owned Fueltrade, which held two per cent as a local partner of the Deepwater Tano Cape Three Points (DWT/CTP) Petroleum Agreement.
Mr Bentil said it was ethically wrong for Dr Sarpong being the CEO of the GNPC, another partner of the DWT/CTP with a 10 per cent stake, owned a company to also be a partner of the block, a situation that he described as a conflict of interest.
The GNPC CEO, following the news reports, denied IMANI's claims calling on Ghanaians to reject those false claims.
"I wish to state emphatically that neither I nor my family own Fuel Trade as claimed by IMANI Ghana" and further demanded "a retraction of the said claim and an unreserved apology from IMANI and its Deputy Director, Mr Bentil, within two weeks.
In the same vein, Fueltrade said in a separate release that Dr Sarpong was not its owner contrary to IMANI's claims also demanding an apology and retraction.
IMANI's apology:
Kofi Bentil and IMANI Africa issue this statement and unreservedly retract and apologise to Dr K.K. Sarpong and Fueltrade Limited for injurious statements made at IMANI Africa's April 25 forum.
In the said forum, as we laid out issues over a 21-slide presentation aimed at bringing focus to some pertinent issues in Ghana's young oil industry, one of the slides mentioned Dr K. K. Sarpong and Fueltrade in ways they disapproved of, for which Dr Sarpong and Fueltrade have demanded a retraction and apology.
We, therefore, apologise unreservedly and retract same.