Nana Addo Touts Ghana's Positive Economic Indicators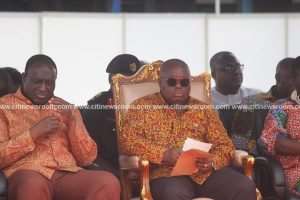 President Nana Akufo-Addo has reaffirmed his government's commitment towards creating a stable macro-economic environment for businesses to thrive.
According to the President, his government is working to provide a stable economy for Ghanaians,adding that days the country witnessed poor economic performance indicators are in the past.
"We have succeeded albeit modestly in creating a conducive business climate where the macroeconomic fundamentals are all pointing in the right direction" the President said.
Speaking at the commissioning of three new factories of Unilever Ghana, President Akufo-Addo explained that Ghana's public finances are being better managed than before, and that it provides a positive outlook for businesses in the country to succeed.
"I assure shareholders, management and staff of Unilever, and the people of Ghana, that my Government will work to continue to create a stable macroeconomic framework and positive outlook for businesses.

"The days where economic indicators went haywire and through the roofs are over, the days of disarray of our public finances, the reasons for the recent marriage with the IMF are over."
President Nana Akufo-Addo said the goal of his government is to unlock the full potential of private businesses in the country to help in government's agenda of creating jobs and prosperity for all Ghanaians.
"We are determined to provide stability to our economy. The goal of my government remains constant; we aim to unlock the full potential of the public sector and the Ghanaian sense of enterprise to create jobs and prosperity for all Ghanaians."
Fiscal Council to check Gov'ts spending
President Akufo-Addo also in his keynote address disclosed that the newly formed Presidential fiscal responsibility advisory council and the Presidential financial stability council which was formed in December 2018, will keep Government spending in check and assist in helping government realize it's economic targets.
"Last month in December, I established two advisory councils, the Presidential fiscal responsibility advisory council composed of independent minded and renowned economists; and the Presidential financial stability council made up of the heads of the key regulatory agencies of our financial systems to advise and assist in meeting these targets."
–Citinewsroom