The NPP are better at fighting corruption than the NDC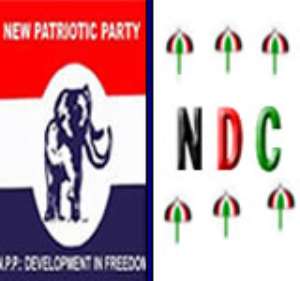 As the year draws to a close I cannot help but ponder over corruption in Ghana, a word with dangerous connotations but has become a common rhetoric in politics in Ghana.
The previous so called 'social democrat' government's lack of foresight and economic integrity, turned a blind eye in performing its duty to the nation such as monitoring and supervising our financial space and hence paved the way for all sorts of schemes including deadly financial schemes to operate. This in itself is an act of corruption. Despite warnings from the IMF and some technocrats, the previous administration could not be bothered or lacked the technical know how to make that painful but right decision to deal with the issues. Am glad the current government's vision has led to a clean-up of the banking system and our financial space. Even though at a huge cost it will bring long term gains. Bloomberg predicts the banking sector to lead growth in Ghana in 2019 as a result of this clean up. An estimated GHc10-11billion have been used to secure the deposits of around 1.2million Ghanaians innocently caught up in this nasty banking web, as part of government efforts to clean up out our banks.
Let's not forget that in 2012 when ex-President Mahama, took office he gave himself a pay rise from GHc7000 to GHc120,000 then backdated it for 3 years, he later on blamed austerity in Ghana for the hardships Ghanaians were going through? What austerity? It appears the appetite for corruption was borne right there. Throughout the 4 year period of former President Mahama, Ghana's debt increased yearly from GHc37.7billion in 2012 to GHc122.9billion in 2016. Within the same period the amount of money that went missing or not accounted for in the public sector also rose yearly from around GHc389 million to GHc2.2billion by 2016.
While former President Kufuor left office with a re-current expenditure of GHc1.8billion, ex –President Mahama left office with a huge re-current expenditure of GHc19.4billon according to reports. It is fair to mention that while the rate of debt accumulation under ex -President Mahama was 36%, the current government's rate is approximately half of that at around 18%. With GDP declining and Debt to GDP Ratio rising, the NDC paid yet no attention or did not simply know how to deal with it resulting in a weak and a very fragile economy according to the IMF by the end of 2016.
In addition to the above, authority was given for state cars procured at around $400million collectively to be sold indiscriminately at a fraction of the price to NDC cronies, according to reports. It would have definitely been much worse than now if the NDC had continued to be in power. I say this in attempting to extrapolate events during the 2012-2016 period. Borrowing will have definitely gone up partly due to low local tax receipts, and more money would have gone missing from the public purse. (This amount reduced from GHc2.2billion in 2016 to GHc980million in 2017).
The banking sector would have probably collapsed alongside the economy with the rise of suspicious schemes among others. Our primary and secondary sectors of the economy would have been decimated as a result of Dumsor. There would have been no graduate employment and a lot of projects would not have been honoured on the back of IMF conditions.
Also with the interoperability system planned at GHc4.6billion (NPP used around GHc18 million), and billions in energy sector debt with a negotiated LPG price tag from Guinea of $2.5 billion (NPP renegotiated to $1.6billion) whist Ibrahim Mahama was in line to mine Ghana's bauxite deposits? Ghana would have been sent further deep into the abyss. Thank God for the Sinohydro barter agreement which not only provides infrastructure but also expertise and training to the people of Ghana.
Thank God for the NPP government's vison on the economy and development. His Excellency Nana Akufo Addo has done more in two years than the NDC on reducing corruption. Every single case of corruption raised under this administration has been acted upon and hence saved Ghana billions of cedis. From the banking sector, the EC boss, the Anass's video, the unclear energy deal and the Maritime case [investigations still ongoing] among others. The most potent is the appointment of the office of the Special Prosecutor. Initiatives such as an efficient procurement process-[has saved Ghana over billions of cedis in 2 years], introduction of the TIN, the national ID card, online passport forms, paperless systems at the ports, computerising government agencies and the digital address systems [hailed by the IMF as one some EU countries can learn from] has gone a long way to reduce corruption.
In addition to these am sure we all agree that laws must be toughened up to fight corruption. Our asset declaration laws, our whistle blowing policy, our right to information bill, and our criminal codes especially section 239 and section 296 on corruption must be strengthened. In this regard I agree the EOCO must be given prosecutorial powers on their own.
Furthermore, the Fiscal Responsibility Bill which has just been approved by parliament under a certificate of urgency will ensure fiscal and monetary discipline. When passed into law soon according to Dr Bawumia, it will be enforced by an Independent Fiscal Council and an Independent Financial stability Council. This is the first of its kind in our political democratic history and a significant step for Ghana's socio-economic development.
I would like to end by pointing out the top 10 corrupt events under the Mahama's administration according to estimates in selected media reports.
2012-Mahama's pay rise from GHc 7000 to GHc120000 backdated to 3 years
2013- GYEEDA Scandal. Some estimates put the cost to Ghana at over GHc 30million
2014- SADA Scandal. GHc15million cost to the state for tree planting and guinea fowls
2014-NSS Scandal. BNI uncovered a GHc7.9million rot at the national services secretariat
2014-Brazil Fiasco. $20,000 for directions in Brazil. $20million cost to the state
2015-Bus branding. GHc 3.6million cost to the state
2015-Mahama ford expedition gift from a Burkinabe contractor who secured contracts of over GHc100million in Ghana
2016- Brochure gate. Brochures for the 59th Independence Day celebrations had unacceptable levels of error including representing the President of Kenya as that of Ghana.
2016-Office of the President Cars sales galore- Selling state cars for pittance for NDC cronies at a huge cost to the state. Some estimates put the cost to the state at $400 million
2017-Gold case- $10billion dollars' worth of gold sent to India, Dubai and Switzerland not accounted for between 2014 and 2016.
A very merry Christmas and a prosperous new year to all Ghanaians. God bless our home land Ghana and drive safely on our roads. Thank you.
Kwaku Bimpeh
NPP-UK Communications team member for Luton