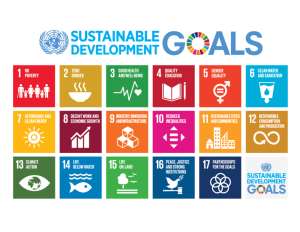 Click button to listen to Mercy's presentation
SUSTAINABLE DEVELOPMENT GOALS I am the person of Azintanaab Mercy, a form two student of Siniensi Junior High School and I am here to discuss the topic; Sustainable Developmental Goals also known as Global Goals.
Someone may ask, what are Sustainable Development Goals? They are a universal call to action to end poverty, protect the planet and to ensure that all people enjoy peace and prosperity. There are seventeen Global Goals. These include; No poverty, Zero hunger, Good health and well-being, Quality education, Affordable and clean energy, Decent work and economic growth, Reduced Inequalities, Sustainable cities and communities, Responsible consumption and production, Climate action, Life in water, Life on land, Peace, justice and strong institutions, and Partnerships for the goals. I would like to talk on the number one and key goal, which is no poverty.
The UN have been working very hard to do away with poverty in member countries globally. Poverty is indeed the major cause of almost all the problems in our communities. Come to talk of teenage pregnancy, school dropout. Both the young and the old abuse drugs and take alcohol to get over their frustrations caused by poverty. Again, the challenge of rural-urban migration, where most of our youth from rural areas especially the North, travel to some cities like Accra and Kumasi in search of non-existing jobs for survival. And the depletion of our forest, we cut down trees for firewood and to produce charcoal for sale to get money for our basic needs. And a lot of others. It is therefore very clear that, when we do away with poverty, all our problems will be solved. And how do we do this? It is a collective effort of you and I, our government and NGOs.
According to the Ghana Poverty and Inequality Report, using the 6th Ghana living standards, it is stated that between 1992 and 2013 Ghana's national level of poverty fell more than half (from 56.5% to 24.2%), and in the Upper East Region alone, it dropped from 72.9% in 2006 to 44.4% in 2013. This is a positive call for us to fight poverty together.
I think if we should put these measures in place, we can solve this problem in our country and the world at large.
To begin with, I as a leader, and you as leaders, have to stay in the Builsa land, take our studies seriously in order to pass our exams, achieve our ambitions and help our land. Help our parents in their economic activities like agriculture and trade rather than travelling to cities in search of jobs like chop bar attendant, which is not even decent enough to solve poverty.
In addition, governmental and non-governmental organisations together with the two District Assemblies of Buluk should help setup businesses for the people, especially for disabled persons in order to reduce unemployment in our society, which will help them to gain enough income for their basic needs. This will end poverty.
Moreover, our government should help improve our farming, through the construction of irrigation dams, gardens and the provision of agro-chemicals to farmers to cultivate food crops even in the dry season, and a source of water for our animals which will be an economic gain for the people.
To add to that, sensitizing the people on agriculture and other business methods. The two Districts of the Builsa land should send people from their Agric offices to educate farmers on agricultural benefits and improved and appropriate farming methods to increase yields.
In conclusion, government should improve the road network in our Districts so that farmers will be able to transport and sell their foodstuffs. As for the need to construct our existing roads, I Azintanaab Mercy will not tell you as we can see for ourselves whenever we go to Sandema, Siniensi, Wiaga, Fumbisi, Chuchuliga, and many other places in the Districts. Lets all come together to fight poverty. Thank you for listening.
This article is written by Azintanaab Mercy, a member of the Debate and Leadership Team of Siniensi J.H.S, during her JHS two days. The article was presented to her collegue students at school on 26th July, 2018. Mercy is currently in J.H.S 3 and aspires to be a Medical Doctor. The poor living conditions of the people in her community as a result of poverty motivated her to come up with this article.
Contact us via Email: [email protected]
Tel: 0241530902 / 0541350207 Like our page on facebook: https://www.facebook.com/dlt.siniensijhs/