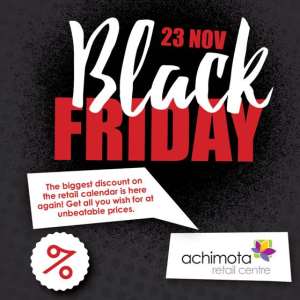 Achimota Retail Centre, (Achimota Mall) stands out as a virtual 'command centre' for this year's Black Friday as Game, the popular general merchandise store, joins the craze for the first time and the centre's shops have all lined up to offer mouth-watering deals and bargains for patrons.
The build-up for a spectacular shopping extravaganza at Achimota Mall this festive season began almost two months ago when the centre launched its Bags and Bike campaign, doling out sumptuous shopping vouchers to several customers and visitors on a weekly basis. The same campaign has set aside a sleek 125 CC Yamaha motorbike to be ridden home by a lucky shopper on Black Friday.
In September, Achimota Mall's most talked-about social joint 'The Cockpit', a cosy, aviation-themed restaurant, bar and lounge, had just landed at the centre and was still warming up for take-off, when Game, the renowned retailer of general domestic merchandise and non-perishable groceries, began fitting out for business at the centre.
For Black Friday, the Cockpit's 'Cabin Crew' has announced a special edition of its flagship rendezvous – the Ladies' Night, during which female revellers are accorded affectionately royal hospitality, while it is now common knowledge that Game Store will, for the first time, open its doors to communities in the Ga East Municipality on Wednesday November 21 and open it even wider on Black Friday, with mind-boggling deals and bargains from midnight of November 22 until 10:00pm of November 23.
Incidentally, a release issued from Game's headquarters has reported of the surreptitious leakage to the public of some of its Black Friday deals which the company traditionally keeps secret until the doors of the store open on November 23.
Game's CEO, Albert Voogd, in fairness to all customers however, has assured shoppers that "lots of specials and phenomenal deals are still to be announced both for online shopping and in the stores. Additionally, many of Game's specials offers will be available for the entire weekend – from 23 to 25 November instead of just one day."
Anthony Asamoah, Marketing Manager at Achimota Retail Centre is excited about the build up to Black Friday and says he looks forward to a busy and fulfilling weekend of shopping for his customers and everybody who visits the centre.
"For us, beyond all the fanfare, the real essence of a sale is to enable our customers derive the benefit and satisfaction of good deals and bargains. That is why we are opening our festive shopping season with a sidewalk sale starting from today," said Asamoah.
"What makes Black Friday 2018 and the rest of the season special at Achimota is that we have so many deals and offers going for our shoppers. Our stores are heavily stocked for the season and they are all fired up for the big sale; we are determined to make this seasons shopping a far more memorable experience than ever before," he said.
Indeed, most stores at Achimota Mall are so profoundly immersed in the Black Friday craze, as they announce incredible slashes in prices of goods and services at the centre.
Startlite, the consumer electronics retailer is offering hefty discounts raging from five (5) to 40 percent on a variety of items including laptop computers, audio speakers, kitchen blenders, television sets and power banks, while foam manufacturer, Ashfoam has cut prices for a wide range of items down to between 10 and 50 percent.
The Ghanaian clothing specialists, Nallem, has discounted its garments and accessories by up to 60 percent, while popular phone dealer, Telefonika, is offering discounts of between 20% and 70% on its phones and accessories. Liberty Shoes has cut prices for ladies, gents and children's footwear from 20% up to 50%, while Grosvenor is offering a range of 15% to 20% discount on its shirts and accessories.
Bata's footwear and handbags are on sale at between 30% to 50% discount, while underwear and other apparel have been discounted from 10% to 50% at Brand Essentials. Shoes at Jet are selling at a heavily discounted rate of between 25% and 75%, while cosmetics and natural spices at Life Health Care sell at between 5% and 20% discount.
Infinix has announced up to 5% discount on its mobile phones and accessories while Fotostore has reduced cost of frames and albums by 30%. So infectious is the sale that even ARA, the centre's playground and popular haven for children has announced a 50% slash for its indoor and outdoor rates.
Over the past two years, Achimota Retail Centre, located at Dome, off the Accra- Nsawam Highway, has brought modern one-stop shopping and quality recreation to a huge cluster of communities in the Ga East Municipality, including Dome, Tantra Hills, Kwabenya, Ashongman Estates and the Achimota township.