German Court In Bayern Confirms Ban: Policeman Must Not Be Tattooed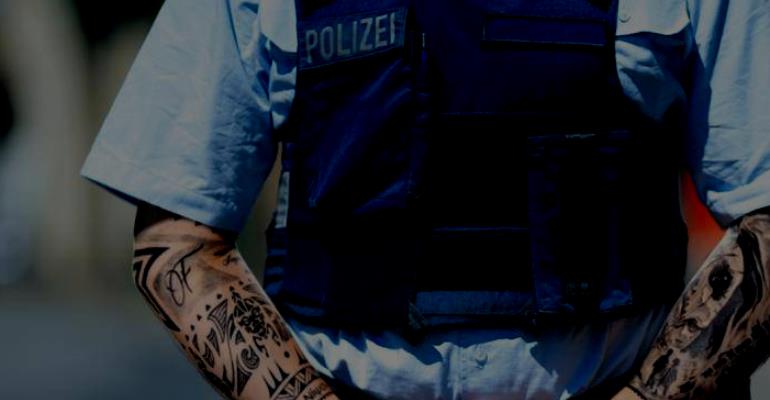 For police in Bavaria is a strict tattoo ban. An official did not want to accept that and complained. However, a court gave the Free State Bayern right.
"Aloha" is a beautiful word. The Hawaiian greeting stands for love, kindness or compassion. For the 42-year-old police superintendent Jürgen Prichta he stands for much more: In 2008, his wife and he spent their honeymoon in Hawaii. "That was fantastic," he says. So wonderful that he wanted to perpetuate the memory on his body and wanted to have an "Aloha" lettering on his left forearm tattooed. But he is not allowed to do that.
The Bavarian Administrative Court has banned him supreme court. The verdict is final, because the revision was not allowed - and it is of fundamental importance for all police in Bavaria. They can not wear visible tattoos - unlike, for example, their colleagues in Berlin or Baden-Württemberg.
Provisions to the external appearance
The Administrative Court justifies its decision with Article 75 of the Bavarian Civil Servants Act. "To the extent required by the Office, the supreme service authority may make more detailed provisions regarding the wearing of uniforms and the external appearance of the officers during the service," it states. "This includes hair and beard habit as well as other visible and not immediately apparent appearance characteristics." This provides a legal basis for the ban on visible tattoos.
The representatives of the Free State argued in court that the projection of respect that their uniforms give police officers is "leveled" by visible tattoos. "It's not about enforcing any dusty morality," one lawyer said. "It's about protecting the police officer, which in our view counts as a duty of care."
Trust and respect endangered?
Among other things, this argument refers to a study by the Rhineland-Palatinate Police College, according to which trust and respect of the citizens decreases when a police officer is visibly tattooed or pierced. According to the investigation, this also increases the operational risk of the official, because some citizens would rather resist.
For the study, 241 randomly selected citizens between 13 and 81 years old had been interviewed. Prichta's lawyer in court said the trial was not representative and requested that a market research institute be commissioned to conduct a broader study on the acceptance of tattoos among the population. The Court rejected the request for evidence.
"I think there are some colleagues who are now disappointed," says Rainer Nachtigall, the country's chairman of the German police union. "We now have different legal situations in different federal states."
Every fifth German is tattooed
Only at the end of September, the administrative court in Magdeburg had decided that a police candidate in Saxony-Anhalt, who tattooed a hooded figure and the logo of 1. FC Magdeburg on the calf, may not be rejected. Shortly before, the Higher Administrative Court in Münster, Westphalia, decided in a similar case quite similarly. A large lion's head on his forearm was no reason for the judges to exclude a candidate from the police service in North Rhine-Westphalia.
A police candidate with an eye-catching tattoo, on the other hand, did it differently in Hesse: she had the tattoo "Please conquer me" visibly tattooed. That was too much, judged the Hessian Administrative Court in Kassel.
According to a study of the University of Leipzig from last year, every fifth German is now tattooed. And there are more. Of the between 6,000 and 8,000 applicants for the police service in Bavaria per year between 300 and 400 are visibly tattooed, says Nachtigall of the police union after the Munich judgment. "We will not even look at them - regardless of what qualifications they have and whether they can become good police officers - you'll see how long the Bavarian police can afford this attitude.
Berlin changes its handling of tattoos
In Berlin, the police have already officially changed their attitude. In a call for applications of the capital police it said: "The police Berlin changes their handling with tattoos!" Exceptions: extremist, sexist, violence glorifying and religious motives.
A move to Berlin for him but still out of the question, says visibly disappointed Jürgen Prichta after the decision, which he can not understand. "That's why I'm neither a worse person nor a worse policeman just because I have color on my arm." A tattoo in another, less conspicuous place is not an alternative. "There's a shortage of space." Prichta had applied to the police headquarters for a permission for the tattoo, which was rejected. On the other hand, he complained and will now renounce "Aloha".
Francis Tawiah (Duisburg - Germany)