Kavanauge Confirmation; A Shame For Democrats But A Victory For Trump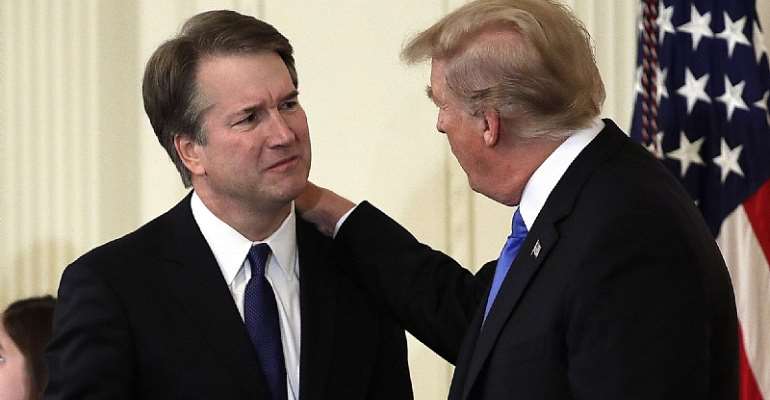 President Donald Trump's second Supreme Court nominee, Judge Brett Kavanauge was confirmed by the Senate on 6th October, 2018, and few hours after the confirmation in the same day, he was sworn in by Chief Justice John Roberts. The Senate votes ended 50 - 48 in favour of Justice Kavanauge.
Judge Kavanauge replaces Justice Anthony Kennedy who retired in July, Justice Kennedy was a swing Justice so the confirmation and swearing in of Justice Brett means a strengthen of the Conservative side of the bench. This also means a victory for President Donald Trump because Brett's confirmation will give President Trump a campaign message for the upcoming mid-term November and the 2020 elections, and also a strengthen of the conservative side of the bench of the Supreme Court which will as a result make it easier for President Trump to push through most of his policies with regard to Abortion, LGBT, Immigration and others to be implemented. So far, two Republican ideological leaning Supreme Court Judges have been added to the bench under Donald Trump. The first was Justice Neil Gorsuch and the current is Justice Brett Kavanauge. Again, the Senate's strict partisan pattern of voting during the confirmation of Justice Brett Kavanauge amid the tense political atmosphere leading up to his confirmation which finally got a Democrat Senator voting in the direction of the Republican Senators clearly shows the Republican Party is likely to enjoy a victory in the upcoming key mid-term elections in November.
The Democrat Party's passion to get Justice Brett voted against at Senate through all means with mischievous ones in addition clearly meant how much blow they knew a confirmation and a swear in of another Conservative leaning Supreme Court Justice will cause their political chances in the upcoming November mid-term elections and their other political agenda in the country. Their employ of Christine Margaret Blasey Ford, a University Professor of Psychology to mischievously push an allegation of a sexual assault against Justice Brett Kavanauge which was later found out to be false by the FBI clearly showed how desperate and uncomfortable the Democrats were with a confirmation of Justice Kavanauge.
Aside the huge blow of the confirmation of Justice Brett Kavanauge to the Democrats, another likely to suffer some negative effects will be Christine Ford for allowing herself to be used by the Democrats for the sexual assault propaganda against Brett. It is likely to get her to suffer credibility problems when people deal with her in the future. Also her action was an insult to women. Moreover it is likely to reduce the trust people will have in the statements of women who truly get sexually abused, and this can likely delay or deny justice for some of such sexually abused victims in the future.
Thank you
Hhhmm, may God be praised always
Nana Kwadwo Akwaa
Member, Critical Thinkers International (CTI)
[Creative Minds; Changing The World]