Mahama Is An Advocate Of Lawlessness; He Can Not Be Trusted With The Fate Of Ghana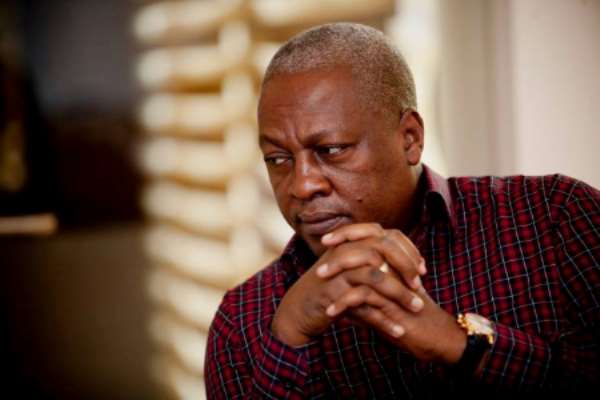 Former President Mahama
It is the laws of a country which ensure its civility, without that every country will turn chaotic. The disregard of law by certain countries such as Somalia, Sudan, Afghanistan and others is the reason why these respective countries are packed with violence, political instability, poverty, insecurity and other forms of criminalities. It as a result makes it needful for the entire citizens of a land to ensure a comply with the laws of a land by everyone living in that country.
The above as a reason therefore makes it shameful and irresponsible for former President John Mahama to support the deputy National Organiser of the National Democratic Congress (NDC), Joshua Akamba and the Headmaster of the Tempane Senior High School (SHS) for their clear breach of the laws of the Teaching Profession as indicated in the Teachers Code of Conduct - Ghana Education Service (GES), it is in fact insane and barbaric. Also his radical stance to breach same law, daring of the law enforcers to act on his proposed breach of same law if he does it in a near future, in addition to inciting of the public against GES and the other law enforcers for acting on the Akamba and Tempane Headmaster issue is ludicrous, nauseating, very primitive and condemnable.
It has become most worrying because it is not coming from a publicly known outlaw or an ignoramus, but rather it is coming from one who has knowledge of the consequences of a disregard of the law because of his previous positions as a Legislator/MP, Minister, Vice President and President.
This is action by H.E John Mahama has clearly shown why he superintended over so many criminalities, permitted all the various forms of corruption by his surrogates and also allowed the disrespect of the verdicts of the High and Supreme Courts of the land on certain issues by some individuals and institutions, to go unattended to under his rein as the President of Ghana. Moreover, this vividly proves he is an enemy of the constitution of the land and as a result a traitor. It shows he can not be trusted with the safeguard of the constitution, and so he should never ever be given an opportunity by Ghanaians to govern the country again unless the citizens want to help again make Ghana a Banana Republic or a lawless country as it used to be under his rule as President of the land.
Thank you
Hhhmm, may God be praised always
Nana Kwadwo Akwaa
Member, Critical Thinkers International (CTI)
Cc:
CTI - Northern Belt
CTI - Middle Belt
CTI - Southern Belt