Ex-Vice President Of GTUC Debunks Allegations In EOCO Audit Report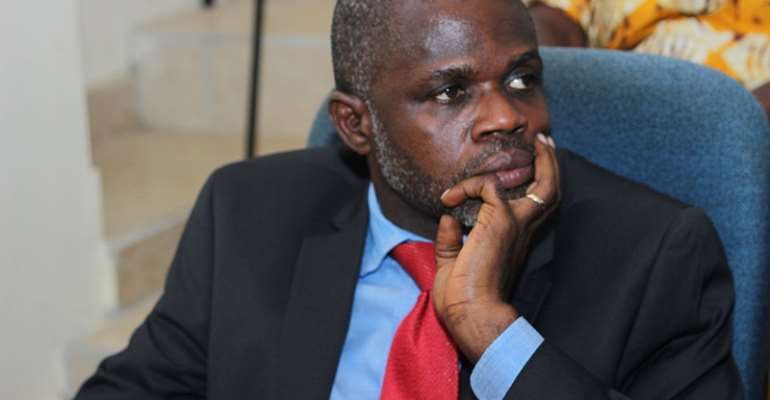 The Former Vice President of the Ghana Technology University College, Dr. Robert Baffour Awuah, has denied the recent allegations circulating in the media (including social media platforms) that, he had misappropriated government funds.
According to the Professor, all the allegations levelled against him are mendacious and baseless.
"This irresponsible, shameful, incompetence, and reckless work performance is what is plaguing the country. Ghana can and should do better than this. I find the auditor's directional report completely bogus, fake and reckless. If you need explanation on a transaction, as an auditor, all you need to do is ask. Even if I was sitting on the moon, I could communicate with you through several means" he said.
Dr. Robert Baffour Awuah rejects the findings of the audit report about him and has call on whoever responsible for the audit to retract the said report from the public public domain.
Below is the full statement
EOCO's Audit Report on GTUC: Response by Professor Robert Awuah-Baffour, former Vice President.
On September 20th
An audit report dated August 31st, 2018 of six institutions including the Ghana Technology University College (GTUC) from the cabinet committee responsible for the coordination of investigations/forensic audits surfaced in the Ghana media and on various social media platforms.
Apart from receiving phone calsl from Ghana, I got the gist of the report from various media reports on the internet including WhatsApp. The report stated that the former vice president of GTUC had misappropriated funds.
An audit that is supposed to check on my previous works did not ask me a single question about the work, did not check whether the signature on those documents (PVs, contracts, letters, etc.) that are purported to me mine are truly mine, that if my signature is on a document, it is in fact the right document with the right amounts.
None, I mean none of these basic auditing 101 procedures were adhered to.
As a professor who teaches ethics and decision making, I find it bizarre and shameful to witness this callous and capricious act of plane disrespect for professional standards and ethics.
Even the name that is reported on the audit document is not how my name is and there will not be a single document at GTUC that I signed with my name written like that.
I wonder if the auditor even bothered to check the role of the VP of the school especially when it came to financial matters and mandates.
I hope they ascertained that I could not sign checks by myself. Because of the intended impacts of such publications, it is simply fair that proper due diligence and professional standards are adhered to.
This irresponsible, shameful, incompetence, and reckless work performance is what is plaguing the country. Ghana can and should do better than this.
During my entire stay at GTUC, all monies paid to me were approved by the signing authorities of the school including the president and the head of finance. As the head of academics and research and consultancy, my team and I wrote many proposals and I mean many.
GTUC was involved in many research and consulting activities. All lecturers and staff including myself who worked on such consulting and research projects were paid.
GTUC collaborated with external entities especially in areas that we lacked internal capacity to solicit and execute projects.
All payments made to such agencies were approved by the school authorities. These are all standard university practices.
At some point between 2010 and 2015, GTUC had about six foreign university partners including Coventry University, UK, Aalborg university, Denmark, Anhalt University, Germany, Hertfordshire University, UK and Staffordshire University also in the United Kingdom. These partners had to be paid. Transfers made to them were mostly in Great Britain Pounds.
You might have seen lots of transfer to Coventry University, UK. Coventry University was the biggest partner and had many students in their program.
So, you simply cannot add those numbers up and proclaim to the whole world that such monies have been misappropriated and should be accounted for.
As the vice president, I was not the spending officer and did not have the power to transfer funds nor pay myself any money.
I find the auditors one directional report completely bogus, fake and reckless. If you need explanation on a transaction, as an auditor, all you need to do is ask. Even if I was sitting on the moon, I could communicate with you through several means.
Now, let me take a moment to provide some account of what I know and also provide you with a summary of my journey at GTUC…
On August 3, 2018, I got an email from EOCO with an attached file inviting me to report to their office (letter of invitation shown). On the same day, I responded with the following email: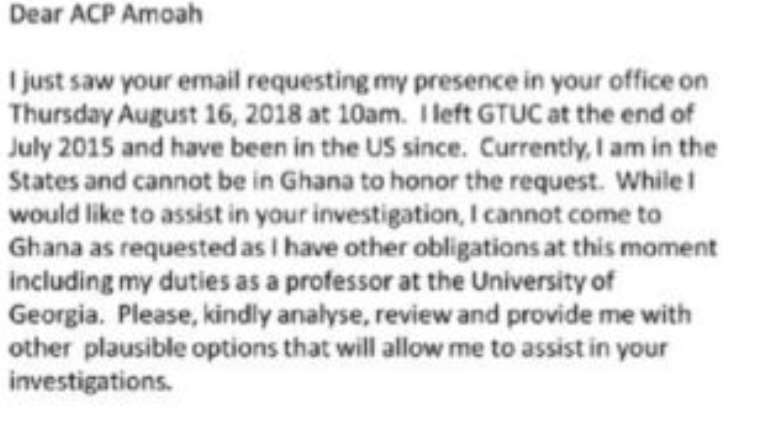 On August 6, I received On August 6, I received an email from EOCO that my email has been forwarded to the executive director.
More than one month after the initial communication, on September 12th I did a follow up
email to check on what their plans were since I had not heard from them on my proposal on alternative communication plans.
I got a response on this email on September 17th. The content of the email was asking when next I will be in Ghana.
I replied that I was in Ghana in February and currently looking at a few projects in Ghana and was waiting for the next opportunity to travel to Ghana, and that I will let them know of my future travel plans way in advance. I also noted that I could write written responses if that will be adequate.
I have not received a response yet. It turns out they have already sent their report to the cabinet committee while we were having these discussions. I find this shameful.
I joined GTUC on December 8, 2008 as the vice president. Sometime during the first quarter of 2009, I met with the then CFO of Vodafone, Mr. Randell Hato and the then HR director Mrs. Stella Appiah- Nkansah to discuss issues pertaining to GTUC. GTUC was running under Vodafone then.
In that meeting, I was told GTUC did not have the mandate to hire me since GTUC was not an employer and also Vodafone will not allow any new hires.
We wanted to hire lecturers. Their argument was that we should use Vodafone workers as adjunct lecturers. After 19 years studying and working outside Ghana, I came home to help build my nation only to be met with such negative attitude.
I left the meeting broken and confused and it was very clear also from the meeting that Vodafone was not interested in GTUC.
In October 2009, Vodaphone retired all the 55 workers at GTUC and removed them from their payroll. We pleaded with Vodafone to give us a startup capital to move the school forward but Vodafone declined. From there, we had to fend for ourselves. Absolutely no support from anywhere. No government support, no Vodaphone support.
At some point, the then CEO of Vodafone David Venn and his CFO , Randell Hato registered GTUC as a private entity, GTUC LTD, and signed a 10 year lease with GTUC.
Today, GTUC is accredited by the National Accreditation Board as a private institution. From October 2009, we took all efforts to get the government involved in GTUC but they declined.
Always citing a court case against the sale of GT to Vodafone by one professor Akossah, of the CPP.
Before the sale of GT to Vodafone, GTUC was on the list of GETFUND and received funding from them.
After the sale, the new administration removed GTUC's name from the GETFUND as it was seen as a private university.
Throughout the period I was at GTUC, we did not receive any funding from the GETFUND. For me, working around the clock to build a new institution whose mission I believed in, I did not see GTUC as a government intuition whatsoever.
I saw the hand of the government on government supported schools like UPSA, GIMPA and even the polytechnics. I saw zero support at GTUC.
It is therefore ironic that the same government that failed to support GTUC due to its classification as a private institution is now turning around to audit it as a state institution.
I believe that the validity of the audit will hinge on the answers to these basic questions:
1. How did they verify my signatures on the documents that were supposed to have been signed by me?
2. Can you audit someone without talking to the person?
3. Is the name you published the same as the name you saw on the documents you audited that I signed?
4. How did they check a forged signature of mine if there was one?
5. I left GTUC over three years ago, If my signature showed up on document I know nothing about, how will they verify that?
6. Are they aware that GTUC is registered as a private entity at the registry general's office as GTUC Ltd?
7. Did the government actually take ownership of GTUC and if so when?
8. If GTUC is a public school, what Act established it? There is one for GIMPA, UPSA, UDS, etc.
9. Are they aware that GTUC is accredited by the National Accreditation Board as a private university?
10. Are they aware that GTUC does not receive any subvention from the government?
11. Are they aware that all new structures, properties (the C block, the graduate school, the solar project, the Abeka Campus, the Kumasi campus, the Nungua campus) were acquired through creative financing and hard work of the workers of GTUC?
12. Are they aware that Vodafone signed a ten-year lease with GTUC?
13. How many university colleges (emphasis on the name college) are in Ghana that are public institutions?
14. During your audit, did you find any state funds and resources flowing through GTUC?
15. Will you find GTUC anywhere in the Accountant General's books including their annual audit reports?
16. Is the public procurement Act not meant for state funds and resources?
17. If you have answers to all these questions above, do you think you will be auditing GTUC as a government institution and expect the administration of the school to use the public procurement Act?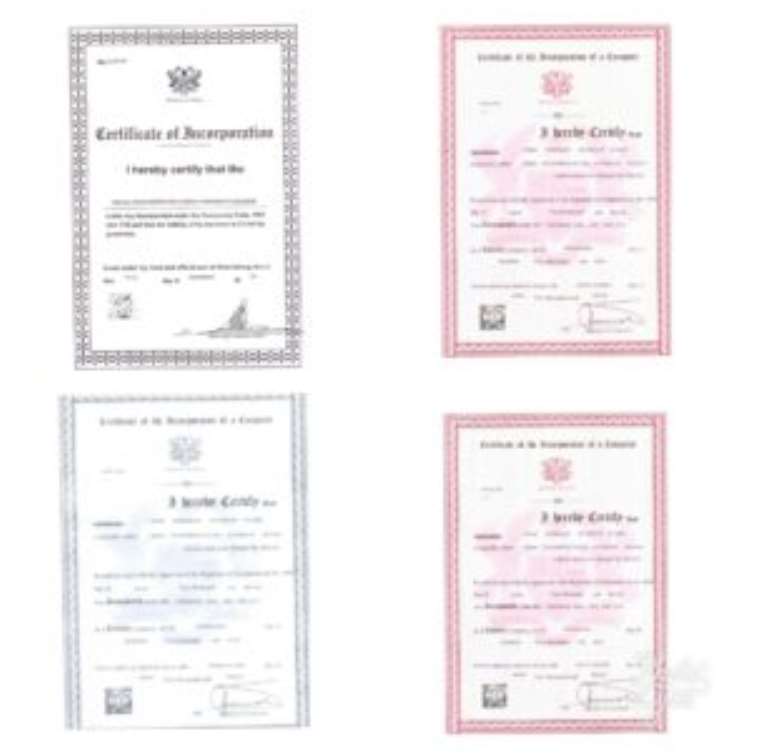 After 6 and a half years at GTUC, I took a voluntary retirement to join my family oversees. When I joined GTUC, the student population was about 700 undergraduate students and 30 graduate students. The total staff strength was 55.
When I left we had about 5,000 undergraduate students, over 1,000 graduate students and more than 500 faculty and staff at 4 different campuses across the country.
From September 2010 to July 2015, we graduated over 1000 graduate students with assorted masters degrees through the Coventry University and other foreign programs.
I worked over 60 hours a week including Saturdays and Sundays throughout my entire 6 and a half years at GTUC.
I had to do this to make sure my faculty and staff will be paid all without any support from the government. Let me be emphatically clear: I am not against any audit whatsoever. That is part of our profession. But I want the audit to be fair, clean and free from prejudgment, emotions and politics. My recommendation is this.
Get a qualified and ethical auditor to assemble all documents that I need to be audited on( from December 8, 2008 to July 31st 2015), invite me with agreeable specific dates, I will come to Ghana, sit down with the team and go over document by document so that I can answer any questions that they may have.
If you genuinely do this, I can guarantee that you will not find any financial misappropriation on my part. GTUC has a very strong future with dedicated staff and faculty. If the government wants to own GTUC, then they should claim it, support it with the required infrastructure and resources. They can then legitimately audit what they put in.
My pleas to Nana Addo, the president of Ghana.
Nana, politics, mediocrity, fear of diaspora involvement, the status quo, fear of intellectual curiosity, plus others are killing Ghana.
Ghana without Aid, will never be realized if our thinking capacity is not stretched beyond these phobias.
Let me end by saying that I do reject the findings of the audit report about me, and I want the auditors/EOCO or whoever is responsible for this to retract this information from the public domain.