Fetehman SHS Pays Glowing Tribute To Kofi Annan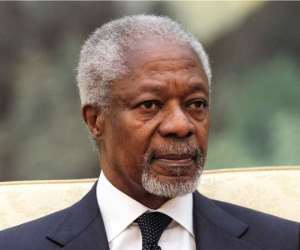 Kofi Annan, who is being mourned by Ghanaians in a three-day state funeral, has been lauded for doing so much for many Ghanaian local communities and schools, including Fetehman Senior High School.
Aside the many high level international agendas that Kofi Annan pursued, he also associated and nurtured some local Ghanaian communities in their socio-cultural development agenda.
Whilst alive, Mr Annan helped built schools, helped with acquisition of school buses and provided scholarships for many Ghanaian students.
One such community that benefitted from Mr Kofi Annan's assistance was Gomoa Feteh, a community in the Central Region, which through the instrumentality of Kofi Annan had the Fetehman Senior High School built for them.
Mr Annan, together with some government officials commissioned that school barely five years before his demise.
The School authorities at the Fetehman Senior High School told the GNA on Tuesday that, the school was built by the UN for the Gomoa Feteh community to thank them for giving out part of the land of Budumburam near Kasoa in the central Region to camp the Liberian refugees.
They said as part of the compensation package to the community, the UN established the school for the community, and it was through the engineering of Kofi Annan, who also had a permanent residence (Mansion) within the community, where he often based whenever he came down to Ghana.
Mr Charles Addison, a tutor of the school, who was among a delegation of students, tutors and Board members of the Fetehman SHS that visited the AICC to pay their last respect to Kofi Annan in Accra, said: 'We came here purposefully for the good things that Kofi Annan did for us. We will miss his absence.
'At the moment we can't even explain what will happen to our school. Now that he is no more, to assist us get the things we need at the school. In fact, his death is a big blow to us' he noted.
Mr Addison said Mr Annan also led the school to access a bus from the government, which had been the main form of transportation for the school that currently had a total student population of about 450.
He recounted each time the school came on top of their interschool competition, they went to show the trophies to Mr Annan in his house at Gomoa Feteh whenever he came to the town, and he was very happy about such achievement.
He said additionally, Kofi Annan instituted a scholarship fund for the school through which many needy and brilliant students were being sponsored in the school.
Mr Benjamin Addae Owusu, Administrator of the school, called on Ghanaians to help sustain the good works of Mr Annan in the school, saying a Kofi Annan block or a dormitory could be built in the school and named after Kofi Annan in his memory.
Miss Phylis Biney, an SHS two student of the School, said she was very much impressed about the humility of Kofi Annan, saying, 'even though he had much authority but he was very humble and never forget where he came from'. GNA
By Lydia Kukua Asamoah, GNA