NPP's Vote For Change, An Agenda For Jobs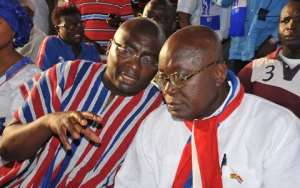 The above topic was the NPP's 2016 Manifesto Banner Headline but it is so unfortunate that, the opposite of their campaign promise is what Ghanaians are experiencing now. It has become the Scam of the Century.
Ghanaians thought almost two years under this government, employers would have been chasing graduates in their various homes with job opportunities; Ghanaians thought by now recruitment agencies would have been recruiting job seekers from other countries due to the abundance of Jobs in Ghana. But what do we see today? Those who are already employed are struggling to keep their jobs both in the government and the private sector. The prevalence of job loses and job cuts are threatening the peaceful existence of Ghanaians. It is now becoming a national security issue and the earlier the situation is arrested, the better for all of us.
The NPP, which touted itself as Capitalist, promised to give the Private Sector a Serene and Enabling environment to enable the sector to expand in order to create more jobs in addition to government ones. This would have absolutely absorbed majority of the unemployed graduates and thereby reducing the burden on the government.
Sadly, since January 2017 when President Akuffo Addo assumed office, the unemployment rate in the country has been escalating. In 2017, over 8,600 nurses whose financial clearance was secured by the previous government had it permanently suspended by Akuffo Addo/Bawumia government.
Again, 205 National Service Scheme Staff and 110 middle-level staff of COCOBOD who were employed in 2016 were sacked by this same government whose mantra was to create jobs for the teeming Ghanaians youth.
As if that was not enough, after sacking and stopping the recruitment of Ghanaians into the public sector, Akuffo Addo and his government have succeeded in collapsing the private sector due to his bad policies which has crippled the economy compelling private companies to massively lay off workers. Unemployment rate is at its highest level ever in the history of Ghana.
It is interesting, though nauseating to note that 2018 is yet to end but available data indicates that recently, identifiably employee job loses such as those below have been recorded:
1. TV3 lays off 100 workers
2. GN media lays off 450 workers.
3. Over 3000 mine workers laid off.
4. EIB network lays off 100 workers.
5. BXC lays off 200 workers.
6. Mensah Otabil lays off 200 workers.
7. Consolidated bank lays off 1700 workers. The bank has also closed down 98 branches it inherited from the collapsed banks which has also led to job losses.
8.With the introduction of Free Education/ Double Track System over 200 Private SHS have been closed down leading to about 10,000 Graduate Teaching Staff losing their jobs because the government has refused to engage these schools in the school placement system. Non-teaching staff can't be counted.
9. Oil Companies are threatening to lay off 4,000 workers.
I am not a doomsayer, but from the look of things, more jobs are going to be lost due the bad policies and mismanagement of this administration..
I am therefore sounding a word of caution to this government to as a matter of urgency, review its governance strategy and approach in order to solve this national security menace.
Thank you
Sirr Abdullah
I'm a Citizen.