Amenfi Central; Bonuamah Gets Ultramodern Clinic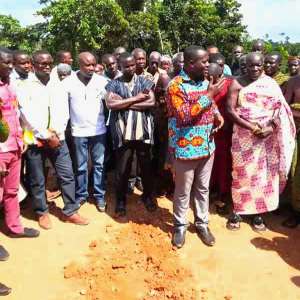 The Amenfi Central District Chief Executive Hon. P.H Amponteng and some staff of the Assembly joined the Chiefs and the people of Bonuamah to a durbar on Monday 30th July, 2018 to commemorate the construction of an ultramodern Clinic facility.
The facility which is being financed jointly by an indigenous philanthropist and a development advocate Mr. Kwabena Adjei (CEO of Kasapreko Group of Companies) and the District Assembly.
The project encompasses male and female ward, OPD, Dispensary unit and other requisit ancilliaries.
The Clinic is expected to be completed within six months (6 Months).
The Chiefs and Elders of Bonuamah pleaded with the contractor to "work hard within the stipulated duration given" to ensure the projects gets completed as scheduled. "We are grateful to the DCE, Mr Kwabena Adjei and the Assembly for this important project" the Chiefs added
The facility when completed will serve and compliments health care delivery in the community and its immediate environs.