Dr. K.A. Busia, Patriot Par Excellence: 11th July 1913-28th July 1978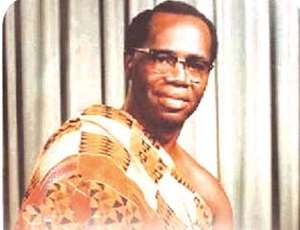 Tomorrow, an important event is going to be held at the Accra International Conference Centre (AICC) about which all Ghanaians should show keen interest.
The 40th anniversary of the transition to the spiritual plane of Dr. Kwesi Abrefa Busia is being observed through a lecture by the President; among other items on the programme.
The President's delivery is expected to remind us about the type of statesmanship the former Prime Minister brought to bear on the country.
Although his regime was truncated by a group of military adventurists in a so-called military takeover, the mark he left in the record of this country will endure for generations to come. After all, the contents of history cannot be deleted no matter how much the adversaries of personalities at their centre try.
We are excited about tomorrow's activity because it offers us with one of those rare moments in the life of a country when intellectuals and ordinary persons alike share thoughts about sons and daughters of our land whose selflessness remain a source of inspiration to us.
The thought that history offers us lessons to help us chart the course of the future could not be more relevant than tomorrow's occasion.
As early as the time when he was at the helm as Prime Minister, the sociologist cum politician made a worrying observation about the then already embedded corruption in the Ghanaian society.
Perhaps at the time that he did, his thoughts were regarded by many as mere academic talk – something abstract; unworthy of serious attention.
Forty years since his exit from the ephemeral world, corruption continues to be a challenge confronting us as people, of course, with more disturbing consequences than they did when Dr. Busia spoke.
There is no doubt that had the country listened to his political sermons then, we mean all of us, and resolved to deal a fatal blow to the cankerworm, the level of corruption would not have tipped this point as it has today.
The life and works of Dr. K.A. Busia, both in office as a Prime Minister and before then, offer us a lot of stuff for brooding upon and for application in our everyday lives as citizens of this country.
He stood up against dictatorship which had gained a foothold in the country's body-politics. Had others joined him in reversing the unsaroury political order, perhaps the strings of unproductive coups would have been nipped in the bud.
For those who truncated his rule and claimed they had the solutions to Ghana's problems, failure marked their illegality. They could not fathom the quality of his programmes and what he stood for, because it was beyond them to do so. The outcome of their junta was there for all to see.
We ask that the history of this country be taken more seriously than we are seeing it today. Its inculcation in our school curricula in a more holistic fashion will go a long way in helping us avoid the pitfalls of the earlier times.