Do We Put Our Trust In Banks?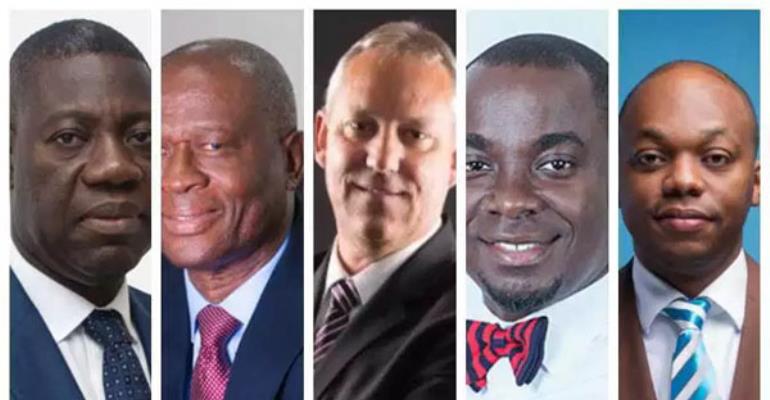 "The refusal to take sides on great moral issues is itself a decision. It is a silent acquiescence to evil" - Venerable Fulton Sheen
WE ARE IN BAD TIMES – economically, financially, no doubt about that! Unibank, the Royal Bank, Sovereign Bank, Construction Bank, the BEIGE Bank –all gone in one "fell swoop", not to talk of Capital and UT Banks which fell last year.
All the five banks have been merged into a new bank, Consolidated Bank Ghana Limited. That should be 'halleluiah' (praise to God) for saving customers of the collapsed banks for their deposits. At least, with the new bank being properly managed (so, we presume), things will move smoothly.
But! And a big but! How did it come to this? Did Bank of Ghana headed by Dr. Kofi Wampah grant them licence without them paying the requisite deposits? And they were allowed to operate – in any manner they chose? Recruiting personnel of all kinds? One would want to believe that the Bank of Ghana has supervisory role to play. Had the supervisors of Bank of Ghana gone to sleep? Dereliction of duty? So many questions: was it lack of expertise or was it impunity?
Did they flout the regulations, and if they did, was warning issued to them? You see, banking thrives on trust, so customers put all their trust in the bank, believing that their money is safe, but it has turned out that they were relying on false hopes.
It is all about poor management and poor supervision –which includes poor credit governance. Local capacity cannot be built on sentiments; it should rather be built on training. We do not want to be told that the micro-finance companies and the mobile phone companies have taken over the functions of the banks. It is a competitive world, and there are agencies ready to cash in on any avenue that lends itself susceptible.
Names are being bandied around, Pastor Otabil, the veritable man of God has not been left out. He too has his defence, hasn't he? He has the backing of his congregation – whether he played a role in the breakdown of the system or not. One could interpret this support as the function of sentimentality, not real assessment of the situation. One cannot forget that he was the Chairman of Capital Bank's Board of Directors. Right or wrong, the "buck stops" with him; so some people think.
Nana Otuo Acheampong, a banking consultant, urges Ghanaians "not to lose confidence in the banks but continue to transact business with them, in the assurance that their deposits would continue to be in safe hands." Nana Acheampong adds that "some of the local banks match their foreign counterparts boot for boot in terms of capital, efficiency and corporate governance". Rather, eerily, he drops a hint that having received the plans of the various banks in June 2018, the Bank of Ghana realized that "the collapsed banks did not have a chance in hell of reaching those capital requirements".
Readers may remember Pyram: the harm they came to cause to depositors. They may also remember DKM. So, they decide to resort to the traditional banks, and this is their fate! Daily Graphic laments :" … there are reports of many depositors moving funds from the local banks to the foreign ones as a way of guaranteeing their deposits and investments. Much as this is necessary, it is equally dangerous for the remaining 13 local banks including the newly established Consolidated Bank, leaving the foreign ones at a dominant 17"
Nana Otuo Acheampong recalls the history of banking in Ghana: the Standard Chartered Bank (Ghana) and Barclays Bank (Ghana) in 1896 and 1917 respectively; later, the Ghana Commercial Bank (1953), the National Investment Bank (1963), the Agricultural Development Bank (1965), the Merchant Bank, now the Universal Merchant Bank (1971), the Social Security Bank, now Societe Generale (1975), the CAL Bank (1990) and the Prudential Bank (1993). How have the banks operated in the past, and in the present?
Look at the breaches of the five collapsed banks; under –capitalization, use of suspicious and non-existent capital to obtain licence by false pretences, high non-performing loans, illegal disbursement of loans to shareholders and connected parties, non-disclosure of their true financial status. All these malpractices were in breach of the 'Banks and Specialized Deposits Taking Institutions Act (2016), Act 930'. Sorry, how can any bank worth its name fail to publish its audited accounts: were there even internal audits and did they subject themselves to external audit? Nearly all the banks had liquidated challenges. Some GH¢610m or so was given to the banks – only for this to be shared as a booty by the directors
One would go with 'Daily Graphic' when it hopes "… that the BoG will strengthen its supervisory role and begin a process to reassure the public of the true status of the remaining Ghanaian banks to help win back the confidence of the public in them".
But the issues cannot be allowed to hang: investigations are needed to establish culpability. We cannot afford to spend taxpayers' money to bail the banks only for them to use the money capriciously.
It is not surprising that a World Bank research concluded that only 30% of Ghanaians have bank accounts. What are the remainder doing? Putting their money in Mobile Banks at best, or in vaults in their houses or their money–boxes or … (you can guess where else).
You may or may not agree with Ms Elizabeth Ohene who says: "It seems to me that stealing is for little people, small people, and corruption is for the big people… When they say you're corrupt, you're invited to be chairman of the church harvest and when they say you're a thief, you go to jail"
The Catholic Archbishop, Venerable Fulton Sheen, admonishes us: "If you don't behave as you believe, you will end by believing as you behave" Sad, so sad, and this is where Africanisation, Indigenisation, Local Initiative have taken us. We believe as we behave.
[email protected]
Africanus Owusu Ansah