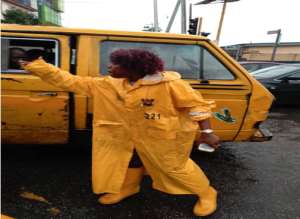 Picture of rabid LASTMA official (Funke with LASTMA Identification number 2221) taken during the incident at Agnes Junction, Yaba on Monday morning
On Monday 13 August 2018, I had an urgent call to see my project supervisor at the University of Lagos, Akoka. Because I had other previously-scheduled appointments for the day, I had to defy the heavy rain to see my supervisor in other to meet my other appointments. So, I joined one of the UNILAG Campus Shuttles from Yaba Terminus en route to UNILAG campus that morning. When I thought the rain was the worst thing to happen to me that morning, I never thought of how poorly-trained some Lagos State Traffic Management Authority (LASTMA) road traffic wardens could be. One of them is one notorious official, by name Funke (it may turn out not to be her real name though) with the identification number (2221) on duty that unfortunate morning!
As we got to Agnes Junction, one police officer (a woman), and this LASMA official were on duty. The traffic was understandably heavy because of the downpour. Every vehicle became the law unto themselves because of the poor jobs the traffic wardens were doing. In the bus I was, the driver got the signal from the police officer to move to which he complied. But from nowhere, this LASMA woman, in a Gestapo, Mushin-tout or Agbero style came and remove the bus's right side mirror (exactly the position I was seated). The confused driver and 14 other passengers could not believe their eyes. An officer in butter colour shirt and pink pants could behave in such a thuggish manner? As the driver tried to park in a comfortable position, we were in for a ruder shock. This woman, with her bare hands, broke this same bus's windscreen. (I personally got injured in this unfortunate encounter). At this point, we all have had enough. A windscreen and side mirror all to a woman's uncontrolled madness? The next two hours in the rain saw we the passengers confront all the officers on duty in an attempt to get justice for this bus driver!
In the heavy downpour, I came out to challenge the woman, whom by the way works with a street thug she uses to harass commercial bus drivers, on why she did that. She said, in Yoruba to me: "You better don't get involved in this matter. I am doing my job. If you provoke me further, I will break the whole glass and nothing will happen. I'm doing my job." She said this and afterward hit me on the chest. But for my respect for women, nobody would have gotten away with that. The policewoman on duty tried to calm me down at the point, but I won't be on that bus as a witness to this woman's clinical-case madness and allow what was happening to pass. Never!
At some point, she tried to take to her heels, but I and some other passengers with the driver pursed her. Her thug with whom she reigns terror on commuters and commercial bus drivers ran after us to threaten me to threaten me in particular. Since he does not understand English, he spoke to me in Yoruba "You are Yoruba and defending 'Omo Ibo' [Igbo man]. Can you go and do that in Onitsha?" In my response to him, I told him I was in Onitsha during the 2017 Anambra gubernatorial election as an observer, but that is beside the point. She either admits she was wrong by breaking the man's windscreen and side mirror or we press further charges against her. I was ready to abandon what I was going to UNILAG to do and my other engagements to see the end of this case. Noticing my insistence, an official at the Lagos State Civil Service who identified herself as Rose came down from her car to intervene. She had a full view of the incident having been held up in the traffic caused by this woman's incurable madness.
I have told the driver to file a case with the Transport Union against this lawless, power drunk woman. Nobody should be tolerating the uncivil behaviour of this poorly-trained, undisciplined, and unprofessional rogue. Not in this country. Certainly, not under a democracy. It is on that not that I am making the following prayers:
The bus drivers must be indemnified. This driver's windscreen and side mirror MUST be restored at the Lagos State Government's or LASTMA's expense forthwith.
The Lagos State Government and LASTMA MUST ensure that Road Traffic Wardens are properly tested by competent psychiatrists to examine the state of their mental health. This woman, Funke (LASTMA Number 2221), shows obvious signs of failing mental health as manifested in every one of her actions whilst the incident lasted. I also think she needs to be tested for drug or substance abuse. She does not look or sound mentally fit. All her behaviour, her speech, and actions point to the fact that she is, in fact, a street tout. If someone like this should find her way into an important state agency like LASTMA, can we imagine what would have been the case if someone like Funke is in the possession of firearms? Do we still have the moral justification to continue to call for State Police when people like Funke are sure to be employed in the Police Force? Will someone like Funke not pull the trigger at the slightest provocation(s) as she clearly demonstrated that morning?
Lastly, and most importantly. Someone like Funke is not ordinarily fit to be a public servant to start with. She is everything a public servant should not be. She is rude, arrogant, vindictive, reckless, violent, destructive, aggressive, emotionally unstable, mentally unfit, unprofessional, undisciplined, corrupt, tribalistic, nepotistic, uneducated, unintelligent, uncouth, sadistic, embarrassing, despicable, disgusting, ridiculous, and every other attribute for living among beasts. I, therefore, call on the Lagos State Government and LASTMA to immediately terminate her appointment before people like these do us further damage and serve as a lesson to others like her. This one is just too UNFIT to be an officer in uniform in the first instance.
I will wait to know how this woman's case will be treated before taking my next line of action. There has to be an end to this arrant display of impunity in public life!
Olalekan Waheed ADIGUN,
Post-Graduate Student,
University of Lagos, Akoka
Tel: 07081901080, 08136502040
Email: [email protected]