Grabbing the spotlight, Mugabe casts his vote -- but who for?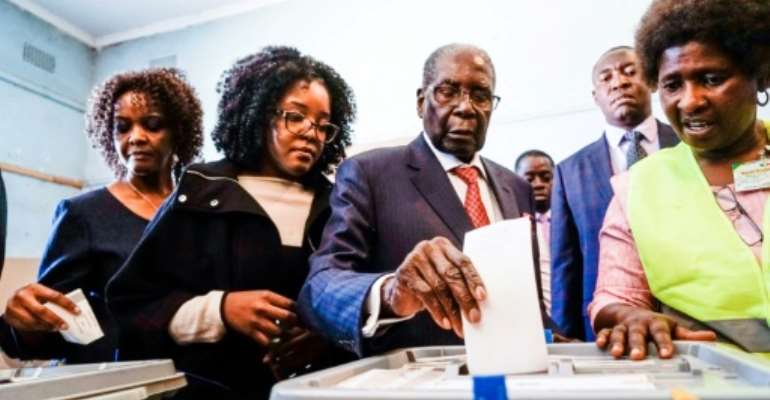 Walking slowly but unaided into the polling station, Robert Mugabe was not going to let his fall from power stop him from seeking a leading role in Zimbabwe's historic elections.
Now aged 94, he arrived at the primary school in the Highfields district of Harare surrounded by bodyguards and accompanied by his wife Grace, who is 41 years his junior.
He was greeted with shouts and cheers from a heaving crowd gathered to see the man who dominated Zimbabwean life for nearly four decades and who had led their country since before many of them were born.
Wearing a red tie, red pocket handkerchief and dark suit, Mugabe had his finger marked with a pen to show he had voted and then spend several minutes in the cardboard polling booth selecting his choices on the three ballot papers.
He eventually emerged after exchanging brief words with his wife and carefully put each ballot paper into its designated box for the presidential, parliamentary and local councillor elections.
Mugabe had not been seen in public since last November when the military and his once-loyal ZANU-PF lawmakers turned against him and forced him from office, ending his 37-year regime in a few short days.
But he re-surfaced unexpectedly on the eve of the election, holding a rambling two-hour press conference to announce that he would not vote for his successor Emmerson Mnangagwa and the ZANU-PF, complaining they had "tormented" him.
Instead he suggested he might even vote for Nelson Chamisa of the MDC -- the main opposition party that he had subjected to brutal and often deadly repression.
'All our broken dreams'
Mugabe's intervention put him back at the centre of political drama in Zimbabwe, and drew a large crowd to the polling station to wait and see if he would turn up to vote.
"It's just a moment of closure really," Mufaro Chiriga, 29, told AFP.
"We wanted to see the man who ruled us for the past 40 years, who was responsible for all our broken dreams, all the broken promises, for ruining our future basically."
In contrast, one or two people shouted out that Mugabe was a national hero.
Grace, wearing a dark dress, walked at his shoulder, holding his sleeve at times to support him in the pushing scrum, and guiding him out through the exit door while she talked quietly in his ear.
His attempts to position her as his successor are widely thought to have driven the military to intervene and usher their favoured candidate, Mnangagwa, to power.
On Sunday, Mugabe dismissed the reports as "utter nonsense" and lashed out at her critics, saying "Leave my wife alone, I want Grace to remain my Grace."
Mugabe, who fought in the war against British colonial rule, won elections in 1980 when Zimbabwe became independent and ruled until his sudden ejection last November.
After voting, he walked tentatively back to his limousine, declining to answer shouted questions asking who he had voted for.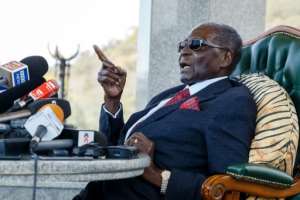 Mugabe, in a lengthy press conference on Sunday, called for voters to toss out his ZANU-PF party, which has ruled Zimbabwe since independence. By Jekesai NJIKIZANA (AFP)