About 7 Health Facilities To Be Upgraded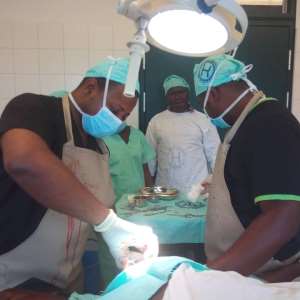 The Wassa East District Assembly under its 2018-2021 Medium Term Development Plan would renovate and upgrade seven health facilities in the district.
It would also construct six CHPS compounds and in addition provide medical equipment to all health facilities in the area.
Ms Estherine Mensah, the District planning officer announced this when she presented the 2018-2012 Medium Term Development Plan to district assembly members for discussion and approval at Daboase.
She said infant and maternal health services would be strengthened and that 20 adolescent clubs would be formed with intensified campaign on HIV /Aids, malaria and nutrition.
The planning officer said the Assembly within the four years, is expected to train 2000 youth and support 400 women in employment skills, train 400 SMEs in management skills as well as support 20 local business association with equipment.
It would facilitate the certification of 500 apprentices, the establishment of three light industrial sites at Ateiku, Daboase and Atobiase, establish three skills training centres at Daboase, Ateiku and Ekutuase.
About 100 acres of land for the planting for food, jobs and investment would be acquired and that 30 farmer based organizations would be formed and strengthened.
Ms Mensah said the Assembly would also develop two Eco tourist sites at Daboase and Domama, train farmers in improved technology in plantain, Cowpea, rice and maize.
On Education and Youth Development, she said the district would supply teaching and learning materials, provide 5000 furniture, 20 recreational centres and sports facilities in all area councils and provide financial assistance to 1,000 needy students.
She said the school feeding programme would be expanded and that teachers and SMC would be motivated and their capacity built.
She said under social welfare and community development, 800 People With Disabilities would be trained and supported in income generating activities ,40 community child protection committees would be formed, provide funds to the vulnerable under the Leap programme, train women groups in governance and leadership skills and income generating activities.
Ms Mensah said plans were in place to improve upon water supply through the construction of Small Town water system, improve sanitation and hygiene, extend electricity to 60 communities, provide street lights in 60 communities, rehabilitate roads, bridges, establish community resources management teams.
In addition she said compensation and documentation of Assembly lands would be done, street naming, property addressing as well as the formation and training of 40 disaster volunteer groups, construct two police stations, construct district fire station and build the capacity of Assembly and unit committee members.
Ms Mensah said the goal of the assembly was to create wealth through enhanced access to basic socio-economic services towards accelerated growth.
Mr Wilson Arthur District Chief Executive, described the document as very important and urged the assembly members to bring to bear their expertise to ensure the proper execution of all the projects in the document.