The Heart Seeks The Right Place Of Comfort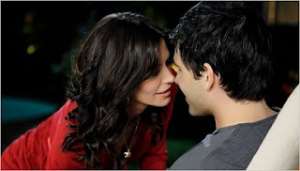 Ray was a young intelligent man, in one of the high educational institutes studying architecture. Like most men, Ray's love for sports and constant training at the sports hall, shared by the young ladies and gentleman in the community, has given him certain physical features which distinguish him from his classmates and friends, attracting scores of girls, like a magnet close to iron filings.
At the sports hall, ladies feel their heartbeat within their chest when he is shirtless. The girls' eyes travel around his tall strong built figure when engaged in training. Surprisingly, Ray didn't use his attraction to seduce anyone. At eighteen, he has no girlfriend, yet he has scores of girls around him as friends, who admire his quiet nature and wonderful smile.
Despite his tight and busy schedule, Ray works at one of the most beautiful restaurants in the city, at weekends to generate income to reduce the financial burden of his parents. It was this restaurant something he wasn't expecting happened, throwing him into a relationship for the first time in his life. One of the customers at the restaurant had a glimpse of Ray and the way she felt that day was something unusual.
She was a beautiful lady, gorgeous legs, with rich and silky flowing down her shoulders. Her eyelashes support a set of beautiful eyes which close a bit whenever she smiles, exposing her dimples magnificently. Her smooth soft body was tempting like a delicious food a hungry man wants to taste. Frankly speaking, her perfect body can't be compared to anyone. It's true, beauty is in the eyes of the beholder.
Samma is a professional lawyer of thirty-two, whose heart has been stolen by a young man who is just eighteen. She was overwhelmed by the kindness, soft nature and the excellent services of Ray. In her professional career as a lawyer, She has worked for thousands of men, appeared in court and dealing with other young handsome lawyers, but her heart remains silent, until the day she saw Ray at the restaurant.
Like a flash of thunder, the first meeting in the house of the lawyer ignited like a fire. That was Ray's first sexual experience. The matured lawyer gave him her passion for magic love, which transformed and made him felt like he was in paradise, that wonderful perfect place of happiness. This went on and on until Ray became addicted to Samma's 'golden box.' The reason it never appeared to be a problem when Samma asked Ray to live in her apartment.
The blossomed love affair enabled Samma to visit Ray's parents. She was heartily welcomed. Was Ray's family expecting someone like Samma to go into a relationship with Ray? Because Ray's father has legal issues which were siphoning all his money from his pocket. The lawyer in love, helped Ray's family to enjoy a happy life like every normal family. Financially independent, Samma provided and did everything for Ray to keep the relationship strong with full of passion.
Three years after the sweet love affair, at the age of 21, it seems Ray has matured enough to see that he made a wrong choice as a young man. With many years of freedom, activity, and developments ahead of him, his heart begins to search for the right place to stay. He told Samma that he wasn't interested in the relationship any longer. The message sent cold waves of shock through the spine of the good lawyer, shattering all her dreams.
Love is strange, yes it's strange and has many questions. Why such a beautiful lady, above all a professional lawyer, the dream of living with someone eighteen still under education? Was she having problems getting the right man? One can take a horse down the river, but can't force the animal to drink water if not thirsty. Ray moved out of Samma's apartment to live with his parents once again. All efforts to get back Ray to her apartment were futile. She finally accepted her fate and gave up, but she still remains a friend to Ray's family.
Free at last, Ray used his leisure time to visit the church every Sunday. After getting his temporary driving license, he passed his driving test the first time and bought a nice car to assist his movements. At church, he met a young lady of the same age and became best friends. Today both live happily under the same roof. The heart always seeks the right place of comfort. Surely, Ray's heart has found one.