Cease Your Envious Plots Against Kennedy Agyapong (Hon), O Ye Jealous NPP Members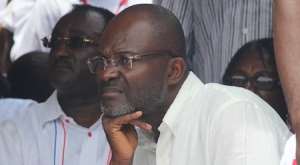 For how long and for what reasons will members of the NPP fraternity continue to let Kennedy Agyapong (Hon) feel threatened that you are on course to pull him down by collapsing his businesses? Is it not more ideal to emulate a successful person in life than to envy that person to the point of wishing or scheming for the person's downfall? When at all will this typical evil Ghanaian-mindedness cease?
I have heard, and been aware, of instances where some people had schemed to bring others down because they are too rich to be accommodated in the country. Their evil plots emanate from envy or the fear that such persons are too powerful to be controlled, or just for the silly pleasure of reducing them to the status of ordinary people.
During the reign of former President J. J. Rawlings, he had strong aversion to rich people. He wanted almost all rich people to become poor, or be in the same bracket as any ordinary person. He seized or collapsed the businesses of some rich men all for his silly dislike of their riches and their tribe. For the public information, he seized the International Tobacco Ghana Limited Company (ITG) belonging to the late entrepreneur Mr Benjamin Amponsah Mensah known by many as Mr B. A. Mensah. He as well seized and collapsed the Tata Brewery belonging to the late Mr Siaw. The late P.V. Obeng allegedly played a major role in all such seizures but in the end, these haters of rich persons became immensely rich through foul means unlike most of the rich persons they hated with passion.
From J. J. Rawlings' era until today, we hear of attempts by some members of government or those parading the corridors of power scheming to collapse some rich persons' businesses. It was alleged that the late Professor Kofi Awoonor had devised and authored strategies for the late Professor Evans Atta Mills cum John Dramani Mahama's NDC-led governments to impoverish the Akans while empowering the other minority tribes so that the NDC could stay in power for many years.
In the NPP governments, we hear of alleged schemes to collapse the businesses of some people for what reasons, I cannot tell. Be that as it may, let me state it categorically to all the governments and the individuals hatching such plots without mincing words that they lack farsightedness, and their plots are borne out of envy, pure and simple.
Do they know the magnitude of the consequential adverse ripple effect on the society in general? Let me take Kennedy Agyapong (Hon) for example. He employs so many people; cares for so many people through his philanthropies according to on air testimonies about him by some Ghanaians. Each person he has employed also cares for many people, at least their families, all because of the earnings they make from the jobs Kennedy has given to them. Are all his employees not going to be laid off when his businesses collapse? What a knock-on effect it will have on the families of such employees and the society in general.
"The devil finds job for an idle hand", so an adage goes. When the people become unemployed, they will resort to any means possible to live; be it through armed robbery or becoming fake pastors to encourage their congregation to attend church service 24/7 because of offertories they can raise to enrich themselves. In the end, Ghana as a country becomes the greatest loser, because of a few myopic persons' envious nature to destroy someone's businesses.
If Kennedy is earning his wealth genuinely, why should anyone plot to destroy him, let alone, members of his own NPP fraternity? Are they that ungrateful? Have they soon forgotten how he financed the party when it was in dire need of financial assistance? Are they biting the hand that fed, and continues to feed, them, without pausing to reflect on the past and their future needs?
Kennedy, upon all his wealth, cannot eat as any other rich man would all because of a health condition. He eats only plantain "ampesie" and raw "nkontomire" (cabbages?). Many of those allegedly plotting against him eat richer foods than him. He donates money to the poor and the needy and the evidence is there for all to see. Why do you plot to destroy such a person?
Some people query the source of his wealth. The answer to their query can be found in the following biblical quotation - Isaiah 58:10-11 - "Feed the hungry! Help those in trouble! Then your light will shine out from the darkness, and the darkness around you shall be as bright as day. And the Lord will guide you continually, and satisfy you with all good things, and keep you healthy too; and you will be like a well-watered garden, like an ever-flowing spring". Is Kennedy not feeding the hungry?
Why can't the NPP fraternity unite, cease any animosity against one another to rather devise strategies that can make the party forge ahead with delivering its numerous promises successfully to the expectation and admiration of the citizenry? For all the sixty-one years of Ghana's independence, the Danquah-Busia-Dombo party through all its metamorphoses, has been in power for about a total of fourteen years. Have we questioned ourselves to know the reason why?
In Dr Busia's time, a little economic hardship that came about as a result of his visionary restructuring to put the country on a long term sound economic footing led to the Progress Party's overthrow by a military junta led by the late Colonel (later to become General) Ignatius Kutu Acheampong. However, the late Head of State Brigadier General Akwasi Amankwaah Afrifa is alleged to have accused the Progress Party Government members of continuously fighting instead of ruling the country after he had handed over power to them.
Is the infighting still not going on within the NPP? Let all devoted members of NPP understand this one thing. It is said in the bible in Mark 3:24 - "And if a kingdom be divided against itself, that kingdom cannot stand."
In a publication titled, "Ignore Kennedy Agyapong, he has no secret about NPP's 2016 polls – Kyei-Mensah" and as can be fully accessed by the public through the underlying link, I shall rather advise Osei Kyei-Mensah (Hon) to play the role of a mediator rather than a provocateur. I speak in parables and the wise easily gets my message, this is my advice to him and every dedicated member of the NPP.
https://www.ghanaweb.com/GhanaHomePage/politics/Ignore-Kennedy-Agyapong-he-has-no-secret-about-NPP-s-2016-polls-Kyei-Mensah-659531
Osei Kyei-Mensah and his fellow parliamentarians should make laws to strengthen the institutions and encourage Ghanaians to inform on corrupt officials. This method will effectively fight corruption rather than desperately relying on the Anas' methodology which indeed is an infraction of the Ghana Criminal Code 1960 (ACT 29, as amended until 2003) on the Sections covering fraud, bribery, corruption and extortion. Kennedy is right when he talks ill about that method as an entrapment, blackmailing and possibly culminating in Anas himself being induced with bribe.
Much as every unique problem must have a like-minded unique solution hence tolerating Anas' method, it does not make his method wholesome. It can be challenged in any competent court of jurisdiction devoid of the "Ghana dee saa" mentality.
How I wish I had become a lawyer as my schoolmates once expected me to be. However, it does not take one to be a lawyer to know the law. Once Anas arranges to offer people bribes to flush them out as corrupt persons is more than enough to incriminate him as a criminal. You can plant a secret camera in a suspect's room or office to monitor them but to offer them bribe, record them and then present that as evidence of their corrupt attitude will not stand in any court that is worth its salt in the civilized Western world.
Rockson Adofo