Binduri Assembly Settles Debt Owed PWDs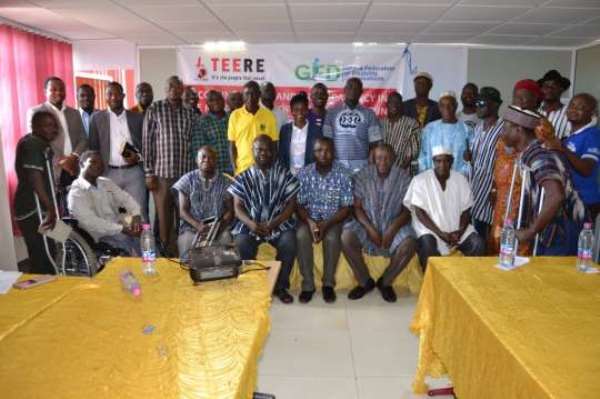 Mr Sulemana Bamatu Saaka, District Coordinating Director, for the Binduri District, has said all outstanding debts owed People With Disabilities (PWDs) in the District have been settled after an audit report cited the Assembly for misapplication of the fund.
'We have made various payments and when the last quarter came, the amount was paid so we have records of the amount borrowed and various payments to clear the accounts,' he said.
The Assembly after misapplying about GH¢ 62,000 belonging to the group from their share of the Assembly's Common Fund was queried by the Auditor General.
The Auditor General's report in 2016, implicated authorities of the Assembly for dipping their hands into the Disability Fund. The report stated that the Assembly made withdrawals totalling GH¢ 62,091.68 from the PWD account for other uses other than PWD activities.
Mr Saaka pledged on behalf of the Binduri District Assembly, not to misapply funds belonging to PWDs in the district in future.
'Henceforth, nobody is going to touch their money. All requests that they (PWD) make, it will be released to them,' he pledged.
The payment was made known during a stakeholder consultative meeting on the three percent District Assembly Common Fund for Persons With Disability.
The Meeting was organized by TEERE, a local Non-Governmental Organization operating in the Region.
It was part of the NGO's' account of projects implemented with funding support from Star-Ghana, UKaid, the Danish International Development Agency (DANIDA) and the European Union (EU).
Chief Executive Officer of TEERE, Professor Ephraim Avea Nsoh, in a speech read for him by the Monitoring and Evaluation Manager at TEERE, Mr Maxwell Babilo Banu, stated that the project sought to 'eliminate unwarranted interference of the management of Assembly in the use of the Disability Fund'.
He said under the project, PWDs would be given entrepreneurial training and introduction to Village Savings and Loans Association (VSLAs) to make them self-sufficient.
Prof. Avea therefore entreated the Regional Coordinating Council (RCC) to intensify its supervisory role and crack the whip on the Assemblies when they abuse the Disability Funds.
The Upper East Regional President of the Ghana Federation of Disability Organization (GFD), Mr David Aniah Awine, speaking to the GNA, said the Association would 'report its members to the appropriate bodies for redress when one is found to have misapplied the funds'.