Stop Harrassing The Roads Minister – We couldn't get a better Person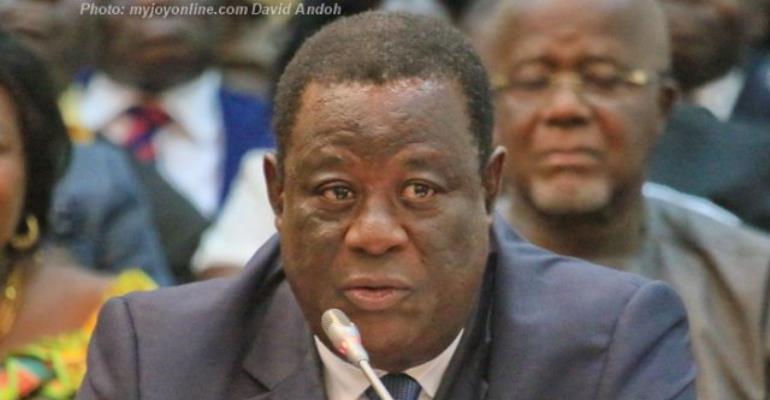 How can we begin to even criticise a Minister, who is doing his yeowman's best to streamline affairs at a ministry that had been raped, smothered by an unquenchable longing for crime, and tattered by hungry braggarts and lazy thieves of an NDC regime that heralded the worst form of theft, corruption, and unsolicited free-for-all ransacking of coffers which were shambolically depleted, unmaintained, and totally squandered?
Amoako-Atta, the Honourable Minister for Roads and Highways, has been struggling in light of the fact that his predecessor, Inusah Fusseini, caused massive havoc to this ministry. In an earlier article, I spoke about how the Presidential projects under John Mahama were a conduit for siphoning moneys into private, pseudo, and NDC campaign accounts. I talked about how John Mahama's family members, especially his sister, aka "The Madam", would charge into that ministry to demand chunks of whatever hundreds of million were fed into the ministry's bags.
Unfortunately, the same naked contractors who slept with the NDC in this act of national rape are crying foul today, claiming that their moneys are not being paid. What moneys? Moneys for contracts that were paid and not worked? Moneys for contracts that were implemented sub-standard? Moneys for contracts that were partly done, but paid in full? Some utter nonsense this is! Today, they claim acquaintance with the President, and, therefore, would want to report Hon Amoako-Atta to His Excellency. Let them go on, as if they would even be listened to. When your whole self is immersed in faeces of shame, your eyes would automatically turn brown, hence the American saying, "Now I know why your white eyes are brown!" It means that they are full of it!
Now here is the shocker! Incompetent Inusah Fusseini, under the guidance of his more incompetent Boss, John Mahama, mortgaged the Road Fund in its entirety. Until today, there is not a single pesewa in that fund due to that. Has any selfish contractor mused about the ingenuity of Hon Amoako-Atta, and how he is managing to pay the bills of the NDC as well as the Ministry's current projects? Those who, under the NDC, clinched multi-million dollar contracts for roads that they did not complete but were paid the larger portion of must be ashamed of themselves for aiding and abetting such gross theft. I wouldn't be surprised, after all the NDC Member of Parliament, Mr Adongo, was caught pants down in such a web of cheating the State, massively; an act the NDC members are champions at.
These people must be tried and executed for treason, if found culpable. Isn't the betrayal of the nation an act of treason? Today, Amoako-Atta is forcing to find moneys to finance current contracts and refinance NDC debts. He is soliciting for the restructuring of loans taken during John Mahama's stewardship under very strenuous terms and conditions that are weighing heavily like an albatross around his neck.
There are some banks that did not have mercy on the nation even though they had been given the honour of working in the country to serve the people. I do not understand UBA and their peers in their wicked nature of dealing with the NDC government in a manner that suggests to have caused grave difficulty to the State.
So all those that are crying foul for non-payment like Hartoum and others must tread cautiously because in as much as we are committed to paying the appropriate amounts to all who have served the nation, we must take cognisance of the fact that many have to be audited to ascertain the veracity of their claims. So pending the turnaround in the fiscal fortunes of the Ministry of Roads and Highways, and for that matter any other ministry and the restructuring of bad loans conjured like magic from hell by Inusah Fusseini and his NDC government, the Minister, Hon Amoako-Atta will be circumspect meandering around the fiscal explosive mines planted by John Mahama to blow the fortunes of the NPP away.
Oh and one more thing. Useless stomach journalists like Kwame Adinkra, Steve Malorie and Dele Momodou of the Africa Watch and Ovation Magazines, respectively, et al, should understand that the power they wield is a double-edged sword. When it ricochets, it slashes the deepest wound. So when Mr President congratulates Hon Amoako-Atta on the superb job that he is doing, who are you to sing a different tune. The CEO of the land knows how competence feels like and that is why the people manning the various arms of government are where they are. Watch Nana Akufo-Addo work wonders for Ghana.
#AmoakoAttaToaso
By Fadi Dabbousi