Natural resource is a pride of every country and a major determinant of its wealth. Ghana, a God favored country is blessed with abundant natural resources, yet these natural resources which happen to be the leftover of what our colonial masters tactically and sagaciously snatched away from us more than half a century ago are taken for granted and are constantly depleted every minute at a faster rate with an average atrocious percentage of 60% from 1950 to date and an annual loss 2% of its forest cover.
This is equivalent to 133,000 hectors loss of our forest annually according to the Environmental News Agency (ENA). Northern Ghana is one of the major places where forest lost is alarming which calls for immediate attention hence action in order to restore a naturally green environment to meet the growing population, suitable for living as well as socio-economic developmental activities.
Northern Ghana which consist of three administrative regions namely the Upper, Upper West and Northern Regions experience almost the same weather conditions, similar environmental features and constitute a land area of 97,702km2 making 40.96% of Ghana's land. There are two main forest reserves in the north and with the Bui National Park extending into parts of the Northern Region. These protected areas include; the Gbele Game Production Reserve, protected since 1975 with an area of 565.40 km2 located in Tumu in the Sissala East District of the Upper West Region and the Mole National Park, the largest reserve in Ghana, protected since 1971 with land area of 4,840 km2 in Damango in the Gonja West District of the Northern Region of Ghana.
Aside these reserves and the rest of the unoccupied lands, normally farms and virgin lands are at the grace of annual bushfires and indiscriminate felling by some citizens of this innocent country and sometimes facilitated by ghost foreign nationals for various commercial purposes like timber and charcoal production etc.
Indiscriminate felling of trees for timber and charcoal production has been the spine of our forest loss nationwide. Timber has been of higher demand as decades pass by due to the growth in infrastructural development the country is experiencing. Timber is one of the commodities exported in larger quantities and the most common material that is widely used in the country in the construction of buildings for formwork, furniture, roofs, hoarding, cladding, earth work support and among others due to its less expensiveness and readily availability, hence economical. The high demand of this material has led to the unsympathetic illegal felling of trees in our forest to earn profit, forgetting of planting to replace the lost ones. If measures are not kept in place to check these activities, a time will come when our country will be inhabitable and all our lofty mansions, malls, offices and palaces will not survive as buildings will diminish faster in strength and lifespan with respect to the future change in weather conditions.
Charcoal, a source of fuel and an employment opportunity for many Ghanaians is another cogent means through which we lose our forest. Although charcoal production leads to the depletion of our forest, government makes revenue from it through taxes imposed on the industry which makes it indirectly legal. Because, taxing people in this industry indirectly gives them the go ahead to cut and burn down our forest in the name of fuel. In a report file by Noah Nash from Tamale for ViaSat 1 TV, published on Jul 21, 2016, it was stated that about 93% of rural and 58% of urban households rely on charcoal as a source of energy, and in an interview with the public including some charcoal producers, they said, the charcoal business is the source of their livelihood since there is no other employment opportunity available.
Traders also kicked against a ban on the charcoal industry, many objected the idea with the reason being an increase in the unemployment rate of the country hence poverty and crime rate. In my perspective, they were rightfully right. Government placing an immediate ban on the charcoal industry will not just be like slapping it employees, but slapping them on the face with the left hand, however we cannot also allow our forest to be depleted immensely for just GHȻ 25.00 – GHȻ 50 or any amount per 50kg bag of charcoal, therefore I propose that government should not ban the industry, but should help its employees, consumers and the citizens themselves ban it.
How does this work? Government should provide immediate employment opportunities for the people in the northern parts of the country to keep them occupied especially in the dry season, thus prevent them from going to the charcoal industry. People usually get engage in the production of charcoal because they do not have any job to do in order to put on the table, food for their families with the only option left being charcoal production. The charcoal producers themselves do not enjoy the tedious processes, harsh weather and greater risks they incur just for a small income worthless their efforts.
For instance, the provision of the tricycles to many youths known as the "Mahama can do" by his excellency ex-president John Dramani Mahama has created vast employment for many youth, facilitating transportation and not only keeping those youths away from the depletion of the forest, charcoal production, but also other social vices they might engage in when unemployed. The "One District One Factory" and the "One Village One Dam" policy of the President of the Republic of Ghana, his excellency Nana Addo Dankwa Akufo-Addo, when implanted on time will also employ vast youth hence collapsing the charcoal industry.
When these employment opportunities are created immediately, the demand for charcoal will exceed its supply creating shortage and a rise in the prices of charcoal as a result of people leaving the charcoal industry to legal lucrative jobs. Consumers will tend to look for substitutes convenient and less expensive.
In this situation, government will then subsidize or control the prices of Liquefied Petroleum Gas (LPG) to attract citizens patronize it and they will, since they will by then have legal lucrative jobs, earning income worth their efforts. Distribution of gas cylinders to people living in deprived areas for now will not solve the problem because beneficiaries will sell them for money as a result of financial constraints.
Government later will then place a ban on charcoal leaving the industry to dangle and fall in utter ruin since there will very few producers and consumers of charcoal afterwards. This is because many having been employed will look for convenient fuel than charcoal for their domestic chores and businesses, besides citizens don't prefer charcoal to LPG but due to financial constraints. More investors will invest in gas business, putting up more gas stations, also creating employment opportunities and promoting infrastructural development and this is what my proposal meant; government helping citizens to ban charcoal.
One year is enough for assessing the various districts of the north for the required factories, suitable sites for dams, road networks linking these projects and with their respective procurement processes if only government and the said investors are considering a client's objectives when investing in a project which include time, quality and cost. We are expecting government together with the said interested investors in these projects we hear of everyday in the news bulletins to commence their activities also in the northern parts of the country this 2018 to eradicate charcoal production, economic hardships and forest depletion as soon as possible as time waits not for any man, the earlier, the better.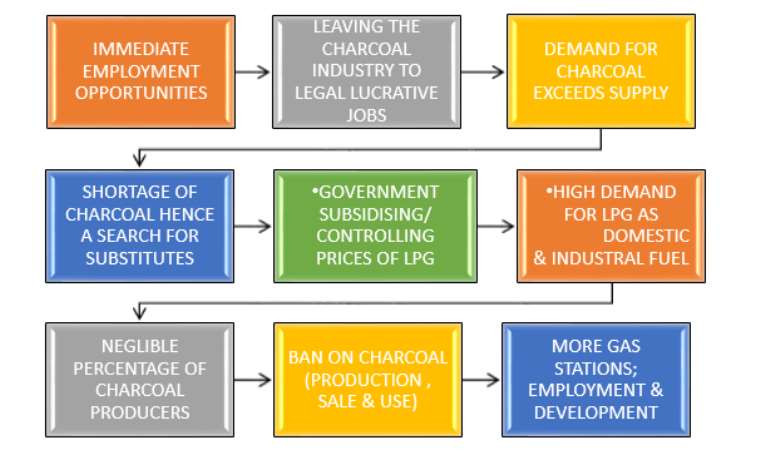 The Sequencial Process of Preserving our Forest
Bushfires is another major cause of our forest lost mainly caused either intentionally to break the defense system of the "ghost empire", thus to provide a clear environment in order to scare and prevent supposed "ghost attacks" and to aid in the hunting of bush animals, or ignorantly through charcoal and refuse burning processes, faults from electrical cables that get in contact during strong wind hence produce sparkles of fire which eventually drop into the dry grasses and cause fire. Improper disposal of used cigarette after smoking cannot also be skipped.
Normally, plants in the savannah shed their leaves and grasses dry up becoming very combustible and prone to fire. A little amount fire spreads through these fuels rapidly beyond control since all the agents necessary to start and sustain fire are present in their destructive rightful proportions, that is fuel (wood), heat and oxygen which is fully and proudly sponsored by the harmattan winds.
But have we as a people endeavor to protect our forest without anyone telling us? Is it only the responsibility of governmental organizations to educate the public on the control of bush fires? These bush fires are so rampant and serious every year trying to crept into our society as a norm from nowhere. Only this year, the region recorded several cases of bush fires which led to the loss of not only plant and wild life, but also precious human lives from the labor force of the country.
Education of citizens on the effects of the depletion of the forest; local radio stations as well as governmental and non-governmental organizations have played an immense role in educating the public but we Ghanaians as a people fail to give this education a bit of recognition. People know the right thing to do but do not adhere to it. Who is actually causing these bushfires and we cannot put a stop to it? If adults, don't they know not what benefits and what benefits not? If children, on the other hand, how are they as future leaders being brought up in relation to the care for the environment? And what instructions do they receive from their parents or guardians? Can't their activities be monitored and control at the family level? Families should play a vital role in stopping bushfires first before a collective effort with chiefs and stakeholders.
The Electricity Company of Ghana should make regular assessment of electricity lines to maintain faults and sagged cables likely to cause bushfires during strong winds.
Law enforcement agencies should live up to expectation by preventing activities that leads to the depletion of our forest. Massive recruitment should be made to get more security personal to check these activities in our forest.
The ministry for food and agriculture should implement a tree planting project, such that a number of trees are planted annually to survive in our forest and also set up motivational funds for individual homes who plant and nature a number of trees till maturity to encourage the habit of tree planting.
Entrepreneurs, investors and fresh graduates should be creative and innovative enough in creating jobs for their own selves rather than seeking employment from governmental institutions into non-existing jobs.
When all these measures are put into practice as well as the creation of immediate employment opportunities through the "One District One Factory" and the "One Village One Dam" policy with immediate effect, our forest will automatically be revived resulting in a congenial environment, reduction in global warming, increase in rainfall among other countless roles the forest play in fostering national development.
By: Akanming Abdulai Apagrimchang
Email: [email protected]