January 25, 2018
|
Press Release
Kwabenya Police Attack Is A Sign Of A Failing Security Apparatus Of The Nation
Movement For Fairness And Justice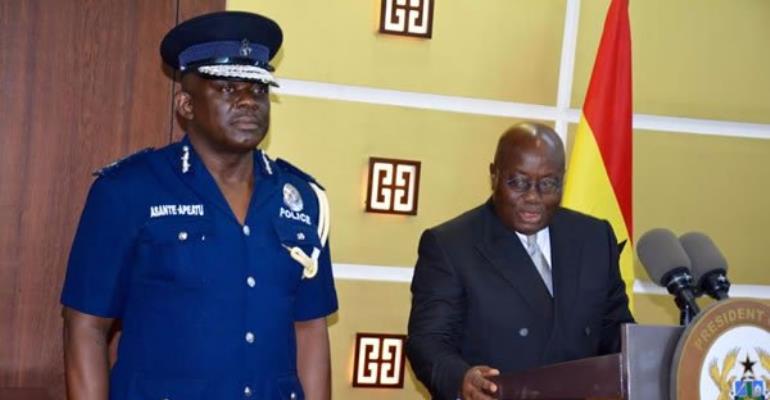 We are very saddened by the news of a dastardly attack on the police station at Kwabenya, an incident that led to the brutal killing of a police officer by some gunmen. We extend our sincere heartfelt condolences to the bereaved family. We also condemn in no uncertain terms, this barbaric act by the "yet to be known" perpetuators.
We urge the security agencies to do everything possible in bringing the perpetuators to book.
We have noticed, for some two years now that there is an increasing level of lawlessness in this country. The security personnel who are supposed to ensure that the good citizens of this country are protected both internally and externally are rather being attacked. Within the period of two years, we have had more than 40 security personnel murdered /killed under very peculiar circumstances. We find it difficult to comprehend what might have accounted for this dangerous happenings in the country.
We think that the security of the nation is no longer formidable and many Ghanaians are living in constant fear under a government that is not demonstrating enough, firm and pragmatic commitment in curbing the situation. We are very disappointed in the government led by His Excellency Nana Akufo Addo. Particularly so, when there are several ministerial portfolios manning the security sector.
The movement is shocked that this is happening under the watch of the NPP government that promised the good people of Ghana, a better security during it days of opposition. We make reference to the promise of the NPP on page 147 of the NPP 2016 manifesto that won it elections. …Ghanaians are becoming increasingly concerned about their security due to the increasing levels of crime and lawlessness under the Mahama-led government. Today, Ghanaians do not feel safe. The Mahama-led government has failed the people of Ghana in terms of the security of the country and of its citizens. Our existing laws are largely not enforced, and when they are done selectivity, often with much interference from the Executive. The NPP government will secure peace and security for all Ghanaians. Under the NPP government, Ghanaians will feel safe on the streets and in their homes. Ghanaians will go about their daily business in the secure knowledge that their persons, properties and lives are safe under an NPP government"
We can boldly say that crime rate/lawlessness and violence going on in this country is unprecedented. On daily basis, if it is not an attack by unknown gunmen, then it is that of known vigilante groups attacking and terrorising others. We are yet to see any firm leadership demonstrated by this government in tackling this situation that has the propensity of jeopardizing our nationhood.
We urge government through its security agencies to as a matter of urgency, come out with pragmatic measures to fix the seeming security breakdown in the country. This current situation of "everybody for himself, God for us all" is sad and pathetic.
If this situation continues, we shall have no option than to organize a nationwide demonstration to register our displeasure in the failing state of security in our country to government because security is a basic function in governance and hence it must take responsibility.
Save Ghana now, Protect the Citizens
Long live MOFAJ
Long live Ghana
Thank you.
....signed...
Denis Andaban
(Head of Operations )
0549734023
Mr. As are Murphy Eric
( Convener)
0242725067
Mr. Boateng Samuel
( Secretary)
0243849051