Free Common Sense For Thomas Kusi Boafo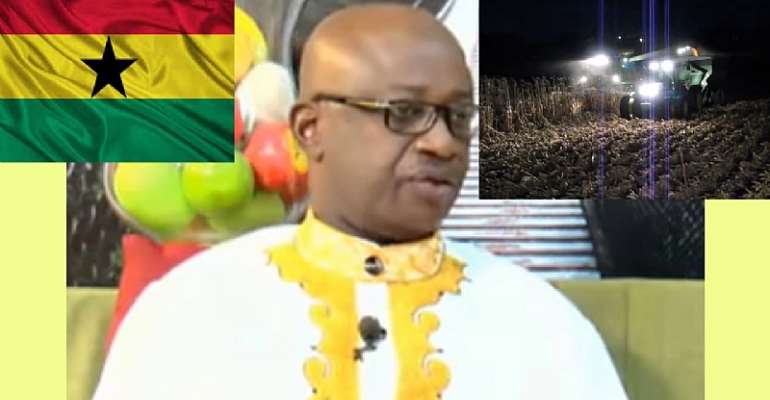 Hi Thomas,
Greetings from Binduri.
Krachie, bok) di3? Naa waa for you ooooooo. I heard you said NDC members bought state vehicles like biscuits during the transition period. Right? I watched it from a video a friend sent me.
Thomas Kusi Boafo, you too? This issue was alleged by Eugene Arhin, the director of miscommunications at the Presidency, one of the babies with plagiarized brains when he was desperate to cover up the leaked video of ASP Nanka Bruce's assault at the Flagstaff House. An allegation the NDC challenged him to produce evidence which he failed. One would have thought the challenge thrown by the NDC that government should name and shame all who bought state vehicles during the period of transition will settle this brouhaha of missing state vehicles, but the same basket of deplorables are still out there shamelessly trying to dust the eyes of Ghanaians in their hungry quest to divert the attention of Ghanaians from the ongoing parliamentary probe of the stupid cash for seats damning scandal.
Thomas Kusi Boafo, you are an auditor. You've taught me before though I learnt nothing from you but story telling. Yes, you were the kind of lecturer who was so naive and hypocritical. Very unobjective and biased. You claimed to be apolitical then but only the zombies believed you. You know audit procedures very well. It is similar when vehicles are transferred during transition period. In case you want further and better particulars of audit procedures of Property, Plant and Equipment (PPE) I will make it available to you.
Now check this out :
Property, Plant and Equipment Audit
A. Existence: Do the assets exist?
1. Inspect additions or if initial audit, inspect all assets.
a. Vouch a sample from accounting records to underlying documentation.
b. Vouch a sample from the accounting records to the physical assets.
2. Test cutoff. Examine documents relating to acquisition and disposal to determine proper recording period.
B. Completeness. Are all PPE transactions reflected in this period's balance?
1. Perform analytical procedures.
2. Reconcile subsidiary and general ledger.
a. Prepare Schedule of PPE assets from subsidiary ledger or client worksheets for testing. Include in work papers.
3. Analyze repairs and maintenance.
a. Evaluate debits in repairs and maintenance account to determine proper recording (capitalize perhaps?).
b. Evaluate additions to PPE to determine proper recording (non capitalizing items perhaps?).
C. Rights and Obligations. Does the client own the PPE?
1. Examine titles and lease agreements.
2. Evaluate whether leases are properly recorded as operating and/or capital leases.
3. Vouch entries in PPE with payment records to ascertain ownership.
4. Vouch entries in PPE with insurance records (payments to insurers) to ascertain ownership.
5. Vouch entries in PPE with property tax records (assessments and payments to governments) to ascertain ownership.
D. Valuation and Allocation. Are PPE assets recorded in accord with GAAP?
1. Vouch additions and disposals by examining documentation relative to authorization of purchase, recording of purchase, PPE schedules for assets.
2. Test to determine if depreciation is recorded and if a generally accepted method has been consistently applied.
E. Presentation and Disclosure. Are PPE assets properly presented and are footnote disclosures relating depreciation methods, collateralized assets, commitments of assets, lease terms adequate?
1. Read financials.
2. Examine management representation letter for information concerning PPE.
Now are you trying to tell me that your transition team did not carry out these basic test on the vehicles before accepting their documents? People like you need to stop screwing around.
And assuming without admitting that they carried out such procedures why are we here? Then again this would have been incompetence under President Mahama regime can we say same of your regime?
And if you care to know 641 vehicles were handed over to this regime by the previous regime so how could they be sold to NDC gurus like biscuits?
Are we safe with these your foolish lies? Or have you guys forgotten that we are no longer on the campaign trail where lies pay?
You are no longer in the class room where you would make weird allegations without proper scrutiny. You used to engage in beer parlour propaganda when you were in Poly and I thought you were hungry for recognition, you've now been recognized with an appointment where your table is always empty yet you get paid so why this sudden barking like a rabies-infected dog who just saw a ghost at dawn?
Is it for political expedience? Or you are currently very idle? Or have you suddenly lost your sense of judgment? Why are you engaging in no break, no job, no sense, a joro, jara, joro Zombie of the legendary Fela Kuti's song?
And to all those of your colleagues out there trying very hard to equalise this malicious lies to the gargantuan grabbing of state lands, buildings and vehicles in the erstwhile Kuffour's regime all in an attempt to shove it down our throats must get it clear; President Kuffuor's regime and certainly Nana Akufo-Addo's regime was and would be the only regime that state lands, buildings and vehicles would ever be bought like biscuits. I know you would certainly acquire some in similar fashion.
Aaahhhaaaa, I understand you now have a Reverend attached to your name. Really? What are pearls to swines? Is Saul now a prophet? E ba ne sen? How come? You preach in church? And still engage in these lies? Awurade Yakubu judgment day will be so interesting.
Hmmmm our challenges are really fearsome.
Accept my letter in good faith, no hard feelings, after all I'm a citizen not a spectator.
*Assibid Dauda*
*The Binduri Youth Activist*
(054-0585599)